"There were so many times I was about to fall but I never fell and failed!"
Leaving home and setting out on a new path is daunting for any young person. For those who've been in foster care, this is even more difficult unless they set sail to the right direction.
Nimali Kumari, Programme Coordinator of Sarvodaya Suwasetha Sewa Society Ltd shares her insights with IVolunteer International on the contemporary issues faced by care leavers in the society.
1. Getting to know Nimali the Care Leaver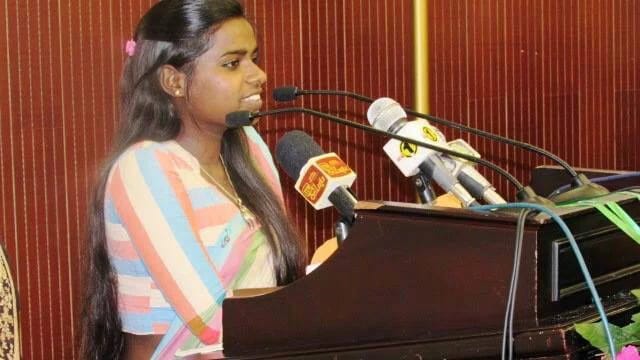 I grew up in three foster homes. Normally children are raised with the love and affection of parents. Compared to other kids my childhood was completely different. I had to follow a daily routine according to a timetable and perform assigned tasks with other kids. I had a bad temper. As a result I was transferred from foster home to another.
I was fortunate to have access to higher education. I was selected to the NIILM University in India for my undergraduate studies in Journalism, Advertising and Mass Communication. This was one of my greatest achievements. Once I returned to Sri Lanka after completing my studies, it was my foster home that welcomed me back. They provided me with accommodation facilities.
At present I am working as the Programme Coordinator at Sarvodaya Suwasetha Sewa Society Ltd which is the foster home where I grew up. I am also the Network Coordinator of Generation Never Give Up which is a network of care leavers.
2. How is life after being in a foster home?
There is a stereotype perception in the society about children who grew up in foster homes. That is very challenging. But I am glad about my life.  My experiences have made me stronger.  I managed to stand on my own feet in the midst of a myriad of chaotic situations. My journey as a foster child was indeed a struggle.
3. What is the '18+: Building Support Systems for Youth Leaving Care' campaign?
The SOS Children Villages in Sri Lanka initiated the 18+ campaign to empower care leavers.
Initially four care leavers were chosen to share their experiences to empower other care leavers. I was one of them. The stories of other care leavers inspired me in turn. The campaign deals with problems faced by care leavers and potential issues of children at foster homes when they are separated from alternative care.
4. How has 'Generation Never Give Up' (GNG) established itself?
We had discussions with a panel of government officials representing the Department of Probation and Child Care Services and the Ministry of Women and Child Affairs. The panel was inclusive of Parliament Members Sudarshini Fernandopulle, Chandrani Bandara and Eran Wickramaratne. At this discussion, we proposed feasible policy decisions for the well-being of care leavers.
After the preliminary discussions, we came up with an idea to establish an organisation to include all care leavers island wide. GNG is a result of this collaborative effort. The first batch of care leavers joined on 27 October 2017 from Colombo district. By now many care leavers across the country have joined us. GNG is now a systematic and well-established campaign.
5. What kind of difficulties do care leavers face?
We came to understand the difficulties care leavers face when they are not under the guidance and supervision of foster care anymore. The forums we held helped us identify that there were care leavers who required assistance to establish their future.
Many care leavers don't have a birth certificate or a permanent address in the National Identity Card. Apart from these, care leavers in Sri Lanka face other issues as well.
Some care leavers prefer not to reveal their identity as a care leaver, due to social taboos. But I wish they could be proud of their bravery and resilience to grow up without parental care and still achieve their dreams.
6. How can GNG help care leavers?
Our main goal is to establish a Resource Center. The center will employ care leavers. The Center will help us gather data about care leavers, provide consultancy services, open up employment opportunities and initiate a scholarship fund for the benefit of care leavers.
We are also planning to establish a dedicated hotline for care leavers to contact us in an emergency.
Our ambition is to empower care leavers to realize their true potential. Therefore we plan to address some of the predominant issues they face.
7. What does GNG need to implement its plans?
We need a place to build the proposed Resource Center.
We lack financial resources to obtain the equipment for the Resource Center.
Since we are in the initial stage we have limited opportunities. But I believe in starting small and reaching greater heights sooner.
8. How can others help GNG?
You can contact SOS Villages in Sri Lanka and GNG to lend a hand to this worthy cause of empowering the next generation of care leavers in Sri Lanka.
9. Final thoughts…
In the local context, children under alternative care providers are labeled and treated unequally. This negative social phenomenon should be uprooted from society and such social stereotypes should be abolished. The children at foster care as well as care leavers should be treated equally. They deserve recognition in society instead of being abandoned.
The Government must pay close attention to the domestic issues and root causes of such issues.
Finally, I humbly request from all parents, not to leave their children in foster homes.