"We cannot always build the future for our youth, but we can build our youth for the future."

– Franklin D. Roosevelt
It is the youth who bring laurels to a country.  Buoyancy, energy and inspiration of youths are the driving forces of their passions and dreams which is one of the greatest phenomenon you would experience only when your life is in its full tide. They decide whether a nation would flourish or perish tomorrow.
Back in 1999, United Nations General Assembly endorsed the recommendation made by the World Conference of Ministers Responsible for Youth, that 12 August is declared International Youth Day.
The National Youth Policy in Sri Lanka defines youth as between 15-29 years. Estimated young population in Sri Lanka is about 4.4 million or 23% of the total population of the country. The youth development index scores 0.67 and is 72nd out of 170 countries.
Unemployed Youth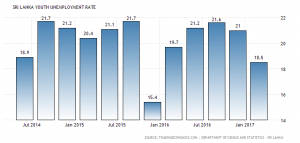 Unfortunately, the youth unemployment in the country rages to continue through the years.  The underlying reason for higher rates of youth unemployment is the "mismatch of skills". Youth unemployment is a controversial topic. It is the corner stone for numerous social and economic crises.  Jobs available are either unattractive to young ones or prevailing opportunities in the labour market do not meet their desires.
One might wonder why so many young people are struggling with unemployment while some being undeniably qualified. That is because mere educational qualifications do not help them to grow and mould into the perfect corporate worker.  Specifically, the majority of Sri Lankan youth do not possess "soft skills" which are compulsory to convert theoretical knowledge and technical skills into a lucrative profession.  Thus, education should not be an end, but a means to an end. In simple terms the prime purpose of academic education is to create a young generation fit for life.
Freedom of Expression
Another burning problem Sri Lankan youth face is the unavailability of a platform to raise their voice and make an influence in the local context. This is one of the causes that has led them towards riots, commotions and picketing. But with the emergence of several Government and Non-Government organizations who strive to create a feasible platform for youth to share their ideas in a worthwhile way; this issue is predicted to be uprooted. Reach is what matters as the generality of youth is unaware of such platforms.
NYMUNSL
National Youth Model United Nations Sri Lanka is one such extraordinary platform and opportunity for young people from around the country to come together to build bridges, promote intellectual exchange and articulate their own opinions. This in turn aids in creating and developing the leaders of tomorrow, discover new avenues, and to form lasting networks.
Join the discussion forum of NYMUNSL who works towards fulfilling the aims and goals set out by the United Nations in the Preamble of the Charter:
"to practice tolerance and live together in peace with one another as good neighbors, and to unite our strength to maintain international peace and security…"