A little over a month ago, I noticed a blimp of love while scrolling though my typically gloom and doom social media profile. This blimp was made of tiny digital pixels that amounted into a heartwarming true story shared by the Typical Sri Lankans initiative.
This true story was one that gives you renewed hope and reinforced faith in kind souls and good acts. And in case you haven't guessed already, the good soul in this instance was none other than a Sri Lankan… Or should I say a typical Sri Lankan? The type of typical Sri Lankan who puts service above self.
If such an optimistic perspective doesn't fall under your usual description of a Sri Lankan, then the Typical Sri Lankans initiative co-founded by three young volunteers is perfect for you! So, if you would like to know more about this initiative, keep on reading because we got the chance to chat with the co-founders and deep dive into what it's all about.
An initiative to celebrate the good stuff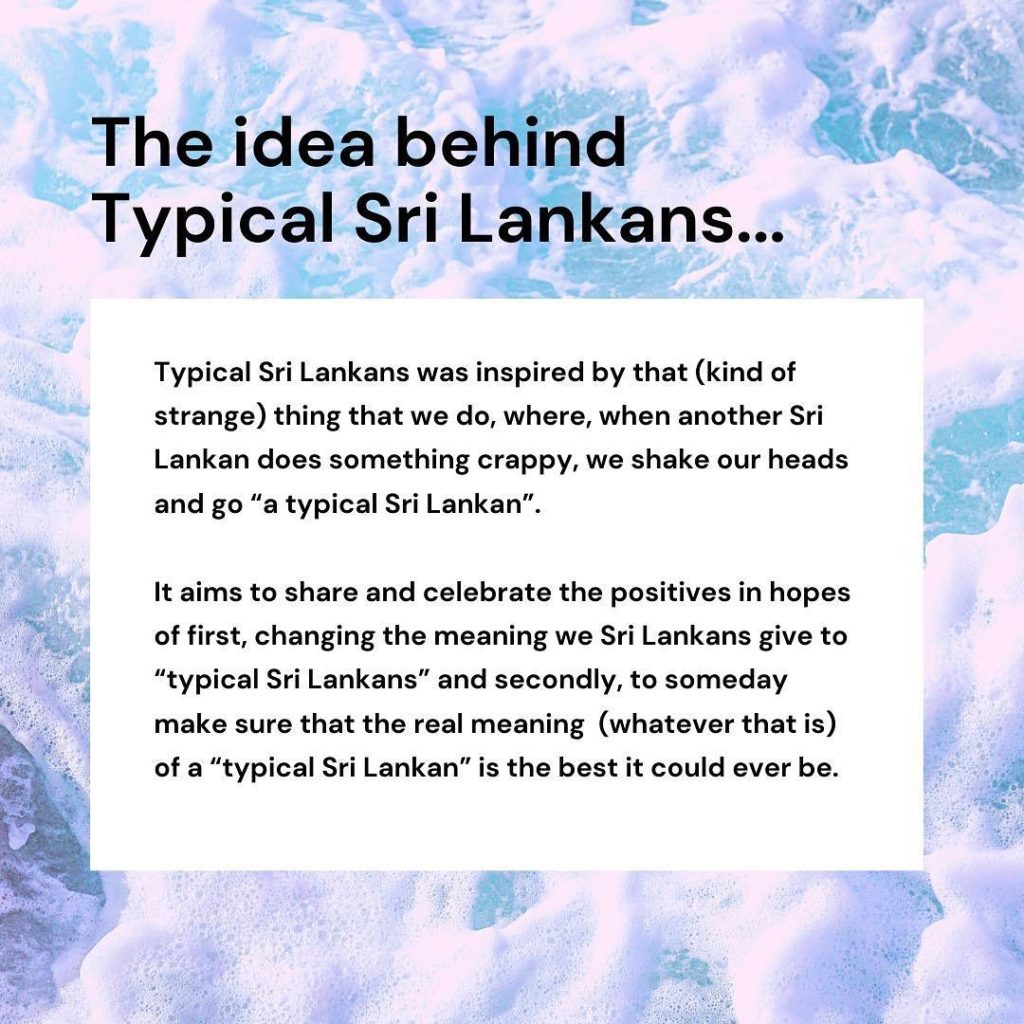 Tirani Wijewickrama, Navya Wijewickrama, and Tasha Goonewardene are the co-founders of Typical Sri Lankans: An initiative that celebrates the good stuff. All three co-founders are within the same age group and studied Social Sciences at the Kotelawala Defence University in Sri Lanka. Now, they are volunteering together to spearhead the Typical Sri Lankans initiative and promote positive change.
Typical Sri Lankans is a social media initiative that posts first or second-hand accounts of an act of goodness done by a Sri Lankan. These accounts are sent in by the general public and can be about a random or organized act of kindness, honesty, generosity, or overall goodness. The purpose behind sharing these accounts on the Typical Sri Lankans social media page is to change the narrative on who a "typical Sri Lankan" is.
More often than not, Sri Lankans tend to see their own people in a negative light. Whenever a fellow citizen does something wrong, we disagreeably mumble "typical Sri Lankan" under our breath. This stigma attached to the phrase "typical Sri Lankan" is so common that so many of us use it as our first response to anything bad that happens. For these reasons, this initiative is now on a mission to break this stigma and change the narrative by showing us that a typical Sri Lankan can actually be someone who is good.
Who is a typical Sri Lankan?
Navya tell us that a typical Sri Lankan is someone who radiates a sort of friendliness and hopefulness. Tirani tells us that a typical Sri Lankan is a taxi driver who drives back from a distance to return her brother's phone after he accidentally left it in the Tuk Tuk. Another countless number of people tell us who a typical Sri Lankan is by sharing their anecdotes on the Typical Sri Lankans page.
I think Sri Lankan's have this sense of kindness and generosity. It's difficult to put it into words but I think we experience it even when we randomly run into someone at a supermarket… We sort of make eye contact and smile at each other. Even in that interaction, we radiate a sort of friendliness and hopefulness. And I think, in simple terms, that's who a typical Sri Lankan is.

Navya Wijewickrama, Co-founder – Typical Sri Lankans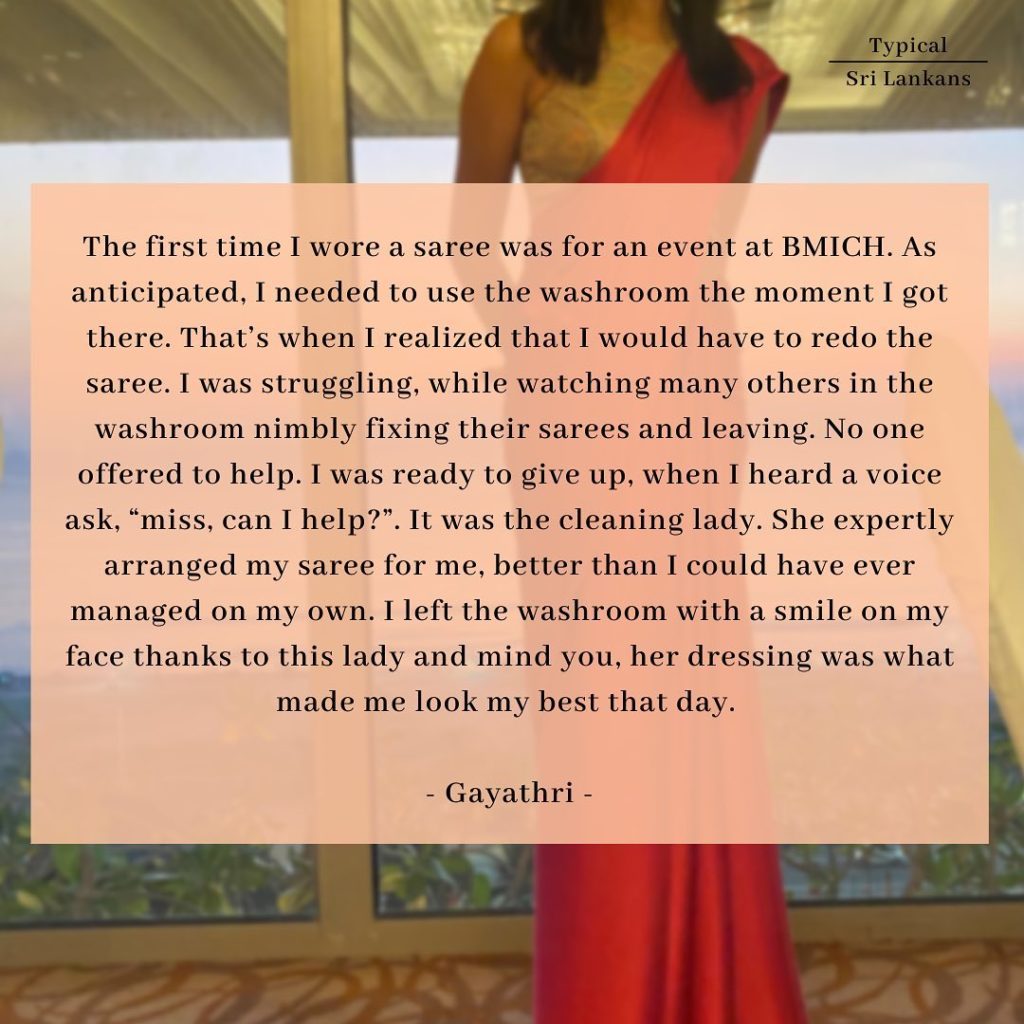 Navya also points out that there is both good and bad in Sri Lankan society, and not everyone's experience will reflect her own. Nonetheless, while we usually don't hesitate to acknowledge the bad, Typical Sri Lankans reminds us that we should also acknowledge the good. Navya goes on to explain that most of the content that is stealing the spotlight in Sri Lanka is either heartbreaking or negative, both on social media and news platforms. Accordingly, Typical Sri Lankans hopes to change this status quo by sharing the positive qualities in Sri Lankans as well.
The story behind Typical Sri Lankans
Typical Sri Lankans is the brainchild of Tirani and Navya, who are sisters with similar personalities and shared interests. They always brainstorm for big ideas together, and while this is one idea they wholeheartedly put into action, it wasn't their first. Tirani tell us that this is where their friend Tasha came into the trio. Tasha gets things done, and both Tirani and Navya knew that she was just the person they need to build this initiative and hit the ground running. So, thanks to a dedicated group of volunteers, Typical Sri Lankans became a successful initiative that's continuing to nurture positive mindsets – one story at a time.
Thus far, Typical Sri Lankans has grown into an initiative with over 20 volunteers from diverse backgrounds. "We get the opportunity to work with people from everywhere. We have medical students, lawyers, social scientists and physiotherapists," says Tirani. Each volunteer has a role and responsibility to ensure that the anecdotes are conveyed to their readers in an engaging and effective manner. For example, some positions held by the Typical Sri Lankans volunteer team include editors, reviewers and translators. These volunteer contributions are extremely valuable as they allow the anecdotes to be posted with clarity and also in multiple languages.
Navya further explains that heading this initiative hasn't always been smooth sailing, especially since they launched it while sitting for their university exams. Nevertheless, this group of volunteers still manage with each others unwavering support. Tasha also tells us how her knowledge in Social Sciences also created a better understanding on why it is essential to work together when resolving any social issue.
I had that mentality where I wanted to solve a global problem, like eradicate poverty. And then once I got into Social Sciences I realised that kind of change doesn't come overnight and it cant be done by just one person. So, the changes that you want to see in the world comes through the actions of many people put together.

Tasha Goonewardene, Co-founder – Typical Sri Lankans
The importance of serving your community
Tirani, Navya and Tasha were confronted with the choice of starting a business or serving their community. And since they have always been passionate about social services, the decision to dedicate their time and effort to a non-profit initiative that benefits others was seemingly a no-brainer.
Life is very short, right. And yes, you do need money to fulfil your basic needs. But beyond that it's just acquiring money and acquiring more money. It just feels empty and you're not giving anything back to society. It's very self-centred. For me, Typical Sri Lankans is like a stepping stone to something else where maybe someday we can initiate charity projects. That's why it's fulfilling for me.

Tasha Goonewardene, Co-founder – Typical Sri Lankans
Tirani and Navya also acknowledge that not everyone is fortunate enough to be able to spend their energy on non-profit work. It is definitely a privilege to have both the physical and monetary resources to assist those in need. However, for those who are fortunate enough to do more for others, Navya reminds us that volunteering and social work goes beyond one's own singular purpose and contributes to improving the bigger picture. Additionally, the anecdotes on Typical Sri Lankans itself reminds us that sometimes we really don't need much to help another. One kind word can go a long way.
It's all we have ever own. And the idea of living a life that serves a singular purpose can be a bit scary sometimes. I'm not saying that money is never going to be a priority, and it's actually a huge privilege that we do get to say we don't need to focus on that aspect of it. While acknowledging that privilege, the fact that we do get to spend time to do something that serves a different purpose is fulfilling for us.

Navya Wijewickrama, Co-founder – Typical Sri Lankans
The impact of Typical Sri Lankans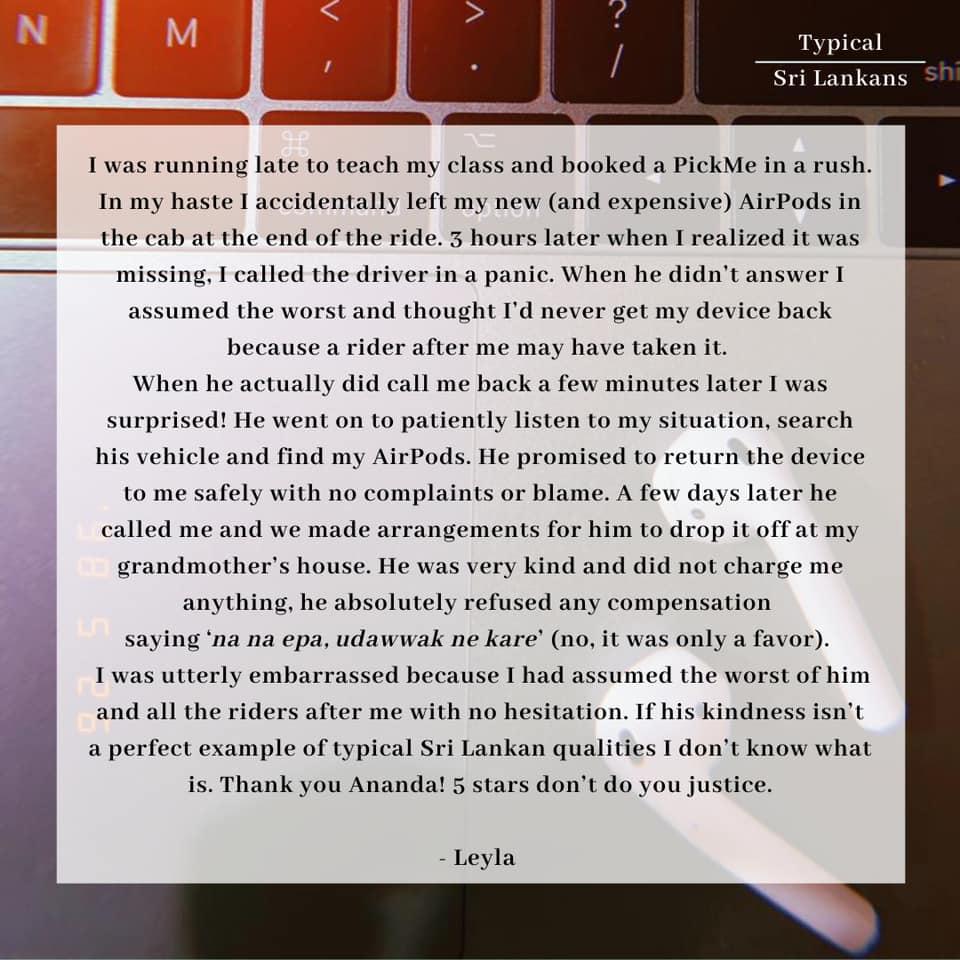 Each anecdote shared on the Typical Sri Lankans social media page shows us that there are many Sri Lankans who really go above and beyond to be good to each other. The incidents relayed in these posts show you the heart of a Sri Lankan – a heart that does not hesitate to be kind, even in the most unusual circumstances. These anecdotes are encouraging, heart-warming and, most importantly, they strengthen our confidence in Sri Lankan people.
Tasha explains that the reason they believe sharing anecdotes will be effective in triggering change in Sri Lanka is because readers can immerse themselves in the story and envision carrying out these act of goodness themselves. "For example, when you finish reading a book you feel like you're a part of that universe," says Tasha. "In some way that helps with this as well, where the readers can envision themselves in the characters of our anecdotes and see what we can do if we come across that situation as well."
I feel like the reasons so many people leave this country is because they lack the confidence to think that things will improve. And definitely, part of the reason is because they lack confidence in the system or in the politics or something bigger. But another part of the reason is because they also don't have too much faith in our fellow citizens, in the country.

Tirani Wijewickrama, Co-founder – Typical Sri Lankans
Tirani also highlights that Sri Lanka may be experiencing significant brain drain due to locals choosing to emigrate when they lose hope in their own people. This rate of migration may reduce if more Sri Lankans have confidence in the nation's ability to improve. As suggested by Navya, positivity generates confidence, and Typical Sri Lankans hopes to promote this positive mindset through their anecdotes. "It can be a stepping stone to us achieving greatness," affirms Navya.
Lessons to learn from Typical Sri Lankans
One thing I've learnt is that people have a bigger appetite for this than we think. We didn't expect our stories to be shared so much or for people to want to join our team. There is an audience for these things. So, if you have an idea like this go ahead and do it.

Tirani Wijewickrama, Co-founder – Typical Sri Lankans
Launching and managing this initiative has shown the co-founders that there is an audience for meaningful and wholesome content. People want to be inspired and they want to share this inspiration with the rest of the world. Reading these stories encourages us to have more faith in Sri Lankans while transforming our view on who a "typical Sri Lankan" is. As summed up by Tasha, "When the stories come to light, I feel more hope in our future".
The Typical Sri Lankans anecdotes have the ability to trigger other acts of goodness, as they create a sense of awareness and understanding on what one can do to be kind to others in a similar instance. These stories also give us insight into important issues that we may not be aware of otherwise. For instance, reading a story on how to embrace diversity could help us to identify our own prejudices and break away from stereotypes. Accordingly, Typical Sri Lankans essentially does not teach us how to just be a better Sri Lankan, but how to be a better human.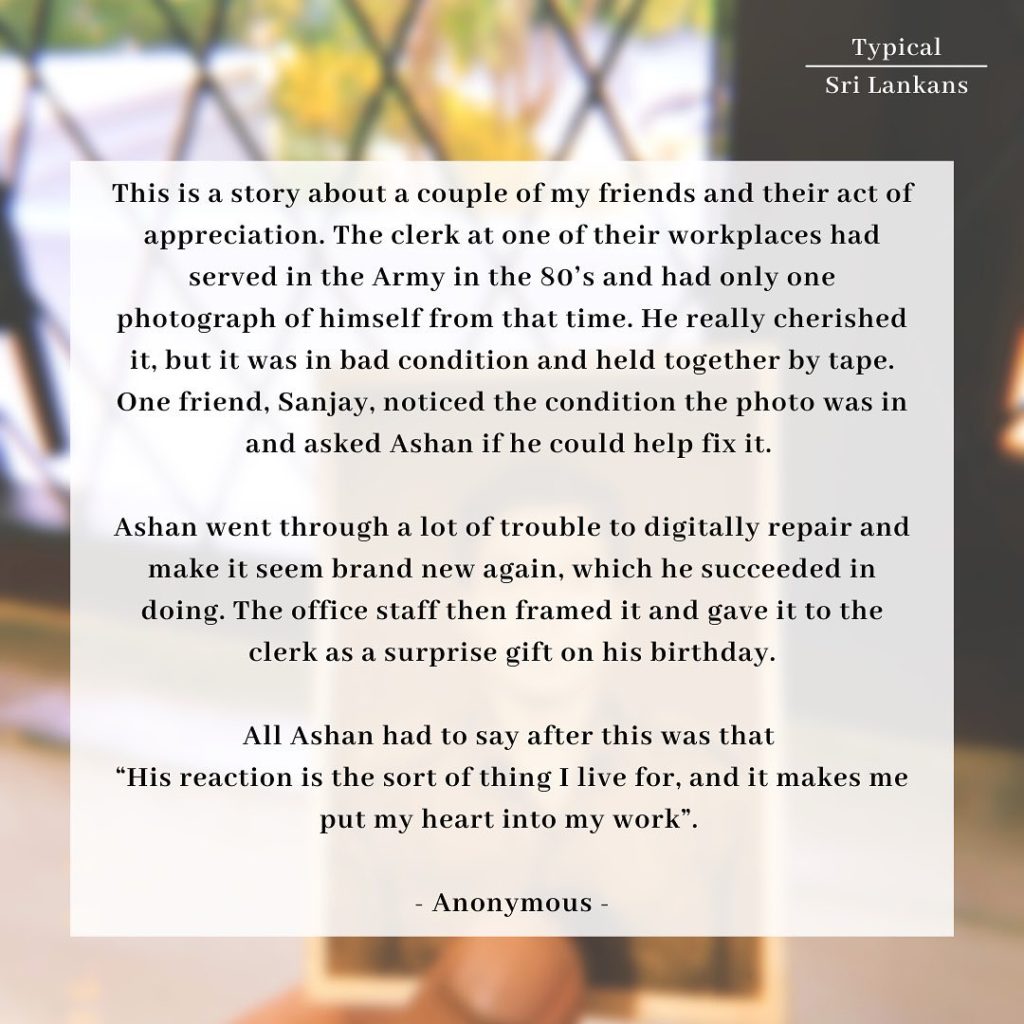 A message from one typical Sri Lankan to another
Last but not least, we asked all three co-founders what message they have for all the typical Sri Lankans out there. Here's what each of these inspiring young women had to say:
Be your typical Sri Lankan self. What more can we ask for, right. We need more Typical Sri Lankans.

Navya Wijewickrama, Co-founder – Typical Sri Lankans
Be hopeful and don't give up.

Tirani Wijewickrama, Co-founder – Typical Sri Lankans
Instead of being passive observers just because you don't know what to do, follow your gut and try to make the best out of scenario. Help someone out, do what you can.

Tasha Goonewardene, Co-founder – Typical Sri Lankans
Join the initiative, make a change
If you have a story about a typical Sri Lankan and would like to share it with the world, make sure to send it to any of the platforms mentioned below. You can also volunteer to join their team by keeping a look out for any recruitment details posted on their social media pages, or even send them a message directly to inquire about an opening.
Typical Sri Lankans is shedding light on important events and actions that usually go unnoticed. This new perspective and narrative is a valuable catalyst in bringing about positive change. With a renewed mindset and revived hope, Sri Lankans have the ability create a brighter future for themselves and their fellow citizens.
Contact details:
Facebook: typicalsrilankans1.0
Instagram: typicalsrilankans_
Email: [email protected]
WhatsApp: +94 767778121
---
Volunteer International is a 501(c)3 tech-nonprofit registered in the United States with operations worldwide. Using a location-based mobile application, we mobilize volunteers to take action in their local communities. Our vision is creating 7-billion volunteers. We are an internationally recognized nonprofit organization and is also a Civil Society Associated with the United Nations Department of Global Communications. Visit our profiles on Guidestar, Greatnonprofits, and FastForward.