Theresa Nyava's Background
Theresa Nyava, is a Zimbabwean woman who hails from Zvimba district. This area is located in the Mashonaland West province of Zimbabwe. Theresa is famous for her work in fighting for the eradication of period poverty in Zimbabwe. Through Sanitary Aid Zimbabwe, Theresa has been at the forefront in fighting period poverty in Zimbabwe. Period poverty is the struggle faced by low-income women and girls in accessing menstrual products. The term originated owing to the increased economic and financial vulnerability, women and girls face due to the expenses incurred on menstrual hygiene products. Globally, one in ten women cannot afford the appropriate sanitary materials. In Zimbabwe, it has been cited that 7 in 10 girls do not use commercial sanitary wear. Many young rural girls come from subsistence farming communities. They come from families that continue to face the brunt of a host of economic challenges caused by drought, cyclone IDAI, and the COVID-19 pandemic. This is compounded by the fact that Zimbabwe currently has the third highest inflation rate in the whole world. Most workers in the Southern African country earn salaries that are about half the Poverty Datum Line (PDL) which was 3 279.00 in November 2020, leaving them struggling to make ends meet and unable to afford basic necessities such as menstrual products.
Sanitary Aid Zimbabwe
Having personally experienced the challenge of accessing sanitary wear, Theresa founded Sanitary Aid Zimbabwe in 2016 mainly from her personal savings and funds from well wishers. Sanitary Aid Zimbabwe was established with the goal of realizing "A nation without period poverty and a nation that provides equal opportunities for girls and women to succeed in all aspects". Since then, it has been donating various menstrual products to the needy.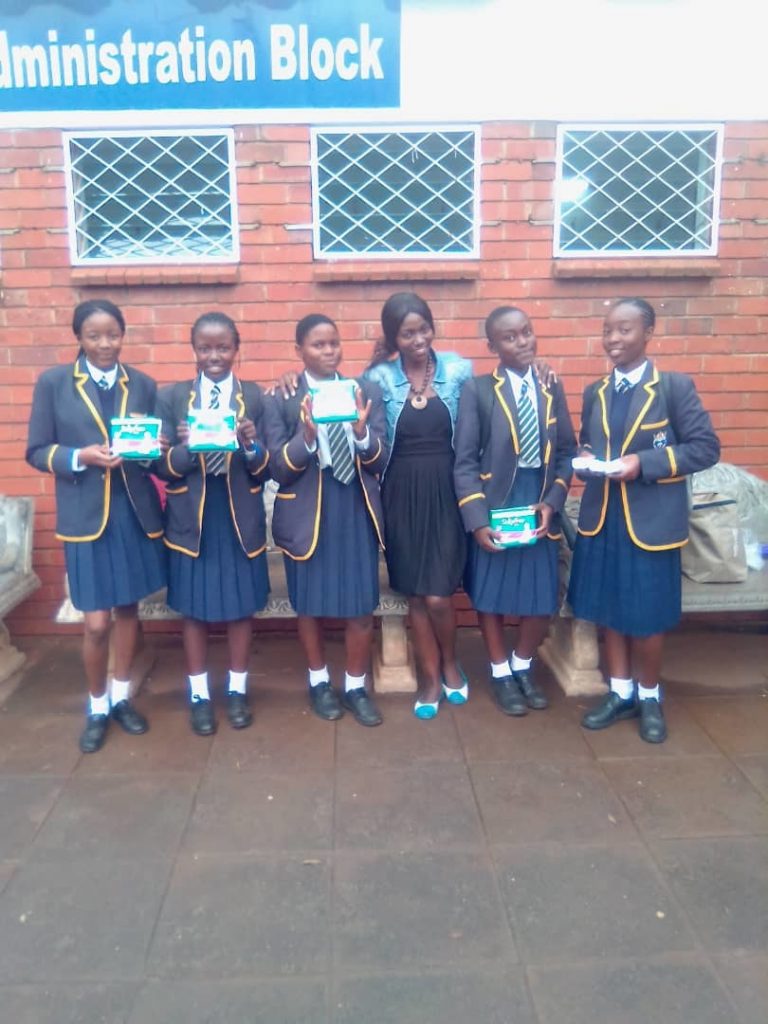 Sanitary Aid Zimbabwe has been growing so rapidly that it now offers training services on making reusable menstrual pads. It is collaborating with teachers to form health clubs at schools. These clubs are training students to make reusable sanitary wear. The organization has gone a step further by starting a programme to train and equip women in poor communities with skills in soap and detergent making to help improve their hygiene. Furthermore, Sanitary Aid Zimbabwe has continued lobbying the Government of Zimbabwe to provide free sanitary wear to school children.They have been at the forefront campaigning for subsidies on menstrual products, and for the removal of taxes on menstrual products .
For her sterling efforts in the fight against period poverty, Theresa received the Power, Together award by the Women Leaders Global Forum, in 2019 during the Reykjavík Global Forum 2019. It is therefore not surprising that Theresa is affectionately known as "Sanitary Bae" in social circles because of her work in Sanitary issues.
COVID-19 pandemic and period poverty
During the COVID-19 pandemic, Plan International UK, researched the impact of COVID-19 on period poverty in 30 countries of which Zimbabwe was one. It found that 73% of health professionals had reduced access to menstrual products because of disruptions in supply chains and shortages during the pandemic.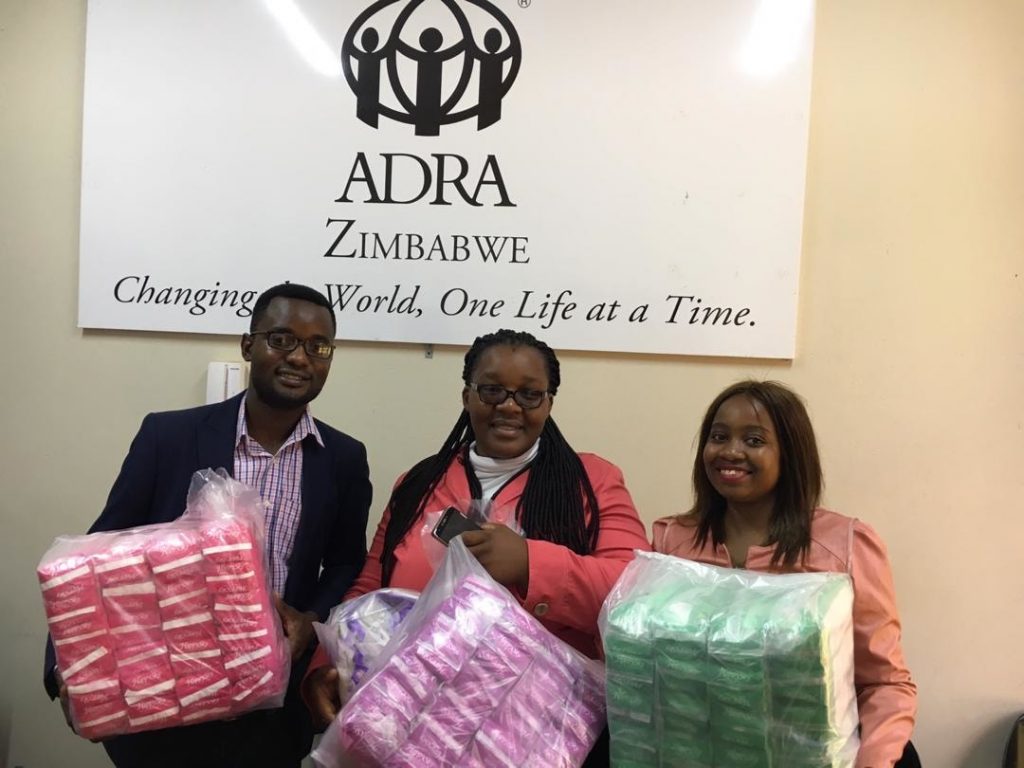 The pandemic and its impacts disrupted livelihoods, especially in urban areas, and added 1.3 million to the extreme poor. Estimates suggest the number of extreme poor reached 7.9 million in 2020 which is approximately 49% of the population. The survey by Plan International UK also indicate that nearly 500,000 households have at least one member who lost their job in 2020, causing many to fall into poverty and worsening the plight of the existing poor. According to Theresa Nyava, the Director of Sanitary Aid Zimbabwe, the pandemic has affected their work and all women due to the economic effects of the lockdowns that has negatively affected access to sanitary products.  
Conclusion
Theresa is one of the exemplary women who are making impact at the grassroots level in Zimbabwe. Her work in fighting to eradicate period poverty since 2016 has tremendously benefited local communities of young women and girls in rural and urban Zimbabwe. From founding an organization with personal funds in 2016 together with funds from well wishers, Theresa has demonstrated great empathy and a high level of zeal and determination. She has soldiered on, albeit the economic challenges in the country and the COVID-19 pandemic in 2020. This has seen her organization, Sanitary Aid Zimbabwe expanding its work, to now offer more services such as training services for women and young girls that empower them to make reusable sanitary pads and other hygienic products. For Theresa, the sky is the limit as she strides towards realizing the vision of her organization or realizing "A nation without period poverty and a nation that provides equal opportunities for girls and women to succeed in all aspects"
_____________________________________________________________________________________________________________________________
IVolunteer International is a 501(c)3 tech-nonprofit registered in the United States with operations worldwide. Using a location-based mobile application, we mobilize volunteers to take action in their local communities. Our vision is creating 7-billion volunteers. We are an internationally recognized nonprofit organization and is also a Civil Society Associated with the United Nations Department of Global Communications. Visit our profiles on Guidestar, Greatnonprofits, and FastForward.