Article by Firas Aouinet.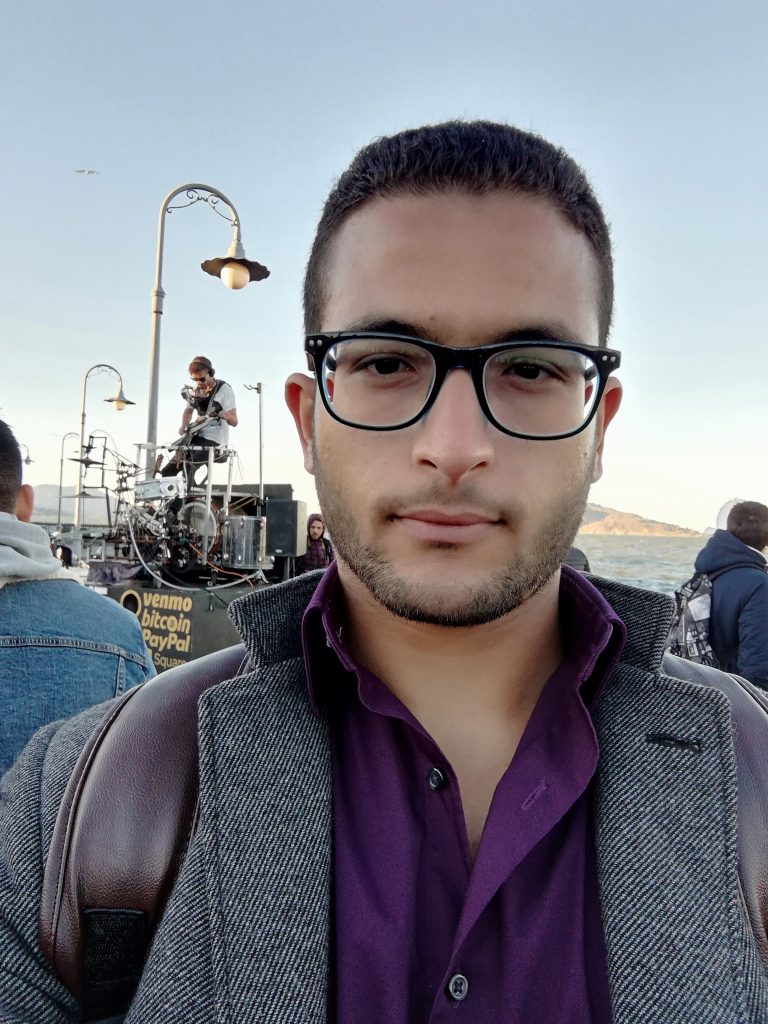 Firas Aouinet is a writer at heart. So far, he has dabbled in a few fields of study. He studied a bit of multimedia Journalism at Southeast Missouri State University where he learned the basics of U.S journalism and honed both his writing and graphic design skills. He took group fitness instructing and personal training courses as well. Currently, He is a bioengineering student at the National Institute of Applied Science and Technology of Tunisia, at the verge of graduation. He worked as a volunteer reporter for the university's newspaper, the Southeast Arrow, an award-winning and a student-run publication. He also interned for a creative writing business called the Little Red Wagon Press (amazing boss). He's both a Thomas Jefferson Scholarship Program alumni and a YALA Citizen Journalism alumni.
Firas aspires to become a recognized author, a personal trainer, and a comedian.
---
"Equal pay! Equal pay!"
The chant has gone viral at the Ticker Parade in New York City after the US Women Soccer National Team brought back Fifa's biggest title – the world cup. It has become apparent that the champions have had enough of getting paid less than then Men's team.

The US Women National Team (USWNT) brought back the World Cup title after beating Netherlands 2-0 on July 7, and a spectacular undefeated streak during the tournament (no one can ever forget the historical win against North Korea: 13-0).

Breaking down the payment gap factors
Despite their Fifa ranking – number one, four Olympic gold medals , four world cups, and an absolute domination over women's soccer (15 wins, 1 loss, and 2 ties in 2019), the USWNT struggles with a huge gap in payment compared to their male counterparts.

Their fight started back in 2016 after they won their third World Cup, in 2015, against Japan. Five of the squad's stars (Carli Lloyd, Hope Solo, Alex Morgan, Megan Rapinoe and Becky Sauerbrunn) initiated the lawsuit against US Soccer Federation allegedly accusing it of violating the Equal Pay Act. Today, all 28 players filed a lawsuit against the federation on Women's Independence Day.
It has been widely reported that the US Men's National Soccer Team has a financial advantage when it comes to salaries.

The payment system is not as easy as the uninformed individual might think. To clear things out, the Federation earns its money from two sources: game tickets and sponsorships.
The US Soccer Federation has a complicated payment infrastructure that the Washington Post has broken down in a YouTube video:
| | | | |
| --- | --- | --- | --- |
| Women's team pay sheet | | | |
| Base Salary | $100.000 | | |
| Friendlies' bonuses | Win | Tie | Loss |
| Opponent's Fifa rank 1-4 (+Canada) | $8.500 | $1.750 | $0 |
| Opponent's Fifa rank 5-8 | $6.500 | $1.250 | $0 |
| Opponent's Fifa rank 9+ | $5.250 | $0 | $0 |
*: Friendly games (out of any tournament)
| | | | |
| --- | --- | --- | --- |
| Men's team pay sheet | | | |
| Base Salary | $0 | | |
| Friendlies' bonuses | Win | Tie | Loss |
| Opponent's Fifa rank 1-10 (+Mexico) | $17.500 | $8.125 | $5.000 |
| Opponent's Fifa rank 11-25 | $6.250 | $6.250 | $5.000 |
| Opponent's Fifa rank 25+ | $6.250 | $6.250 | $5.000 |
The previous tables covers the payment system when both teams are playing outside of the scope of any tournament.
With a little bit of math, it comes to the attention that both teams would only earn the same amount if they lost 20 friendlies. All other odds are against the USWNT.

Now, let's move on to a specific tournament: the World Cup.
Factually, the prize money of the Men's World Cup is colossally higher than the Women's ($38 Million for the 2018 Men's World Cup champions against $4 Million for the 2019 Women's World Cup champions).That is due to the simple fact that the Men's World Cup generates more money than the Women's World Cup since it draws a much larger crowd. In 2018, Fifa generated over $6 billion in revenue resulting in a cash prize of $400 million, $38 million of which was divided between France's players.

Fifa cannot be blamed for the wage disparity because the US Soccer Federation is an independent non-profit serving a social purpose, therefore, it can disregard who brings in more revenue and chooses to distribute the wages fairly at its own discretion.
Let's take a look at the current difference in payment according to information collected by The Guardian:
| | | |
| --- | --- | --- |
| | Women | Men |
| Qualifying for the world cup | $37.500 | $108.695 |
| Winning Individual qualification games | $15.000 | $200.000 |
| Called up to the world cup | $37.500 | $68.750 |
| Advancing to the knockout stages | $0 | $329.379 |
| Winning the world cup | $110.000 | $407.608 |
| World Cup victory tour | $60.869 | $0 |
Currently, the US Soccer Federation (USSF) argument for the pay gap is "market realities". Men's soccer draws in more crowd than Female soccer. The same thing is applied to basically any team sport with a ball (WNBA vs NBA, Men rugby vs Women rugby, etc.). This is obviously due to no one's fault. It's a matter of taste.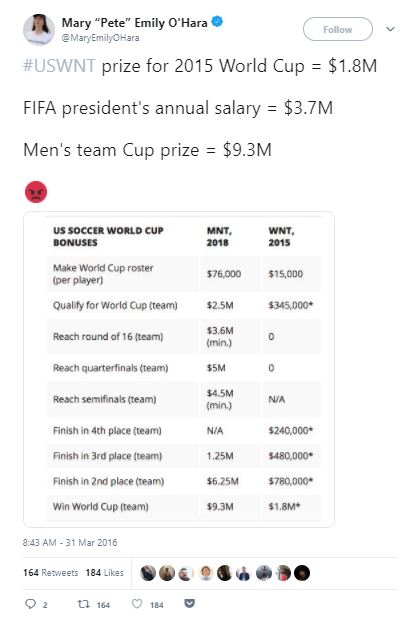 In the Comment section of a YouTube video, Kyle Lurz wrote "Would you rather find a $10 bill or free tickets to a woman's soccer game?… Thought so."

Fighting back
The USWNT brought in more revenue between 2016-2018 according to the Wall Street Journal:
"From 2016 to 2018, women's games generated about $50.8 million in revenue compared with $49.9 million for the men, according to U.S. soccer's audited financial statements. In 2016, the year after the World Cup, the women generated $1.9 million more than the men."
In addition, the US women's team home Jersey is Nike's best selling jersey, according to Nike chief executive Mark Parker. Moreover, the 2015 women world cup final broke the record for the most-viewed soccer match in the U.S between men or women.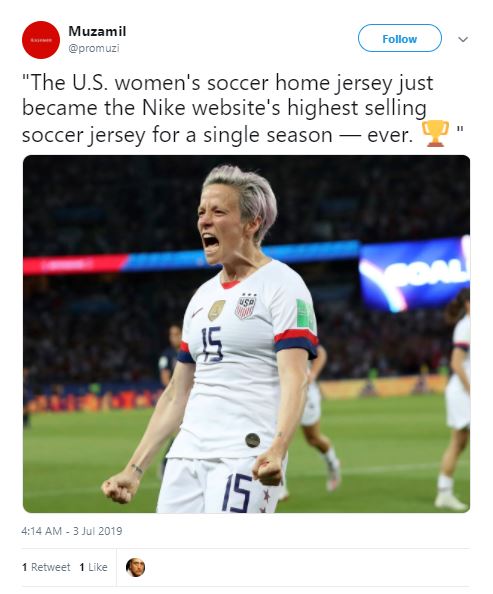 Controversy

The previous paragraph showcases some of the arguments the 2019 World Cup champions are using to justify their lawsuit. Unfortunately, approximately one quarter of the USSF total operating revenue comes from ticket sales, according to the federation's financial documents.

The lawsuit had taken a broader spectrum. Externally, it's about rewarding the USWNT for their efforts and contribution to U.S soccer and fixing the pay gap (fun fact: The USMNT lost to Mexico in a friendly the day after the USWNT won the world cup).

In its core, it's about equal pay and gender discrimination.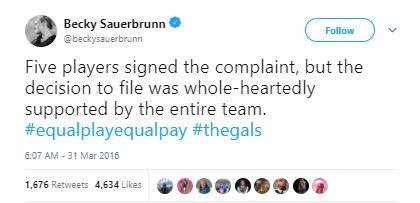 The equal pay act states that it is against the law to discriminate in payment between two individuals who are doing the same job except in cases of systems that measure earnings quantity or quality or production.
The question here would be What is production? How do we measure it? and of course the answer would differ from both sides. The Federation would say production is monetary earnings while the USWNT would say production is sports achievements.

The female champions are now a role model and one of the biggest advocates for those causes. However, their belief in the cause seems to be shaky.

In an interview, Megan Rapinoe, a USWNT all-star player and a co-captain, was indirectly exposed for having selective perception of what equality is. The interview was aired on NBA News under a segment called Game Changers? U.S Women's Soccer Players Sue Over Discrimination.
""In order to have, I think, a fair and a balanced conversation around compensation, we need to look at everything, the way our youth team is funded, the way our staff is funded… We don't feel like we're funded equally from top to bottom. That's what we're really fighting for, sort of a holistic approach to both programs for the federation." Rapinoe said.

To which the interviewer followed up with "The women soccer team has a guaranteed contract. In other words, whether you play or not, whether you're injured or not, you got that money that is in your contract. Whereas, the men; if they don't play they don't get the money. Now, if you were to get equal pay, would you be willing to give up that guaranteed contract and really be on equal footing with the men?"

To which Rapinoe responded "I think it's okay that the compensation structure are a little bit different. I think our realities are a little bit different. I feel like it's a little bit more complicated in the issue of that given both realities of the men's season and our season."

So basically, according to Rapinoe, their fight for equality is really a fight for the benefits but none of the downsides. If it's an advantage, the difference between men and women is very important but when it's detrimental, the difference is arbitrary and discriminatory.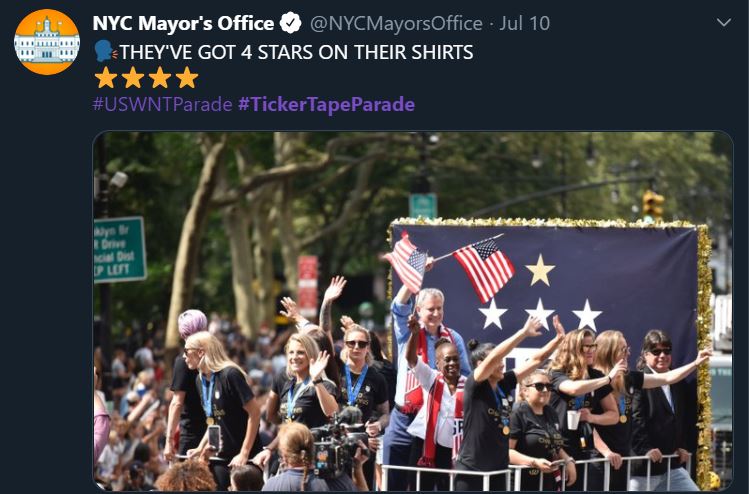 As of right now, both sides have filed their respective lawsuits and everyone seems to have a stand on the issue. Celebrities have tweeted excessively about the subject in favor of the four-time world champions.

Reports say that both sides have recurred to mediation.
---
IVolunteer International is a Gold Seal nonprofit organization on Guidestar. Operating from Savannah, Georgia, IVolunteer International connects volunteers to volunteer projects around the world. Since 2017, IVolunteer has connected over 3,000 volunteers worldwide. In 2019, World Trade Center Savannah selected IVolunteer International as finalists of the Peace Through Trade Competition. In 2020, IVolunteer International will develop and launch a geo-connecting mobile application which will be available to volunteers around the world.