Our world has become increasingly globalized, diverse, and rich in ideologies and practices. Countries around the world encompass a wide range of communities within national borders. But when so many different groups of people are embedded in one society together, beliefs of superiorities and minorities come into place. While each group is different, one thing that's common among minority groups is the fact that, more often than not, these groups face multiple forms of discrimination, leading to marginalization and exclusion.
Geography classes has drilled into the minds of young people all over the world the fact that the world has over 650 ethnic groups in 190 countries, but one would be hard-pressed to find someone who can list the entire list of ethnicities in their own country. The reality is, for urban citizens living in regions without other ethnic minorities, a lack of knowledge regarding the rest of the country's ethnic groups is rampant and even worse, cultivating nonchalant attitudes towards minorities' living conditions
Inequality of outcome among today's generation is the source of the unfair advantage received by the next generation. If we are concerned about equality of opportunity tomorrow, we need to be concerned about inequality of outcome today.

Tony Atkinson
As Vietnam Gets Wealthier, Inequality Among Ethnicity Is Worsening
According to the Ministry of Labor, Invalids, and Social Affairs, economic inequality is worsening in Vietnam. The report shows a considerable decline in the poverty rate among indigent districts, communes, and ethnic minority communities, though some areas still suffer from a poverty rate of over 50%. By the end of 2018, ethnic minority groups living below the poverty line made up 55% of the whole country's poverty rate, where the average income per household among minorities was only two-fifths of the national average income. Why is ethnic minority poverty endemic? This has been the subject of numerous studies, but the general list of causes can be narrowed down to 5 main causes:
Geographical isolation and limited market access
Social exclusion, culture, and language
Limited access to quality land
Low rates of out-migration
Low levels of education
But what does all of this have to do with politics? Governmental policies and programs have not been culturally adapted and sensitive, in other words not catered for the most vulnerable minorities, and rampant discrimination by health staff is often reported by minority populations across the globe. Policies of exemption, where poor families should be guaranteed health care free of charge, have not been applied effectively. For example, the health insurance system up until 2003 did not function as intended since only a minor part (6%) of the poorest quintile were insured at the time.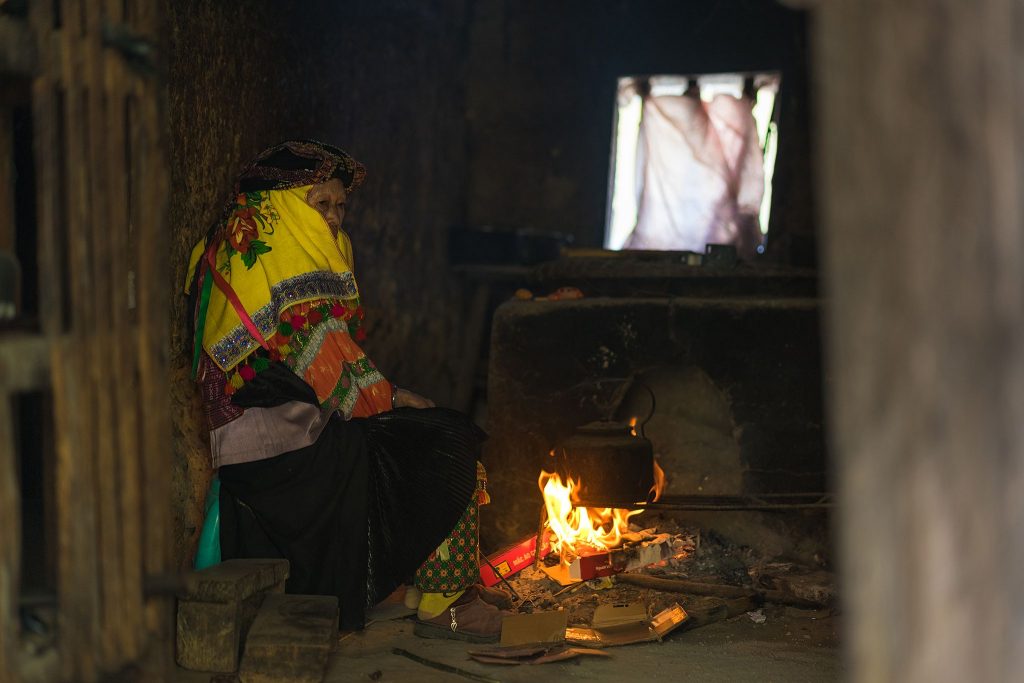 Historically, Vietnamese culture has been favored and there are examples of assimilation policies promoting Kinh Vietnamese (the majority ethnic in Vietnam) culture and language. This is an aspect that needs to be taken into account when discussing the ethnic minority discrimination issues in Vietnam. Vietnam, like other socialist countries, has a strong hierarchical culture, and even if society in recent years has opened up, there is still evidence that bureaucracy and governmental policy puts constraints on research in minority areas. Minorities are portrayed both in the official school system and in modern media as essentially different from Vietnamese culture. This notion of otherness groups even widely disparate cultures together to a perceived homogeneity with a common denominator of being poor, underdeveloped, and helpless, and at the same time colorful and exotic.
Vietnam should ensure efforts to address the poverty of minorities, take fully into account their views, preserve their unique cultures, languages, traditions, and lifestyle, and respect their rights to own and use the lands and territories that are essential to their livelihoods.

Ms. Magdalena Sepúlveda Carmona, UN Independent Expert on the question of human rights and extreme poverty. 
And that's not the end of it, ethnic minorities in Vietnam also experienced massacre attempts by the government. On April 30, 2011, 7,000 ethnic minority Hmongs gathered in the Muong Nhe district of Dien Bien province to protest the government on the violations of land ownership and religious freedom, since many Hmongs have been driven out of their ancestral lands and forced to recant their faith. Although this was a strictly peaceful gathering, on May 3, 2011, the government deployed armed military and police units in an aggressive crackdown on the "extremist" behavior of the Hmongs. At least 60 Hmongs were killed, hundreds wounded, and hundreds of others fled for hiding in the jungle or attempted to escape across the border to Laos.
Armed helicopters were reportedly used to open machine-gun fire on the unarmed crowds, and special force units of the People's Army were mobilized to track, arrest, interrogate and even summarily execute suspected Hmong demonstrators. The number of people arrested is not known, but many Hmongs have disappeared since then. The government then sealed off the area and prohibited access to foreign journalists.
The brutal repression of this peaceful gathering is an example of grave violation of the right to peaceful assembly of ethnic peoples. In 2011 alone, over 30 peaceful dissidents were arrested and condemned to a total of 185 years in prison and 75 years of house arrest simply for peacefully exercising their right to freedom of expression and calling for respect of their constitutional rights.
For China's Ethnic Minority Communities, Life Tilts On A Precipice
When discussing the catastrophe caused by the government of Vietnam towards the ethnic minority communities, another neighboring country's ethnic citizens are facing the same consequences. Over the past twenty-five years, China has undergone a rapid social and economic change. A report by Human Rights in China and Minority Rights Group International argues that this transformation has exposed the Chinese government's negative policies towards minorities.
There are a host of ethnic minorities in China, but they often have a week sense of identity and are relatively small in total number. History has taught the Han that other groups will and should ultimately be absorbed and assimilated as Han. There is a belief that the Han enjoy a superior and far more advanced culture. 

Martin Jacques 
The government repression policy has a particularly grave impact on Mongols in the Inner Mongolia Autonomous Region (IMAR), Tibetans in the Tibet Autonomous Region (TAR), and Uyghurs in the Xinjiang Uyghur Autonomous Region (XUAR), all prominent ethnic minority groups that are unfortunately neglected and marginalized in China. There have been continual reports of violence against Tibetan political prisoners, ranging from beatings to gender-based violence. Two Tibetan nuns told HRIC that they were arrested a the ages of 15 and 17 and tortured during interrogation before being imprisoned on subversion charges for shouting at a protest the following slogan:
Tibetans need human rights! Human rights for Tibetans!
Similarly, Uyghur activists in the XUAR have also experienced a crackdown. In March 2000, a prominent Uyghur businesswoman, Rebiya Kadeer, who was active in organizing grassroots campaigns to address Uyghurs' social concerns was sentenced to eight years by the Urumchi Intermediate People's Court of the XUAR for 'divulging state secrets to foreigners'. Although she now has asylum in the USA, her family in China is under constant harassment and in 2006, several of her children were tried on various charges.
Additionally, in terms of language, it was observed that Mongolian youth began using less Mongolian and more Chinese compared to their parents, and there is a reason for that. Many minorities lack fluency in Mandarin, which prevents them from equitable access to work. Rayila, a 20-year-old university student in Urumchi complained to the Washington Post, 'If I'm looking for a job, the first thing they want to know is what my Chinese level is, and if it's not up to par, they say, "Go away".
Open discrimination further limits minority opportunities. The sense of discrimination does not only exist among those with low education or skills but extends to those who have progressed in the education system and are proficient in Putonghua. As a result, socio-economic mobility for minorities is extremely limited.
The Rise Of Hindu Nationalism In India
Asides from the current alarming COVID crisis situation, religious freedom conditions in India still continue to go toward the negative trajectory. Throughout 2020, the national and state governments' perpetration and toleration of these systematic, ongoing, and egregious violations led to increasing repression of religious freedom and a growing climate of hostility and violence toward religious minorities, human rights advocates, and others speaking out against such violations.
India is home to some two hundred million Muslims, one of the world's largest Muslim populations but a minority in the predominately Hindu country. Since India's independence, Muslims have faced systematic discrimination, prejudice, and violence, despite constitutional protections. Experts say anti-Muslim sentiments have heightened under the leadership of Prime Minister Narendra Modi and the ruling Bharatiya Janata Party (BJP), which has pursued a Hindu nationalist agenda since elected to power in 2014. Since Modi's reelection in 2019, the government has pushed controversial policies that, critics say, explicitly ignore Muslims' rights and are effectively intended to disenfranchise millions of Muslims.
In early 2020, the passage of the religiously discriminatory Citizenship, a fast track for citizenship specifically for non-Muslim migrants from Afghanistan, Bangladesh, and Pakistan residing in India, led to nationwide protests against the CAA and spurred state and non-state violence, largely targeting Muslims.
In some countries, already marginalized religious minorities faced official and/or societal stigmatization, harassment, and discrimination for allegedly causing or spreading the virus.

The United States Commission on International Religious Freedom 2021 annual report
February witnessed the worst Hindu-Muslim mob violence in more than three decades erupted in Delhi. More than 50 people died and 200 others were injured, mostly Muslims. Mobs sympathetic to Hindu nationalism operated with impunity, using brutal force to single out Muslims, attack mosques, and destroy homes and businesses in majority-Muslim neighborhoods. The Delhi Minorities Commission investigated and found that the violence and allegations of police brutality and complicity were "seemingly planned and directed to teach a lesson to a certain community which dared to protest against a discriminatory law."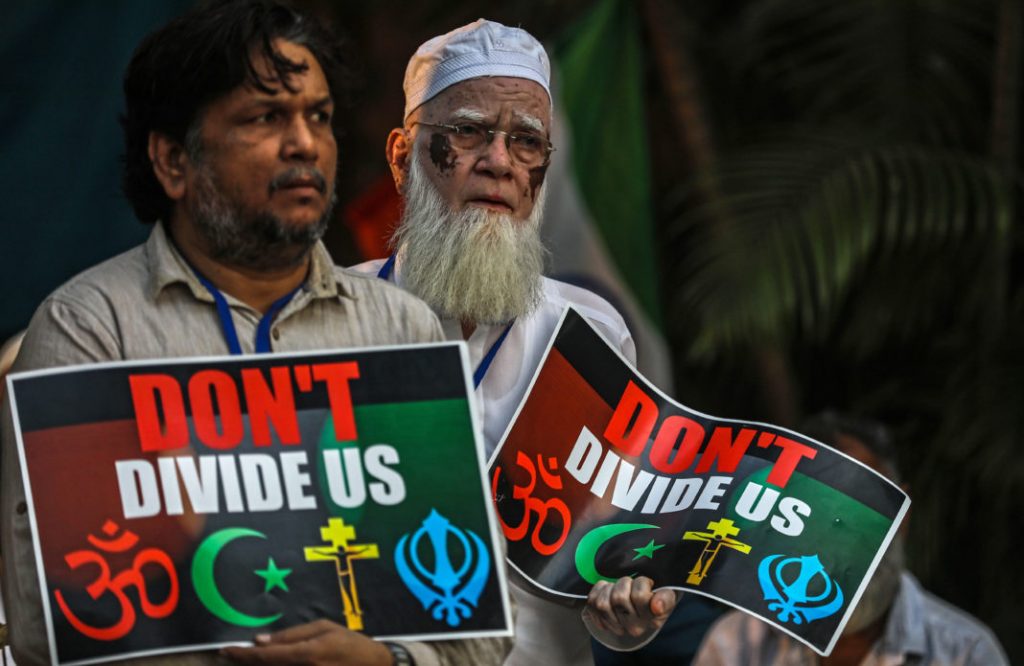 Despite India's constitutional protections for religious freedom, approximately one-third of India's 28 states limit or prohibit religious conversion to protect the dominant religion from perceived threats from religious minorities. In Muslim-majority Jammu and Kashmir, restrictions on freedom of movement and assembly negatively affected religious freedom, including the observance of religious holy days and the ability to freedom. The shutdown of the internet for nearly 18 months – the longest-ever shutdown in any democracy – and other restrictions on communications caused significant disruption in the freedom of religion.
The idea was that if you were a Muslim, you were liable to be attacked anywhere, anytime.

Ghazala Jamil, Assistant Professor, Jawaharlal Nehru University
In recent years, large-scale outbreaks of violence have rarely erupted, but random attacks on Muslims frequently occur. Hindu mob attacks have become so common that India's Supreme Court warned that they could become the "new normal." For example, recently in towns near the city of Muzaffarnagar, more than sixty people were killed in clashes that broke out between Hindus and Muslims after two Hindu men died in an altercation with Muslim men. An estimated fifty thousand people, most of them Muslim, fled the violence; many lived in relief camps for months, and some never returned home.
The Search For Durable Solutions
Studies have shown that increasing access to quality service for ethnic minorities can only be solved if the following factors are taken into account: awareness, opportunity costs, language barriers, mistrust, rituals, culture, taboos, and network habits. The government must take all forms of inequality into account, not only income inequality but also development opportunity and voice inequality, and implement policies that address the multifaceted causes underpinning minority inequality. Some policy suggestions recommended by World Bank Group are:
Infrastructure investments should be refocused equally on the maintenance of the existing infrastructures in most areas.
Soft investment, especially in production support, capacity development, and participation should be the main focus of policies for poverty reduction in ethnic minority areas.
Access to the labor market should be the main focus of future policies.
Women's economic empowerment should be strengthened in response to the many disadvantages faced by ethnic minority women.
Addressing misperceptions and social stigmas should be a priority of government policy.
Minorities Around the World
There are 75 different minorities in the Philippines, 2000 ethnic groups in Nigeria, and around 20% of India's population is minority groups. These are just a few of the many positions across the globe. Whether it is wealthy minorities, political minorities, or defined minorities, it is our duty, as citizens, to understand and support these marginalized voices. We must look past what we think we know and turn to create spaces to get pace with those preconceptions and ideas.
We may have different religions, different languages, different colored skin, but we all belong to one human race.

Kofi Annan
The aforementioned example of ethnic minorities' displacement in Vietnam, China, and India is a reminder that the response to a global challenge is too important to be neglected and left to policymakers alone, and now is the time for us to acknowledge and do something about it. Everyone and anyone can make a difference. Achieving effective participation of minorities in societal activities and ending their exclusion requires us to embrace diversity through the promotion and implementation of practices and standards of inclusivity and acceptance.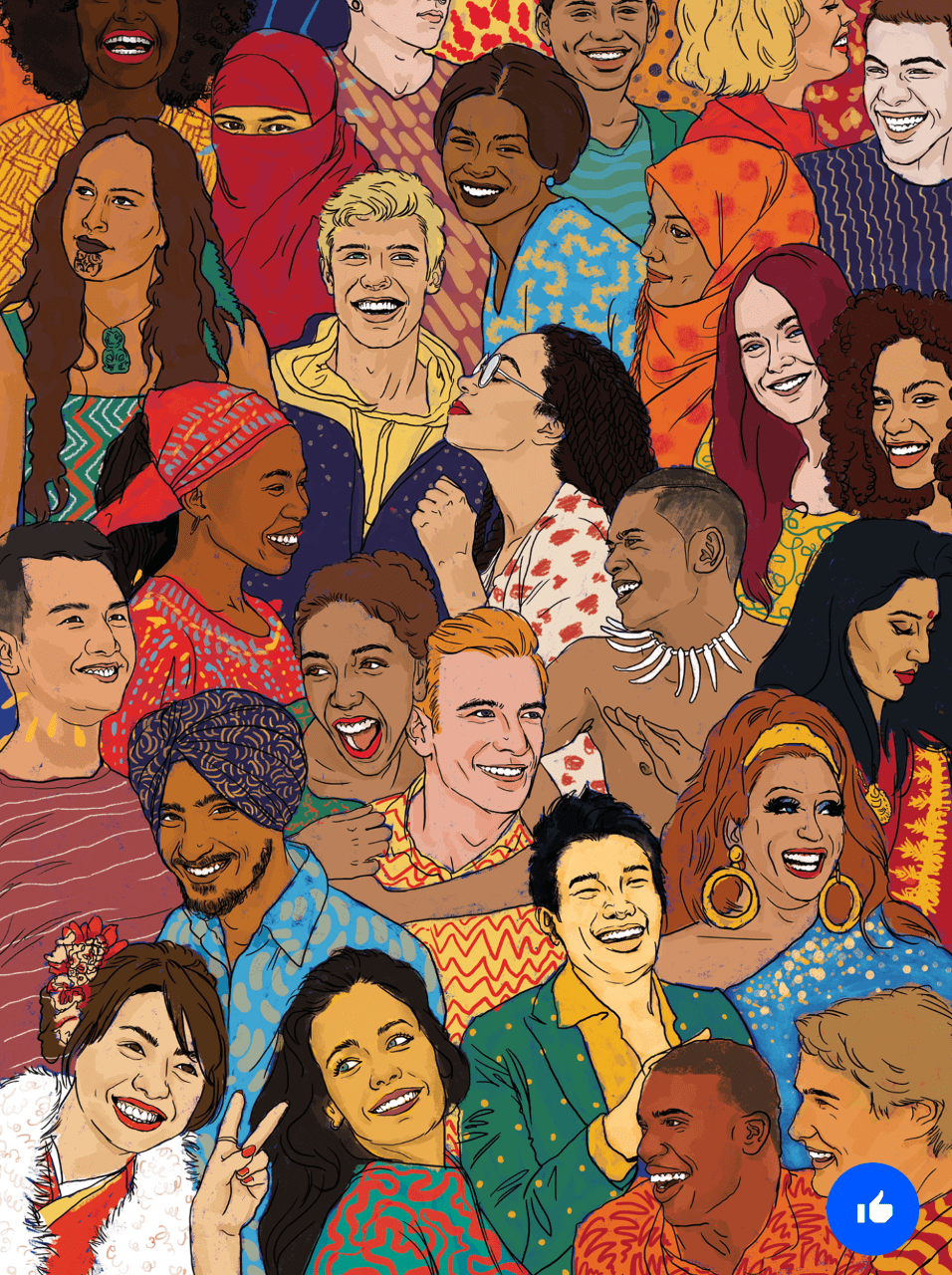 The World Day for Cultural Diversity for Dialogue and Development is celebrated every year on 21 May to recognize and rejoice in the diversity among us. As members of our communities, we should take affirmative actions in the form of social welfare and humanistic programs. Small gestures will knit our minority communities into the social fabric. Let's start with eliminating the idea of having "minority" as a concept but rather as a prideful identity. Let's not emphasize certain groups, but rather, strive to create inclusive, safe, and positive environment all around the world.
IVolunteer International is a 501(c)3 tech-nonprofit registered in the United States with operations worldwide. Using a location-based mobile application, we mobilize volunteers to take action in their local communities. Our vision is creating 7-billion volunteers. We are an internationally recognized nonprofit organization and is also a Civil Society Associated with the United Nations Department of Global Communications. Visit our profiles on Guidestar, Greatnonprofits, and FastForward.