Despite the uncertainties and upheavals of 2020, artists have continued to produce excellent art performance that defies genres, merges past influences, and exceeds expectations.
The past year has given artists and cultural organizations the opportunity and obligation to question their worth, intention, and usefulness. Most in the creative community have lost resources, and with the future of the industry remaining uncertain, many have lost bearings and perspective. Coming to terms with this massive change in structure, a trauma of sorts, and facing this uncertainty creates an opportunity; that is to inhabit the spaces that are available to us and to recalculate our resources of knowledge through a form of contemporary dance, which is a universe of movements.
Physical art performance has the ability to spark a person's most intense emotions, helps someone break free from the chaotic madness that has surrounded them for a long time, and progresses self-reflection towards a more sustainable, equivocal, and nurturing future. From the excellent dance choreography that should inspire even the most devout couch potatoes to move their feet to a voice that so delicately embraces, an emotionally charged climax that pierces through our psyche. 
Much has changed in the world since the pandemic kicked in, but the power of the artist and their art performance has not.

Paul Christiansen
Music Can Lead You To Interesting Places, People, And Experiences
Before the notorious universal lockdown in the middle of 2020, my friend and I, both had the one-of-a-lifetime opportunity to experience the passionate and assertive visual performance of The You event, which took place in the wonderful Vocational Ballet School of Ho Chi Minh City.
The performance, The You, is an experiment conducted by Ian Richter, Jo or Ngô Kỳ Duyên, and Đoàn Thanh Toàn. As artist-researchers, they shared common interests in finding the balance between the right object to use and the right approach to assign meaning to the object. Kindly supported by the Japan Foundation Vietnam and the Goethe-Institut of Saigon and Hanoi through the project initiatives "Idea Booster" and "Culture Lab", the whole experience is a composition of visual projections, live music, and physical performance-crafted using the codes of a scientific experiment and influenced by methods of creative therapy.
Coming as a guest to The You event is a nerve-racking experience, mainly because it has been too long since we last joined a performing art event, therefore didn't know what to expect. The room we set foot in seemed empty with no furniture with all the mirrors being covered by a black sheet. My friend said that it is to cover all the mirrors in the room for us to focus on the performance and also, to create a mysterious and condensed space.
More people started to enter the room and then suddenly, the light switched off, leaving the room filled with darkness and in the midst of that, a small beam of light appeared in front of us, in the center of the stage. And there came the artists: Ian Ritcher, Jo, and Đoàn Thanh Toàn, all laid down on the floor and then started shouting watchwords and counting numbers, backward and forward. All the audience at that time were silent, a way to show respect for the artist and for them to enter the performance mentally when in sync with all the watchwords coming from the artists.
A little side note about the artist information that was introduced at the beginning of this article, before coming to the show, I did some research about them, enough to recognize them right away when I first encountered them on stage. 
Ian Richter first caught my attention. He is a musician, a music producer (sound designer, as he preferred himself on his website), and also a music therapist. Having lived in two of the world's most conflicted regions – South Africa and the Middle East – he's been exposed to culture through a unique set of circumstances. Growing up in the sleepy surfer town of Durban, he eagerly absorbed the sonic influences offered to him, drawn to both Western and African music. Today, Richter juggles a range of sonic projects, performing in clubs, composing music for contemporary dance, designing sound for film and the visual arts, and producing recorded pieces across a number of genres.
His way of finding patterns and underlying principles, of constructing theories and frameworks, and of forming connections as he goes along with his artworks never ceases to amaze me. His thinking ability, combined with his self-awareness, value, belief, and his constant concern with the depth and nuances of societal values system make him connected deeply with something that has meaning to them, to see value in random objects, as said on his blog website: "Music can lead you to interesting places, people, and experiences. That's the only real reason to immerse yourself in it". Ian Richter's passion for sonic exploration is able to give him a ritualistic journey of improvised sound, a way to connect himself and his surroundings, to enter liminal space between imagination and reality.
When talking about his interesting thinking process, we have to discuss his music product, as it was produced by his modular synthesis and his proceeds to create voltage waves that convert nicely to sound waves, which he found sonically pleasing. His music fit perfectly with Jo (Ngô Kỳ Duyên)'s generative animation and Đoàn Thanh Toàn poignant dance choreography. All fits perfectly well to create a harmonious atmosphere in the most delightful way possible. When we heard the tintinnabulation sounds, our thoughts stopped as we were waiting for a train to come, a train of thought when the time was freezing and the only thing that exists was our being.
One objective of the artist is to create something beautiful, or something that points to something beautiful.

Ian Richter
Contemporary Dance Is A Universe Of Movements
Đoàn Thanh Toàn took my breath away when he first came on stage.
As a performing artist, Đoàn Thanh Toàn finds dance at the convergence of community, justice, and feminist queer world-making. He works to acknowledge and empower the arrays of histories, intersectional identities, and potential that the dancing bodies lie on, while also seeking values in the nature of movements and emotional exchange between the choreographer, dancers, and audience. Trained in Contemporary Indian dance with Ananya Dance Theater, he facilitates workshops that foster communal connection through movement and dance with the hope to engage with queer feminist communities in Vietnam through activism and the arts.
As a contemporary dancer performing on stage, he did amazingly with his unique, fluid, and wavy movements. The sharpness and power of his dance moves made us speechless as we could feel the pain enduring in every movement that has been made, even the most trivial ones. The control of his body made his stamina appear very strong, excruciating even, but for the most part, it made us feel the constant present energy that existed in the room. Everything combined with the music, atmosphere and abstract generative animation shown in the background was perfectly well balanced with each other.
When it comes to facial expression, Toan's performance was beyond my imagination, as if he was trying to portray a story through his eyes and muscle movements. There was a moment that caught my attention when at almost the end of the performance, the music started playing and our protagonist (the dancer) finally let go of the rope that has been pulling him back, his face started to freeze and one by one, drops of water started rolling out from his cheek to his neck. We didn't know if that was tears or sweat, but either way, it was a heart-wrenching scene to watch as if we could feel the pain through every drop of water.
The storyline of our protagonist (the dancer) was unclear, as there wasn't a single line spoken during the show and everything was portrayed through the dancer's dancing movements. We begin when the dancer danced freely with his movements to when he was being pulled in the leg by the weight of rope hanging around on his shoulders. At the end of the performance, he'd finally let go of the rope, entering a new chapter of his life when there was nothing holding his back. Everyone has different interpretations, as there is no answer to contemporary art and it is supposed to provoke more questions than answers. For me, it was a storyline of someone who is fighting their inner demon, it could be their traumatizing past, societal pressure, letting go of someone dear to their heart, anything that intends to hold them back. For my friend, it's a series of harmonious motions and emotional outbursts in every moment.
It feels like his body and soul feel the music and that they live in every beat that comes in his way. Listening to the vibrating body of a dancer, you can see there was a vast array of movement and that is what's great about contemporary dance: the freedom, the research, the space it creates.
We all lookup for the answers.

Ian Richter
Look… The Forest Is Singing
Another artist's research before the event leads me to Jo (Ngô Kỳ Duyên) and her artworks.
Jo or Ngô Kỳ Duyên is a Saigonese visual artist whose work is associated with moving images, virtual reality, augmented reality, new media, and generative art. She also leads the "A Space Virtual" project. With the media and design background, her aim is to reach more audiences in a stronger narrative form about social justice and sustainability matters with high-tech support and advocate for the creative community to go beyond the traditional mediums. For those who are unaware, the concept of generative design is the iterative process that mimics nature's evolutionary design and can be done by hand, or even in an automated way using AI. It is a way to show the underlying beauty of math, to show underlying patterns by technical knowledge and creativity, to provoke the interface with lights and sensors. From time to time, artists have always been using cutting edge technology, and trying to understand the correlation between art and chemistry, materials and manufacturing, science, etc.
And Jo is no exception, getting to know more about her through her writings, drawings, 3D animation / graphic video, I can see her internal emotions and authenticity values that come from within. By assigning meaning to everything, it allows her to be involved with and entangled in the depth and nuance of the meaning of everything, and how the meaning of something relates to everything else. You can see this being portrayed perfectly in one of her poems:
Emotions As Transparent As Water From Its Source
In the process of observing all that was happening in the event, I entered a state of quiet meditation when all I could think of was to focus on all the movements, breaths, and sounds that were displayed in front of me. In the final moments of the event, there was a slideshow about the fire and how to extinguish it, extinguish the fire so that we can let go of all the things that are holding us back, into the new realm, and become the version we always wanted to be. The last poem read by artist Ian Richter has sparked a person's most intense emotions, to break free from the chaotic madness that has surrounded you for a really long time and progressing towards a more sustainable, equivocal, and nurturing future.
At the end of the show, we all walked out of the venue with our own thoughts. My friend found it interesting because it raised a lot of questions. For me, I tried to find an answer to what I saw, linking events and situations that happened to get a clear answer for myself. But at the end of the day, there is no right and wrong answer to what had happened in the show and what the intended message was. All we can do is let the show leave us with our own feelings and thoughts, and I believe that's what artists want us to see: to invoke self-reflection through their artworks.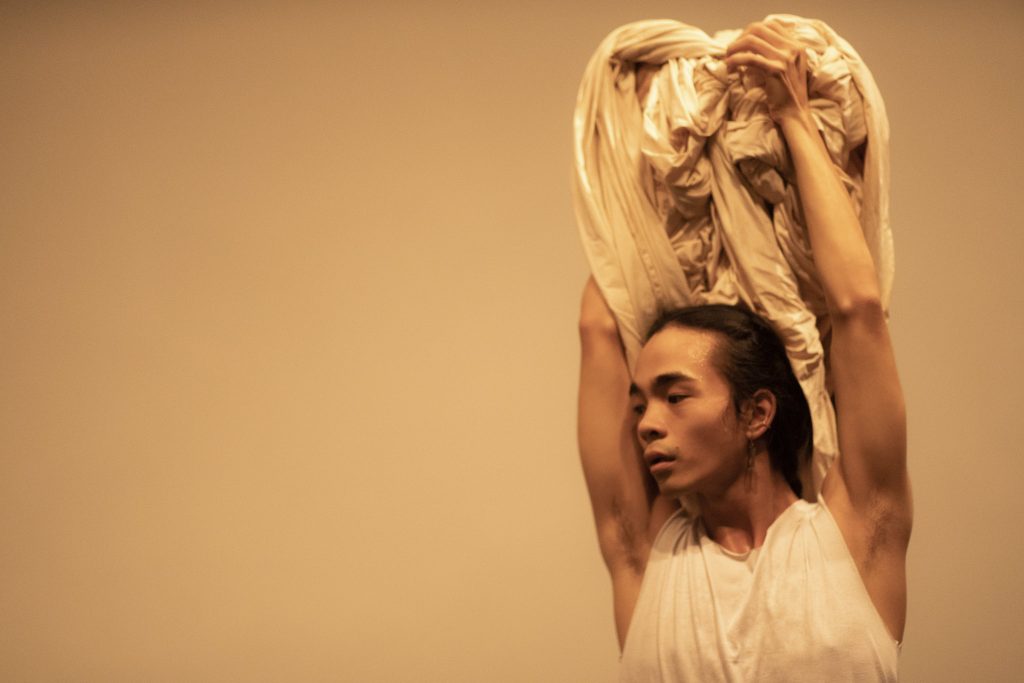 As an expression, art performance blurs the differences and unites people to contemplate this beauty of the margin. With it, we could create a space where different imaginations and relationships between people and nature can be dreamed of, conventional concepts such as capital and modernity can be put away. That is why IVolunteer International, wants to spend this International Dance Day to celebrate the importance of art in our everyday lives and also, through this article, introduce you to the mesmerizing emergence of modern art environments that can be seen through visual projection, sonic exploration, and contemporary dance.
If you wish to have a full grasp of this past event, feel free to visit the event recording: The You performance, Goethe-Institute 11/2020
---
IVolunteer International is a 501(c)3 tech-nonprofit registered in the United States with operations worldwide. Using a location-based mobile application, we mobilize volunteers to take action in their local communities. Our vision is creating 7-billion volunteers. We are an internationally recognized nonprofit organization and is also a Civil Society Associated with the United Nations Department of Global Communications. Visit our profiles on Guidestar, Greatnonprofits, and FastForward.