The student loan crisis in the US has reached unprecedented levels with statistics showing that student debt has reached $1.7 Trillion dollars. This comes at a time where several members of the Democratic Party are mounting pressure on President Biden to cancel student debts. Democrats are trying to alleviate this issue and to figure out a plan to move forward – especially as Biden himself supports the idea of forgiving a certain amount of federal student loans. But the problem is much deeper than that.
The question marks surrounding the student loan crisis have to do with more than the occasional forgiveness and cancelation of debt. They have to do with equality of opportunity – fair and equal access to a good quality education regardless of social background, race, gender, or religion. These question marks touch upon the legitimacy of the American Dream – the ability to move from rags to riches and to climb the social ladder through education and sheer individual effort. The student loan problem needs a deeper examination and lasting solutions. Education is a basic human right and it should be accessible to everyone equally. Accordingly, we will provide an overview of the student loan crisis, its human aspect, and how it can endanger equality of opportunity and undermine the American Dream.
What Are Student Loans?
As the cost of higher education continues to increase, many students find themselves incapable of affording the degree they aspire to pursue. This limits their options and presents them with significant obstacles in their endeavor for a better future. The only alternative left for them to finance their education, pursue their dreams, and move up the social ladder is seeking loans. These loans are commonly known as student loans.
Generally, student loans are either federal or private. They can come from the federal government, from private sources, or from other organizations. For example, federal student loans and federal parent loans are funded by the federal government. Whereas private student loans are funded by banks, credit unions, state agencies, or schools.
On the one hand, federal loans often have fixed interest rates and income-driven repayment plans. On the other hand, private loans depend on terms that are set by the lender. That is why they are usually more expensive and less flexible than federal loans. The total sum of student loans, both federal and private, has now reached an unprecedented $1.7 Trillion. Most of this debt resides in federal loans.
The Crisis in Numbers
In fact, federal student loan debt constitutes 92.6% of student loan debt in total. This means that federal student loans amount to $1.57 Trillion borrowed by 42.9 million Americans. They each owe an average of $36,510 in federal loans. According to statistics provided by Educationdata.org, 39% to 50% of indebted students have loans from both undergraduate and postgraduate education. Whereas 93% of adults with student loans report borrowing to pay for their own education and 81% report borrowing to pay for a child's or grandchild's education.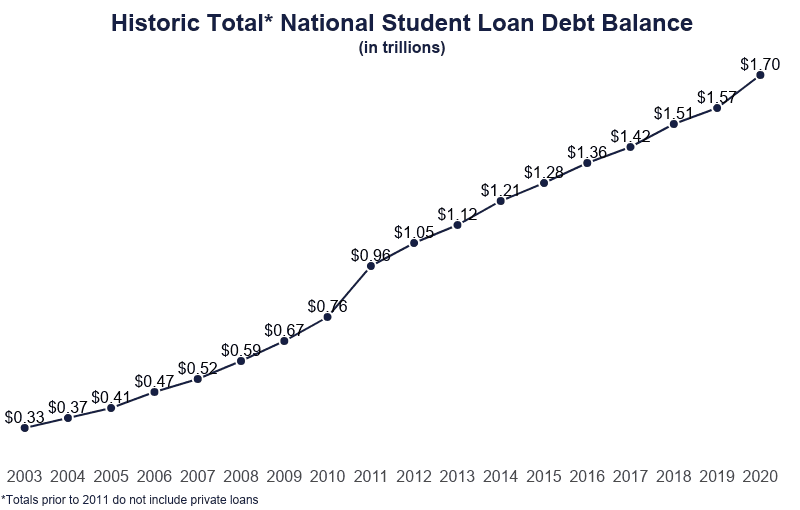 Generally, public university students borrow an average of $30,030 to attain a bachelor's degree. Private/non-profit university students borrow $33,900, and private/for-profit students borrow $43,900. In fact, the average cost of tuition, fees, room, and board at a public university, for a four-year degree, is estimated at $43,280 for out-of-state students. While the cost amounts to $54,880 for students at private universities. The price of tuition, fees, room, and board at a public four-year college has increased 68% between 2000 and 2020.
These numbers portray the staggering increases in education-related expenses. Such increases happened at a pace that is 8 times faster than the increases in wages. However, these are not just numbers and they should not be regarded merely as such. There are people that are struggling with their education, their careers, their futures, their retirement plans, and their lives in general as a consequence of student loans. Humanizing the crisis, and giving it a humane dimension, is of paramount importance.
Beyond Numbers: Humanizing the Crisis
The above-mentioned numbers are not detached from actual and real human lives. There are individuals with future plans, dreams, aspirations, daily life challenges, and problems of their own that are struggling because of student loans. Their only desire was to benefit from what Article 26 of the Universal Declaration of Human Rights perceives as a basic human right. It further states that "education shall be free". They were faced with increased expenses, remarkably high tuition fees, the need to pay back loans with interests, the responsibility of sustaining their own lives, and lately a global pandemic that further exacerbated the situation. Because of COVID-19, many students were behind on their loan payments and many were unable to make their payments at all.
The tragic aspect of student loans only reveals itself once we delve into the reality of the sacrifices that must be made in order to pay for education. The "Hear the Stories" section on studentdebtcrisis.org allows people to share their stories with student debt. These are two selected stories out of hundreds available on the website:
I am a Special Education teacher in Northern California. […] I attended the best schools UCLA and Chapman University – expensive schools [and] wound up borrowing some $110,000 in student loans. When I got out of school I assumed I would be able to make a minimal payment as my salary gradually increased. I was not able to even make the minimum payment which exacerbated my problem because interest has compounded. I currently now owe in excess of 150,000 (40,000 in interest). The feds want $700+ a month. I cannot make this payment. It is an ever-increasing financial burden which is tantamount to modern-day slavery.

Chadwick Praggastis February 6, 2020 Marysville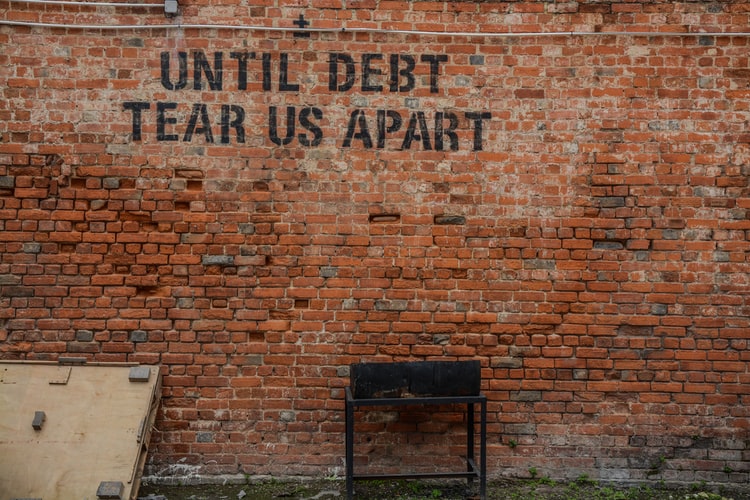 I went to a private grad school with the promise of a better job and more money. I was allowed to take out $220,000. Now my payments are so high I can barely keep up with the interest. I feel like I am drowning and now I feel like I'll never be able to buy a home or even have children. I wake up depressed every morning because I feel like the only purpose I have in this country is to pay off debt.

Zach January 31, 2020 San Diego
Student Loans and Inequality of Opportunity
Article 26 of the Universal Declaration of Human Rights articulates that "everyone has the right to education". Not only that, but it also insists that "education shall be free, at least in the elementary or fundamental stages". In addition, Article 1 in the Convention against Discrimination in Education tackles discriminatory behavior. It maintains that it includes any form of exclusion or limitation that is based on race, colour, sex, language, religion, political opinion, national or social origin, and most importantly in this context, economic condition.
Depriving any person from acquiring access to education or limiting any person to an inferior form of education can be considered discriminatory. It can harm equality of opportunity in education. According to Rupert Maclean, author of "Equality of Opportunity in Education", the term 'education' in this Convention refers to "all types and levels of education". It includes "access to education, the standard and quality of education, and the conditions under which it is given".
These ideals can be considered incompatible with the idea of high tuition fees, remarkably high education-related expenses, and especially student loans. Wealthier students can have a significant advantage while less well-off students and students coming for disadvantaged groups can struggle to acquire the education they desire. This is statistically true, seeing that black college students are the most likely to use federal loans with 49.4% borrowing. Moreover, 30% of black college graduates with student loans default in the first 12 years of repayment. According to another statistic by the American Association of University Women, white men borrow an average of $29,862 while black women borrow an average of $37,558. Black women also have the highest student loan debt of any racial or ethnic group. In fact, women in general hold 2/3 of America's student loan debt.
This can significantly impact equality of opportunity and impede individuals from seeking a better future. Chasing the American Dream through means of education, individual effort, intellectual development, and equality of opportunity should not be an out-of-reach goal.
Alleviating the Problem
Finding solutions to the student loan issue must be a priority. The current American government, under the Administration of Joe Biden, is beginning to address the issue. There are calls for canceling student loans, forgiving a portion of students' debts, and restructuring the system to facilitate loan forgiveness for the majority of students. In a letter to U.S. Secretary of Education Miguel Cardona, Democratic members of Congress suggested 4 steps that can help with student loans policies:
All federal student loans should be eligible for forgiveness. Democrats want to waive the requirements to consolidate student loans first.
All student loans payment plans should be eligible for public service loan forgiveness.
Student loan borrowers don't have to be working in public service in order to receive student loan forgiveness.
Student loan borrowers don't have to prove their eligibility. Instead, information-sharing across federal and state governments can facilitate this task and help more students qualify for loan forgiveness.
These are significant steps towards acknowledging the need to make a change, but they are not enough. Congress should consider establishing a Commission that examines the issue of student loans. This Commission can propose long-term strategies that could be enacted in a systematic and orderly manner.
A Government of the People, by the People, for the People
The cost of attending college must be revisited and revised. The remarkably high education-related expenses are by no means reasonable. The state must identify a working plan to uplift public education. State funding subsidies to the sector of public education were cut by more than $7 billion between 2008 and 2018. Public investment in higher education must be a priority.
Moreover, advocacy groups and civil society can join the battle and pressure the government into changing the situation. After all, there are still chances that the ruling class might reflect on Abraham Lincoln's words when he said that it is a "government of the people, by the people, for the people". If the people want change, then the government must fulfill their desire. In fact, a number of advocacy and civil society groups have been trying to persuade President Biden to take action on the issue of student debt. 237 organizations including the NAACP, the National Women's Law Center, the United Church of Christ, and national labor unions such as the the AFL-CIO and NEA signed a letter on November 18, 2020, demanding the cancellation of student loans debt. This pressure must continue.
The American higher education system is desperate for reform, and should be rectified in order to avoid more negative implications of the student loan issue. Until then, the different organizations in this field must shift their focus to need-based and merit-based grants instead of loans. This approach, in addition to the current actions and reforms that are being considered by the Biden administration, should serve as a gateway to a far-reaching and more impactful reform.
---
IVolunteer International is a 501(c)3 tech-nonprofit registered in the United States with operations worldwide. Using a location-based mobile application, we mobilize volunteers to take action in their local communities. Our vision is creating 7-billion volunteers. We are an internationally recognized nonprofit organization and is also a Civil Society Associated with the United Nations Department of Global Communications. Visit our profiles on Guidestar, Greatnonprofits, and FastForward.