The Sinhala and Tamil New Year will dawn at 8.13 a.m. on the auspicious day of 14th April, 2018. Festivity fills the air and the country is in full bloom. The aroma of sweetmeats wafting off from the kitchen tingles the nostrils, inviting you to delve into the blissful world of Avurudu sweetmeats. Happy shoppers pile up their carts and light up their faces with big smiles.
Transition of Zodiac signs
The Sri Lankan isle celebrates Sinhala and Tamil New Year with age-old traditions. The transition of the Sun from the house of Pisces to the house of Aries marks the dawn of the New Year. Aluth Avurudda in Sinhala and Puthandu in Tamil means New Year. Sri Lankans get together to welcome the dawn of the New Year with much pomp and fanfare. People clean and repaint the households to enhance the feel of newness in the New Year.
The Sinhala Way and The Tamil Way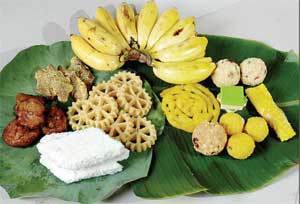 The hustle and bustle in the kitchen starts with the preparation of mouthwatering sweetmeats. One can indulge in the air infused with the tantalizing smell of Kokis, Kavum, Aluva, Asmi, Athiraha, Unduval and many other traditional delights cooked in Sinhalese households around the island. In Tamil households sweetmeats galore includes Pongal, Laddu, Adhirasam and Murukku.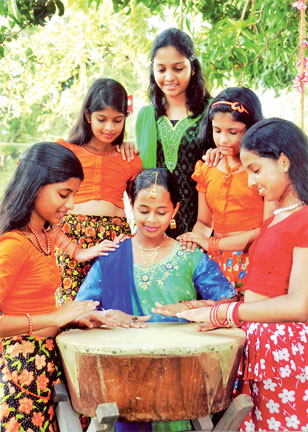 The sound of firecrackers and the rhythm of rabana officially announces the dawn of the New Year. As the New Year sets in, the traditional oil lamp gleaming in gold is lit at the auspicious time. The lady of the house ignites the hearth and boils a pot of milk, signifying prosperity. The sight of milk bubbling from the pot brings a feeling of pure ecstasy and fills the hearts with new hopes. Then milk rice is cooked in a fresh clay pot over a spurting fire as the very first dish of the New Year. The delicious dish of milk rice becomes the centerpiece of the New Year table. Everyone will feast together on a hearty meal.
Unity and Harmony
Neighbours exchange plates of sweetmeats strengthening the bonds and burying resentments. Families visit their relations. Bridging families and friends together, people start playing games on the streets spreading the true happiness of the New Year. Cheerful voices and very merry New Year wishes fill up the air, reminding us the beauty of perfect harmony that binds each and every nation with unbreakable bonds.
The Sinhala and Tamil communities follow a plethora of traditions and rituals in celebrating the New Year. Amidst the diverse rituals and customs, the New Year envelopes the entire country with a sense of oneness. New Year is an annual opportunity for us to forget our grudges and move forward like a brand new person. Celebrate the New Year and make this a chance to rejuvenate bonds, rekindle relationships and reunite with families and friends.