Public speakers might seem relaxed and confident to the public. They can impress those who are attending and leave them surprised with their way of discussing topics and engaging audience. This can be something hard for people who are trying to improve this skill because of their stage fright and their fear of being criticised or judged. Thus, if you are looking for ways to overcome this problem, this article is perfect for you!
Mediate to stop overthinking for nothing
The world's happiest man doesn't get stage fright because he has learned to calm the voices in head.

Carmin Gallo
Forbes, suggests the 5-minute-a-day brain workout. That is, your mind needs to workout through meditation the way your body does through sports. Meditation is the best way to calm your inner thoughts and to ask yourself questions and find answers at the same time. You may make it fun by setting the mood and being at a comfortable corner where no one can disturb your peace. Getting toxic feelings such as anxiety and overthinking out of your system will allow you to ease the way you think. Replacing them with affirmations like "I can do this, I'm strong, I'm confident enough to get over this insecurity" can change the way you perceive things.
This can be achieved through several simple steps. Burning a scented candle to not let your mind wander or get interrupted is a clever way to start. After this, once you have set the scene, be honest and transparent. Breathe in when talking positively to yourself and breathe out when you think about sickening feelings like fears so you can get rid of it.
But, are there different ways to mediate in order to strengthen my public speaking skill? Definitely yes!
Reading can help you overcome your fear of failing
Journalling your thoughts helps you face your insecurities. Making securities tangible allow people to face them easily. This method alleviates these tense feelings.
Meera Lee Patel, is a self-taught artist and an illustrator who reflects on her experiences through painting to overcome fear and she encourages readers to recognise this feeling as an opportunity, rather than an obstacle.
Reading can help you overcome your fear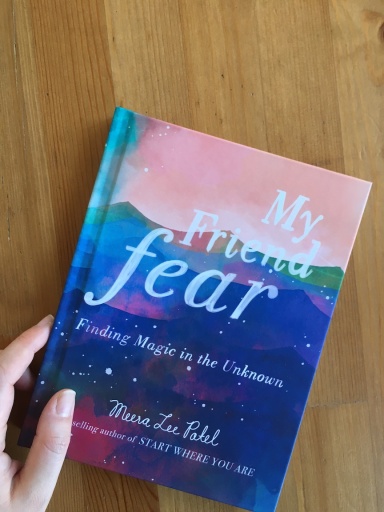 Reading motivational books can be useful. However, focusing on one thing when reading can be way better. Meera Lee Patel, is also a writer. Through her writings, she tries to change the concept of fear so she calls fear as a her friend to normalise it. She believes that nothing is wrong with the feeling of fear and that we should make peace with it and accept it in order to deal with it.
Garmin Gallo also wrote a book which can help in the process of dealing with stage fright and public speaking. "The 9 Public-Speaking Secrets of the World's Top Minds" can change your mind about public speaking and help you in the process of improving your skills thanks to the analyzed experiences and speeches of TED speakers.
Calm the voice in your head through nature sounds
People spend their time working or dealing with life problems. Even if they are happy they just experience a happy feeling and forget about it afterwards. According to Inside Timer, nature sounds set a calm environment for meditation. It shows that listening to these sounds can affect our bodily systems, quieting a busy mind and help us to relax. Thus, when you close your eyes, listen to birds chirping and smell a woody scented candle, you can feel as if you are out in nature and this will automatically alleviate your stress.
Since I have found meditation, which I've been practicing for many years now, I'm confident it has had a significant impact on advancing my presentation technique further. And I believe it can for you as well.

Jesal Trivedi
Other than working on the psychological side through meditation, bearing in mind that the way you translate thoughts into words and gestures counts tremendously. Curious to know? then carry on reading!
Focus on body language and eye contact to enrich your performance
Practicing your speech in front of your mirror as a first try can be good but rehearsing in front of your friends and family can make you more confident and can also allow you to get feedback from them. Their feedback will help you work on your weaknesses and will enhance your strengths. In addition, maintaining an eye contact with your audience, gives your speech more credibility.
Eye contact helps the audience members invest their attention further into your material and you as a speaker. It also shows that you are confident and exude mastery over your material.

Jesal Trivedi
Evaluate the outcome and seek change to strengthen your speaking
Evaluation is very important after delivering a speech in front of an audiance. Speakers should not panick if they remember something they forgot to say because what matters is the result as a whole. Instead, they should reflect on themselves and make sure to improve their way of delivering by taking notes and sticking to them. What matters is that you appreciate the fact that you actually faced a public and gave an informative speech.
Seeking change comes with commitment and self determination. Having a healthy mind and a strong body is needed to make an advancement and make yourself better whether in public speaking or anything else you want to achieve in your life. So, just believe in yourself and be sure that you can do it.
---
IVolunteer International is a 501(c)3 tech-nonprofit registered in the United States with operations worldwide. Using a location-based mobile application, we mobilize volunteers to take action in their local communities. Our vision is to create 7-billion volunteers. We are an internationally recognized nonprofit organization and are also a Civil Society Associated with the United Nations Department of Global Communications. Visit our profiles on Guidestar, Greatnonprofits, and FastForward.