Back in Feb 2020, a video of a sobbing boy went viral. Quades Baylis, an aboriginal Australian, was seen in a video being bullied at school for his dwarfism. The video hit hard and touched millions of hearts around the world. Soon, it turned into a movement against, "Bullying."
From countless other incidents, one such happened on 1st May 2021 in Karachi Pakistan. The father of the bullied boy named Musa tweeted a photo of his son with the following,
"This is my son, Musa, from the last few days he is very upset because some of his schoolmates said; you look worst in glasses, he's hesitant to wear glasses anymore. I told him let's ask the world. Doesn't he looks great in glasses too?"

Tweet by @MusaAliZeeshan
Thousands of people across the world encouraged and motivated Musa by including celebrities and politicians. Everybody denounced heinous bullying and cheered up Musa.
Bullying is Another Pandemic We Must Deal With
Bullying is an ugly pandemic in our societies all around the globe. But what really is bullying? The Centre for Disease Control (CDC) defines it as, "one such distinctive pattern of repeatedly and deliberately harming and humiliating others, specifically those who are smaller, weaker, younger, or in any way more vulnerable than the bully."
Bullying can be broadly classified into direct and indirect forms of bullying. Direct bullying involves verbal attacks (name-calling and making fun of others) as well as physical ones, threats of harm, other forms of intimidation, and deliberate exclusion from activities.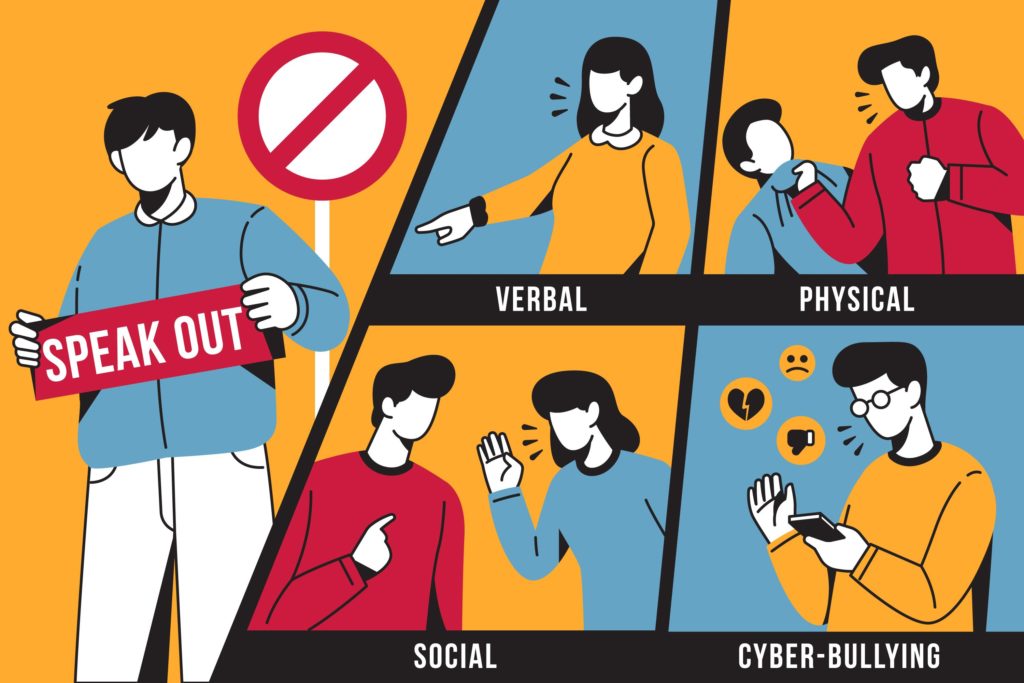 Indirect bullying is more covert and therefore mostly includes relational and cyber forms of bullying. Relational bullying or social manipulation is characterized by behaviors that aim to disturb the victims' relationships with their peers such as social exclusion (e.g. ignoring) or spreading rumors. Cyberbullying has also emerged as an exclusive form of bullying related to the use of communication technology (e.g. mobile, internet, etc.) to deliberately harm others through hostile behavior such as sending text messages and posting nasty comments on the internet.
Overt physical aggression such as kicking, hitting, and shoving is most common among younger children; relational aggression—damaging or manipulating the relationships of others, such as spreading rumors, and social exclusion—is more common as children mature.
The toxic effects of bullying are widespread from one's social life to academic and behavioral to mental challenges. It is unfortunate that in most cases bullying is considered a norm that the victim is supposed to accept, often regarded as "Rite of Passage" and tolerated by teachers at school and parents at home at the expense of the child's dignity, self-respect, and mental health. It is important to consider the drastic and overarching effects of bullying in order to address this menace.
Cyber Bullying
Cyberbullying is a form of bullying using digital technologies including mobile phones, social media platforms, gaming zones, or any other related digital media. Cyberbullying has horrible stories in it. It is reported that people have also committed suicide to avoid the perpetual anxiety and depression they faced after being harassed online. This is because it has far-reaching consequences. A picture or post can be made viral with just a click of a button to reach an audience of millions. Shaming, angering, or spreading fake and false information about someone can ruin their careers, cost them their jobs, strip the trust of their loved ones from them, and hence push them to the limits where they self-harm or commit suicide.
Cyberbullying is commonly experienced by famous personalities like politicians and celebrities. But it is not limited to them as common people have also succumbed to this horrible condition. It is noteworthy that harassment or bullying sometimes masquerades as fun. But there's a limit to every single thing. You may have experienced bullying by your friends asking you not to "overreact" as it was "just for fun". So, they try to make it look fun but it is not. UNICEF simplifies it as one can tell the difference if people are "laughing with you" or "laughing at you". If it hurts, then it is necessary to communicate, and if they don't stop, it's no more fun or joke.
Unfortunately, there are countless cases of online harassment where people pass comments, judge, or impersonate other persons falsely and often on the basis of wrong information or enmity. People have preconceived ideas and their acts are guided by them. They turn themselves into what we may call "online vigilantes" and the purpose is to judge others based on false information or bigotry against them. One such case is from Urumqi China where a driver was seen spitting out of his window on a beggar. This was recorded and shared online with the initial digits of his number plate on local radio.
"Driver with the license plate A36D62, you really humiliate all men," one angry internet user yelled. "Please forward this post and let's see what kind of ugly face he has. Let's extinguish him. Die! Such a disgrace. We don't even know where he's from. Get out of Urumqi." Hours later, Yin became a target, whose number plate was a partial match, and posted his mobile number online. Yin tried to defend himself to anyone who would listen, explaining he wasn't guilty of spitting on anyone.
Yin started receiving hundreds of calls threatening him of the consequences for what he's not done really. Hung up with one angry caller, his phone would ring again. And again. "All of my private information was made public. My ID card number, name, phone number, address, even my mother-in-law's phone number was dug out and posted online," Yin recounts.
Mr. Yin was a ruthless target of what has been named China's human flesh search engine. At its worst, this "flesh-searching" phenomenon is cyberbullying on an epic scale, sometimes involving hundreds of thousands of anonymous internet surfers ganging up to uncover the identity of an unsuspecting target. I remember one such horrible example of online hate and harassment that went so far and resulted in the mob lynching of a student named Mashal Khan in Abdul Wali Khan University of Mardan, Pakistan. He was wrongly accused of blasphemy and murdered by a charged mob.
According to the UN, up to 7 out of 10 have experienced online abuse at some point. Online spats over social and political issues are common and a dissident voice is muffled through unfair means when there is no more logic. The unacceptability of heterogeneity of thoughts and ideas has resulted in the polarization of society as well through online hate and bullying. It is right to say that the Internet has revolutionized human civilization but it has also given unauthorized access to one's personal space.
Psychological effects of Bullying: Misery of the Victim
Being bullied is an unwanted experience of one's life. Those who are bullied go through mental trauma, stress, depression, and low self-esteem. It is worth noting that our body under stress speaks for itself. People find no interest in their surroundings whatsoever when they are stressed, more inclined to suicidal thoughts, exclusion, and drug abuse to name a few. The changes that happen over the course of stress might have a long-lasting impact on one's lifestyle if stress comes at an early age. Children's social behavior is altered when they are a target of hate and rejection.
Stress is the most common manifestation of bullying and it has the potential to downgrade the living conditions of the sufferer. When we are under stress condition, our body releases a hormone named Cortisol also known as Stress Hormone. It changes immune system responses and suppresses the digestive system, reproductive system, and growth processes. This complex natural alarm system also communicates with the brain regions that control mood, motivation, and fear. Normally, our body has a negative feedback system, which means it self-regulates hormone levels once the triggering factors are off. For example, one might become stressed after seeing a dog in the street. But as one feels safe, the brain relieves the body, and cortisol levels return to normal.
But in the case of bullying, a child might experience dejected and derogatory remarks every day or each time he or she encounters the bully. Hence, the body of the victim remains continuously in a state of stress having abnormal levels of cortisol. This becomes a vicious cycle difficult to escape from. It might be in a school where the child is going every day or at home among siblings, cousins, friends, or elders. The child has no way to escape and the result is social deprivation, loneliness, suicide attempts, criminal behavior, drug abuse, or mental challenges haunting for life.
And according to the American Academy of Experts in Traumatic Stress, it is actually emotional harm that lasts much longer than physical harm. Especially during childhood, when bodily damage heals readily, the victim's self-image may be permanently maimed.
"Bullying is an attempt to instill fear and self-loathing. Being the repetitive target of bullying damages your ability to view yourself as a desirable, capable and effective individual."

Dr. Mark Dombeck American Academy of Experts in Traumatic Stress.
Bystander Effect: Emboldening the Bully
Following the murder of Kitty Genovese in New York City in 1964, social psychologists Bibb Latané and John Darley coined the concept of the bystander effect. The 28-year-old woman was brutally stabbed to death outside her apartment. It was reported that dozens of neighbors heard her scream or watch the assaulter assault without intervening. The perpetrator was even intimidated two times but emboldened when nobody restricted his actions or called the police.
Latané and Darley described this situation as the Bystander effect. They suggest that a bystander undergoes a five-step process of decision making, whether they need to help or not. A bystander must notice that something is wrong, define the situation as an emergency or a circumstance requiring assistance, decide whether he or she is personally responsible to act, choose how to help, and finally implement the chosen helping behavior.
Failing at any level leads a bystander decide not to help. The bystander effect is summed up, attributing it two factors mainly: diffusion of responsibility and social influence. The perceived diffusion of responsibility means that the more onlookers there are, the less personal responsibility individuals will feel to take action. There is a term called volunteer dilemma in which a person thinks as, "Why should I go and help when there are so many others around me? They should go and help instead."
Social influence means that individuals monitor the behavior of those around them to determine how to act. In an accident, we rush towards the injured person because everybody knows that it needs immediate action. In some other conditions such as bullying, people tend to weigh the benefits of intervention and act accordingly. It also depends on the mood of the onlooker. A happy person may intervene to save the victim while a depressed one would not.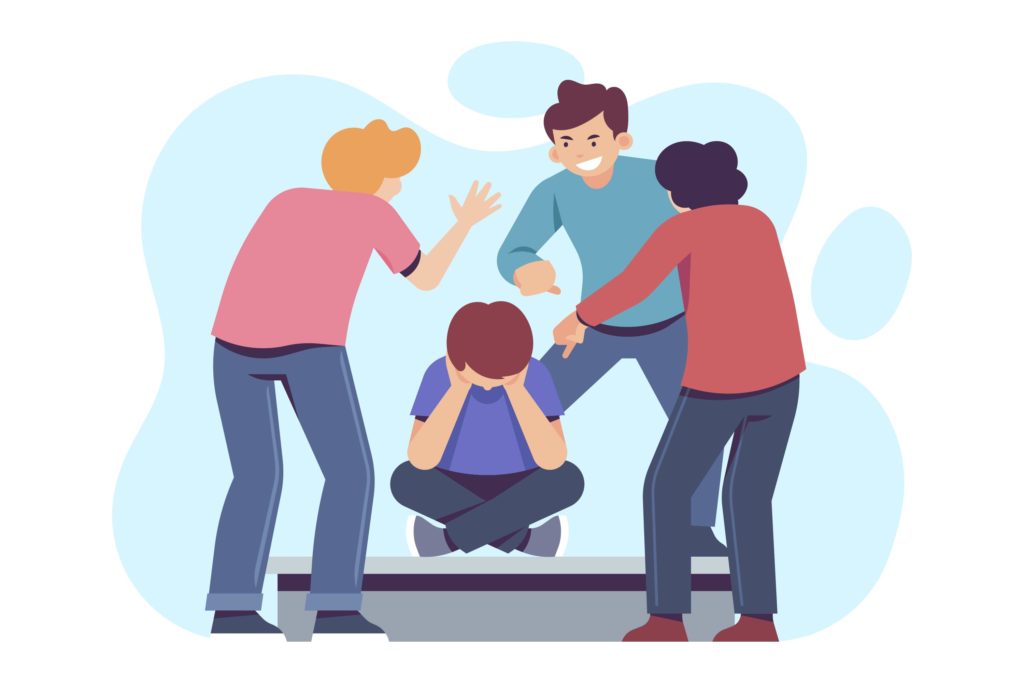 Now let's discuss in the context of bullying when a bully is victimizing the vulnerable or the weak. Research has shown that one who bullies dominates among all. They are often in a strong position, either physically or socially. They try to terrorize others or make them self-loathe or doubt themselves. Others present on the spot might fear their own insult from the bully and avoid intervening. Also sometimes, people around a bully enjoy the scenario, as in the case of a child in a classroom, a guy in a family gathering, or a newcomer in a college. All in all, the bystander effect jumps in and people avoid any sort of intervention. This emboldens the bully and the victim finds no way to escape. These demands change our attitudes and behavior.
Who Should Shoulder the responsibility to Stop Bullying?
The first step should be to declare all forms of bullying unacceptable whatsoever. Parents and teachers need to keep discussing with the children who might not open up otherwise out of fear of shame. Counseling and psychotherapy are likely to be the first choice of treatment for children. Many schools have in-house counselors who schedule and work with children who are bullies or are the victims of bullying. Others, who do not have them, should consider alternate ways to counter it.
Psychologists also suggest Play Therapy and Sand Tray Therapy that are useful for younger children. It helps a mental health professional assess the child when they are at play and just themselves. Cognitive Behavioral Therapy and Transactional Analysis are more useful when it comes to working with older children. Counseling is important for all those who undergo bullying and start doubting themselves; the ultimate purpose of the bully. There must be zero tolerance for bullying everywhere it happens, be it in school, college, university, or within any social circle.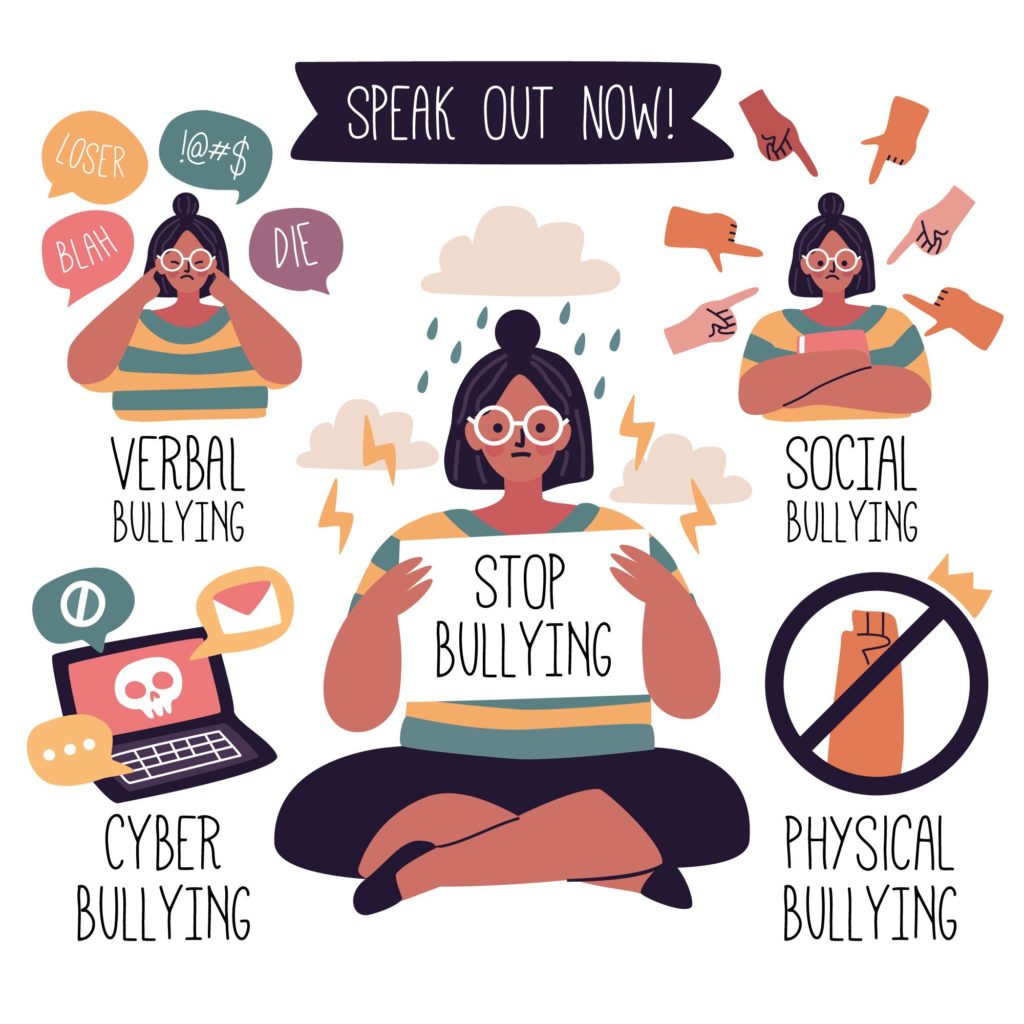 We all must play our roles to highlight the problems faced by others and should become the voice of the voiceless. Bullying instills fear and self-hate and the victim needs to build resilience, strong character, and self-worth to cope with the challenges of life. And we all can help him or her to achieve this by providing unconditional support to the sufferer just through our words and timely actions. I believe words possess power more than swords. Let's choose not to be an inactive bystander and not letting evil stand in this world.
"The world is a dangerous place, not because of those who do evil, but because of those who look on and do nothing."

Albert Einstein