Technical vocational education is a major agent for industrial development, as well as for the social progress of any country. As a result, the Ghana Education Service has dedicated one of its divisions to oversee technical education in the country.
The skills education sector has suffered bedevilment by negative perceptions. This has created a situation where few individuals opt for it at the secondary education level. In 2019 for instance, only 2.69% of students at the secondary education level enrolled for vocational programs. Some of the vocational education trade areas taught in schools include welding, carpentry, masonry and electricals among others.

Beyond this, the gender-inequality that comes to play in the vocational education sector is disheartening. In 2019, women made up 1.47% of total students enrolled in the various vocational school programs nationwide. Some NGOs working in the country have operationalised this problem into mission statements to help address this challenge. Village Exchange International is one of such organisation.
The Transformational Journey

In 2016, I was engaged to manage a centre established by this NGO. The centre's objective was to recruit and vocationally train disadvantaged students, especially women, in General Electricity. This field is considered a trade for men in the country. The rural communities we worked with had certain superstitious beliefs around this subject. This made our task of recruiting these disadvantaged women arduous.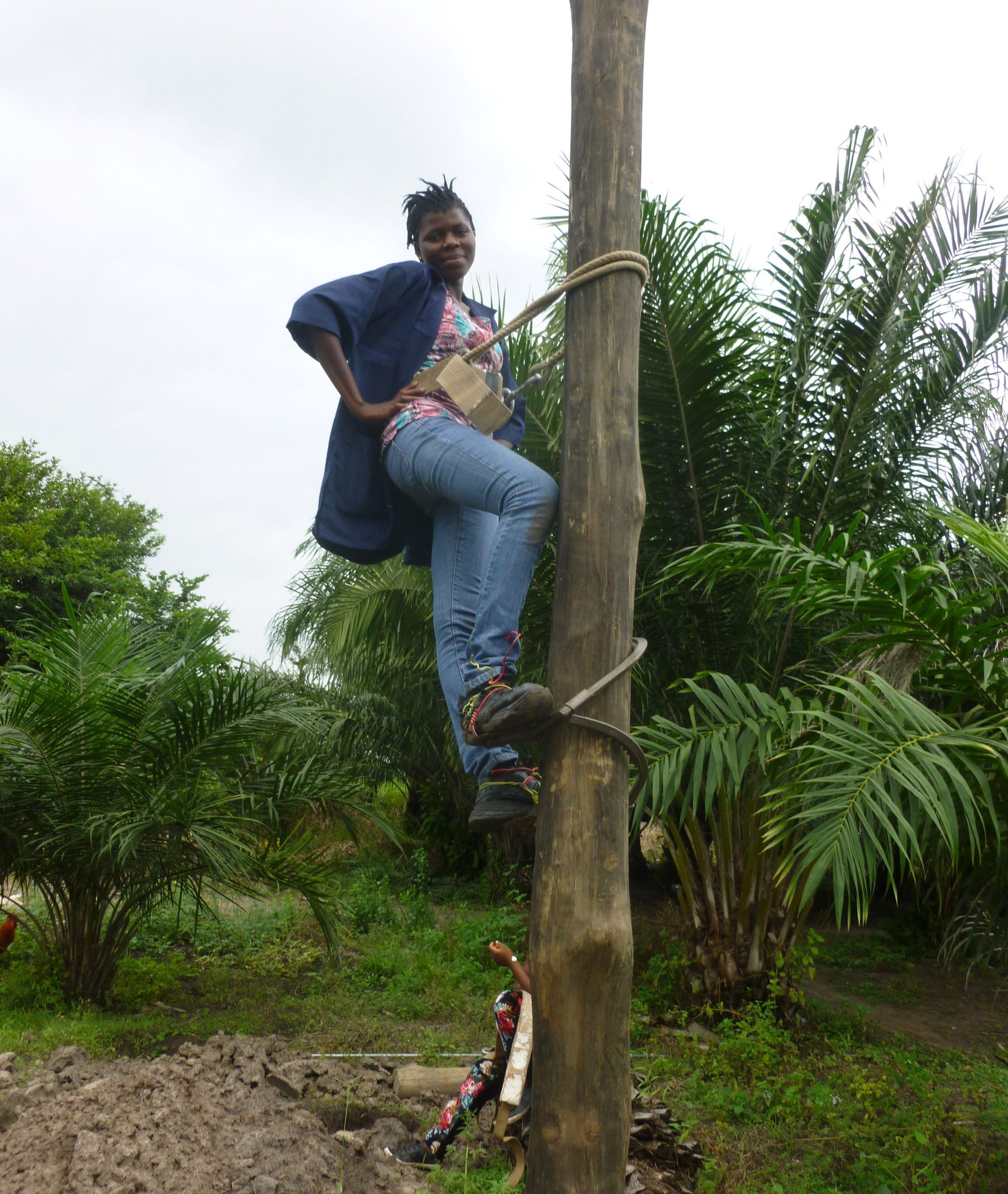 In addition, our centre had stern competition from other established vocational schools, since it was relatively new compared to these other schools. This made it difficult for me to settle comfortably in my new role as a Centre Manager. We, therefore, had to work on a recruitment strategy for students. We focused on rural communities where we dispelled myths around the electricity course and also offered incentives for the students. This we knew was an area our competitors would not engage in.
After some few months into this new role, the centre made some strides which impressed its board of directors. As a team, we spent quite a good time strategising how to be more efficient. It was very important for us that our centre keeps nipping a bite of the customer market of potential vocational students. This we had to do without our competitors noticing. Since the other schools had been in business for years, they had established their brands in this market place. This made them the toast of interested pupils, even for the poor who could not afford their high fees.
The Email
I rushed to work and as a routine, started glancing through the tonnes of messages that had piled up over the weekend. I became particularly interested in one mail forwarded to me by my Executive Director. It was about a Norwegian NGO proposing a project which required volunteers to execute in Ghana. This meant sacrificing some weekends volunteering on a solar reading light distribution project. I quickly replied this NGO sponsoring this intervention. It was to indicate my interest to serve as the National Researcher for this project. Within this role, I had to recruit other volunteers for the project.
Mr Ofori, the Volta Regional Director for Youth Authority was the first I contacted with this information. He was flawless with our traditions. As a result, it easy for him to win over community leaders of places we wanted to run a project. He quickly gave me a list of rural communities without electricity.
Exploring Darkness
We settled on a community called Dawanu. After visiting the chief, we continued to the inhabitants' homes to investigate the challenges of the "no-light syndrome". This exploratory research identified school pupils as the group that needed this reading light most.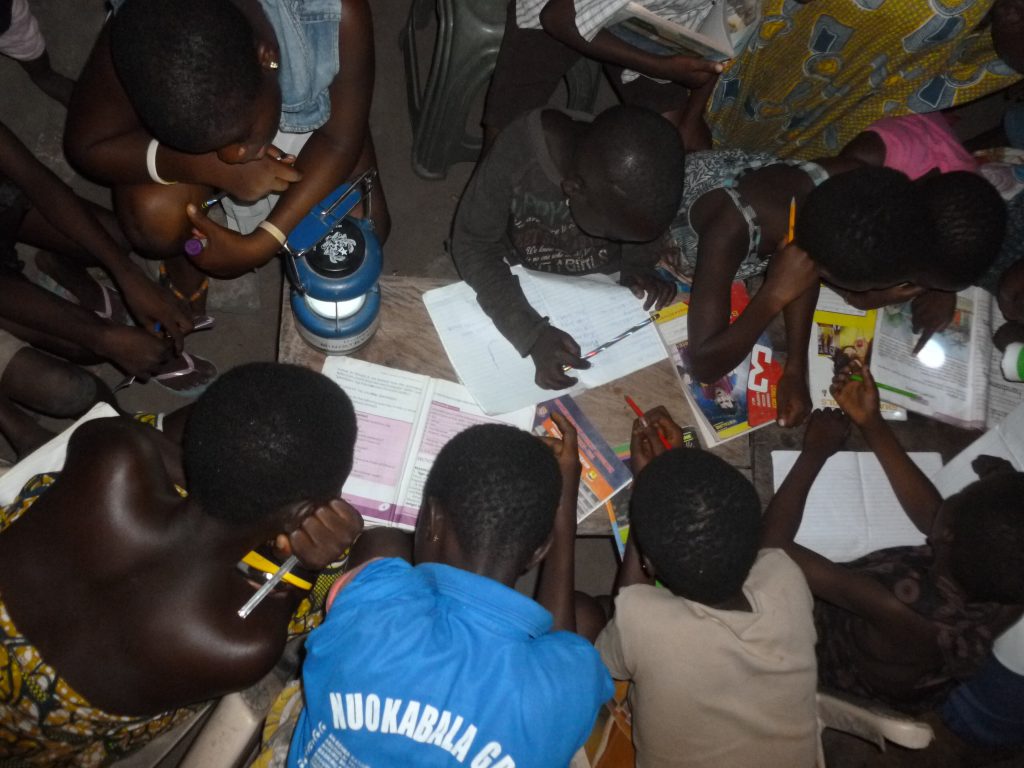 This was because these marginalised young pupils battled pitch darkness each night to study. Also, they did so with poorly illuminated torches and in very overcrowded conditions.
This experience had given us a whole new perspective on the project. The situation was particular because our country had just emerged from an acute power crisis. As a result, anyone who heard about the project wanted one of the lights as a backup light source, which made sense. After the experience in Dawanu, I concluded it did not make sense anymore to give any of these lights to the "fortunate" ones in Ho, the city I worked who already had electricity.
The Intervention
On Friday the following week, we arrived at the Salvation Army basic school campus. After a session on how to use the lights, we distributed them to the pupils. On arrival to my office, I compiled the project report and forwarded it to our donor.
Impressed, the Norwegian NGO sent another set of reading lights. This time, I said to Mr Ofori, " We have to go where no NGO will be willing to go". He understood we were to further stretch the already lean budget. For this purpose, we recruited two additional volunteers to join our team, and took action.
Phase 2
It was a Saturday and the team began our journey to B-Zongo. This was our newly identified community. We arrived around 2 pm and our contact person met us at the lorry station. "It had passed 1 pm, we will have to visit the school tomorrow," he said. At this point, I wondered whether he understood what that meant since we had no budget for accommodation.
However, at Mr Ofori's request, we went to the office of a politician who was his friend. Excited by the initiative, he arranged for a guesthouse, transport to the school and feeding for our team. This was a relief, and enabled us to continue our work.
Early the next morning, we were at the school. The excited pupils rushed out to meet us chanting, "They are here, they are here". Tears welled in my eyes when one girl held my hand from behind and said; " We waited for you all day yesterday". I said to her, "We are here now", with a smile.
Julien led the presentation on how to use the lights. Mr Ofori also took them through a session on children's rights. Afterwards, we distributed the lights to the pupils who rushed home dancing and singing. We thereafter started our journey home with a deep sense of satisfaction in our hearts.
Back at Ho, I prepared the final report and submitted it to the NGO.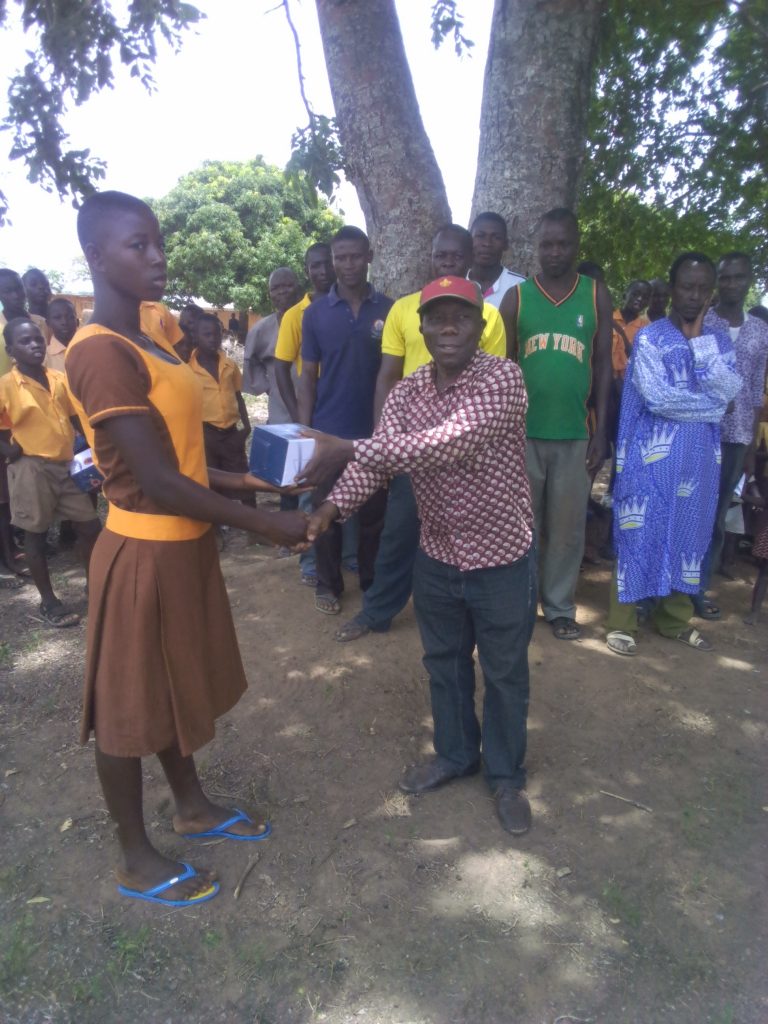 Blue Ocean Strategy
Taking up this volunteering project was a game-changer for our organisation. We had already started some initiatives to introduce solar into the centre's programs. After this volunteering project, we had a new drive. All that mattered was what we could do to position ourselves as a leading solar institution. With this, we could provide education on solar in addition to our regular course. Also, we could help communities without electricity with affordable solar solutions.
We were successful in drawing key lessons from this project. After it, research into the solar world was our new task. We developed technical competence to repair the few solar reading lights which became faulty. Building upon this competence, we developed a curriculum for training vocational students in solar energy. We pitched for and won a 20000 euro grant. With this, we provided a community with 11 solar installations for domestic needs. This activity on its own gave us the goodwill needed to work in the nearby villages.
The best part for us was the transformation of our vocational training centre. It became a leading institution which offered training in renewable energy. We trained our students to undertake the entire solar installation for this project. This made our centre operate in a situation which could be described as a "blue ocean"; a new niche with little or no direct competitors. For the students at the centre, this meant less competition for solar job roles in our district. Furthermore, it gave them a clear advantage over students from other schools in the job market.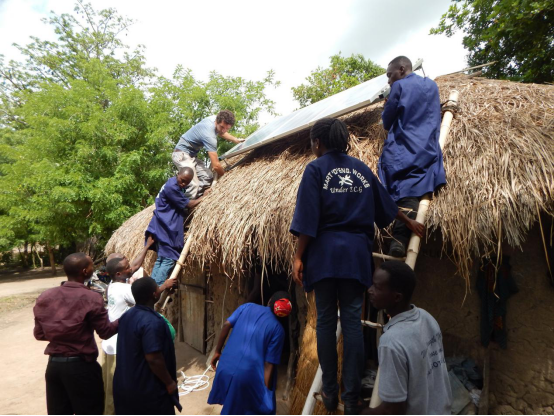 A Centre of Choice
The journey had been a tough one with countless challenges. Some of which threatened to derail the progress we had made. We, however, had the unwavering support of the centre's board through these challenging times. This contributed to whatever success we had achieved.
It has been years now and our centre still has no direct competitor to date in our region. With this advantage, the centre has established a reputable brand. The centre has defied the gender inequality that exists in the general electricity course. It had a 60-40 per cent ratio intake for females and males respectively for two years consecutively. The centre now resorts to setting high admission standards for our training courses. This is to get the very best students since we attract quite many of them.
It had been a long transformational journey till now. It all started with a simple choice to say "yes" to a volunteering opportunity. So I ask myself, what would have happened if I turned a blind eye to that opportunity? Better still, ignore it since to some, volunteering is for those in search of a job, or on vacation. Others also regard it as for the passionate aged who want to get busy. All these assumptions hold no truth. It rather limits a greater number of people from exploring the wonderful world of volunteerism.
The Call
I think volunteering is still for you, even if you have a full-time commitment such as a job or school. I had a full-time role when I took up the volunteering role. Though it was stressful, the reward at the end far outweighed the brief discomfort I felt. In case you do not have any such full-time commitments, it makes it easier for you to take up even more volunteering roles. In the end, volunteering also gives you other unexpected benefits you may not be aware of. This can be improved self-esteem, good health and emotional stability.
"If our hopes of building a better and safer world are to become more than wishful thinking, we will need the engagement of volunteers more than ever."

Kofi Annan
This is a clear call by the late former UN Secretary-General for more, if not all of us, to be involved in volunteering. There are countless volunteering opportunities awaiting us. It takes a "yes" to respond to that call and see amazing things happen. These "amazing thing" could be an experience which will impact your personal and or professional life or one that makes you make this world a better place.
Would you respond to that call?
---
References
Ghana – Percentage Of Female Students In Secondary Education Enrolled In Vocational Programmes, Female. (n.d.). Retrieved October 01, 2020, from https://tradingeconomics.com/ghana/percentage-of-female-students-in-secondary-education-enrolled-in-vocational-programmes-female-percent-wb-data.html
Ghana – Percentage Of Students In Secondary Education Enrolled In Vocational Programmes, Both Sexes. (n.d.). Retrieved October 02, 2020, from https://tradingeconomics.com/ghana/percentage-of-students-in-secondary-education-enrolled-in-vocational-programmes-both-sexes-percent-wb-data.html
Village Exchange Ghana. Home. (n.d.). Retrieved October 02, 2020, from https://www.villageexchangeinternational.org/
Kim, W. C., & Mauborgne, R. (2004). Blue Ocean Strategy [Review]. Harvard Business Review. Retrieved October 2, 2020, from https://motamem.org/wp-content/uploads/2018/04/blue-ocean-strategy-HBR.pdf
Village Exchange Ghana. Solidarity Program. (n.d.). Retrieved October 01, 2020, from https://www.villageexchangeinternational.org/solidarity-program/
Supporting young women into Technical and Vocational Education and Training – CAMFED – Campaign for Female Education. (n.d.). Retrieved October 02, 2020, from https://camfed.org/latest-news/ghana-vocational-training-employment/
Technical and Vocational Education Division. (n.d.). Retrieved October 02, 2020, from https://ges.gov.gh/2019/07/15/technical-and-vocational-education-division/
Woltjer, L. (2006). Analysis of Vocational Education and Training Ghana. 1-18.
Yangben, P., & J, S. (2014, October 31). Career challenges in construction craft training in technical vocational education and training in Ghana. Retrieved October 01, 2020, from https://academicjournals.org/journal/IJVTE/article-full-text/8E59B2E47597
---
IVolunteer International is a 501(c)3 tech-nonprofit registered in the United States with operations worldwide. Using a location-based mobile application, we mobilize volunteers to take action in their local communities. Our vision is creating 7-billion volunteers. We are an internationally recognized nonprofit organization and is also a Civil Society Associated with the United Nations Department of Global Communications. Visit our profiles on Guidestar, Greatnonprofits, and FastForward.