Currently, one in seven Pakistani is impacted by floods. The ongoing catastrophic flooding in Pakistan has proven to be the worst in its history. It has affected about 33 million people out of the population of 220 million and submerged about one-third of the country underwater as per Pakistan's Climate Minister Sherry Rehman. One the one hand, these flash floods because of erratic and intense monsoon spells have triggered the debate on how climate change catastrophe is now a lived reality. On the other hand, the lack of timely government response and bad governance which exacerbated the situation must not be ignored.
"One third of the country is underwater right now," Pakistan's Climate Minister Sherry Rehman

Source: BBC News
The Scale of Destruction
The provinces of Sindh, Baluchistan and Khyber Pakhtunkhwa, and Southern Punjab are the worst hit. The floods have wiped off nearly 1 million homes leaving scores of families without shelter and about 500,000 people in displacement camps. Nearly 1,100 people including 350 children have died. Of the affected, about 650,000 are pregnant women who do not have access to proper healthcare facilities. About 1,000 health care facilities in Sindh and about 198 in Baluchistan have been partially or completely destroyed. The flash floods have wiped away buildings, transport and communication infrastructure and destroyed nearly 2,200 miles of roads, leaving some districts unreachable by rescue services.
All major crops have either been damaged or completely destroyed. Cotton crop standing on over 1.4 million acres, rice crop on about 600,000 acres, date crop on about 100,000 acres and 50 percent of sugar cane crop standing on about 730,000 acres is destroyed. About 50 percent of the remainder of crops have been destroyed as well. About 794,000 heads of livestock have been killed as well.
The agriculture makes about 22.7 percent of Pakistan's GDP; with crops wiped out, Pakistan now faces an acute food and exacerbated economic crisis. About 70 percent of the textile industry which contributes to Pakistan's exports is now under stress as cotton supply has taken a hit. In the preceding months, Pakistan narrowly escaped a default-like situation amidst depleting foreign exchange reserves and a record high inflation of about 27 percent after revising an ongoing deal with the IMF of a whopping $3.5 billion loan to stabilise its economy. Though the economic crisis seems far from over; if anything, it seems to have taken a turn for the worst. According to the Finance Minister Miftah Ismail, due to floods, the country has incurred a loss of at least $10 billion which is about three percent of its GDP.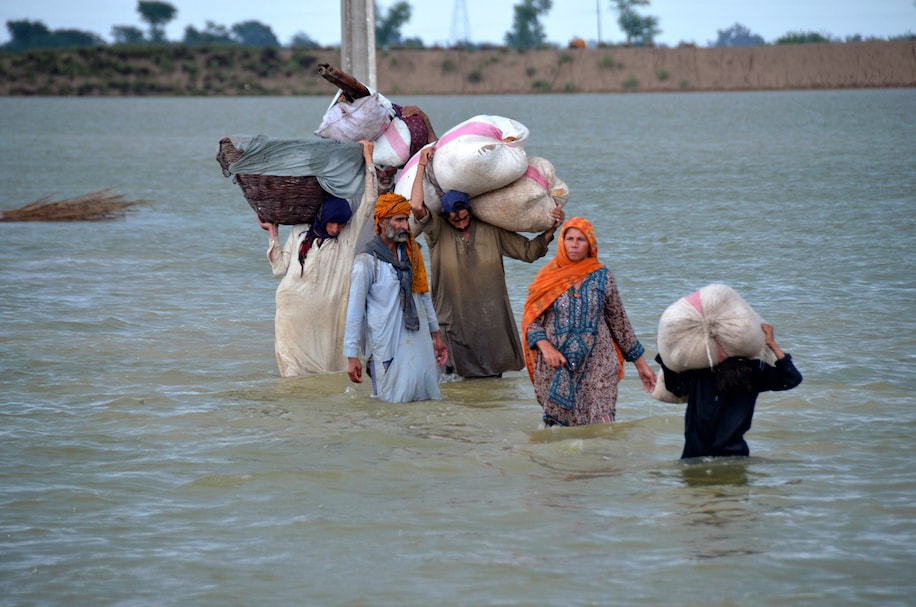 How did the Floods come about?
The South Asian Summer monsoon season is a yearly and normal occurrence which brings about roughly 70% of the annual rainfall between the months of June and September. This is essential particularly for farmers who rely on this rainfall for their crops and livelihood. South-western winds from Bay of Bengal and southwest winds from the Arabian sea bring rainfall to the northern and south-eastern belt of the country respectively. The average rainfall usually dwindles owing to atmospheric and oceanic conditions but in recent years it has become more erratic. As per research, the low-pressure system over the region brought rainfall over western Pakistan as well which impacted Baluchistan; the province that otherwise usually receives little rainfall during the monsoon spells. Additionally, yearly increase in temperatures over the monsoon belt due to climate change also intensified rainfalls. Pakistan hosts over 7000 glaciers; its northern region is termed as the "third pole" and with the Indus River running through all four provinces, glacial melt, erratic rainfall and change in temperatures altogether make the country more vulnerable to impacts of climate change such as intense flooding.
Pakistan's Meteorological Department identified in a July 4th, 2022, report on outlook for Monsoon season of 2022 that temporal oscillations in the Pacific Ocean are expected to last the Monsoon season resulting in "above normal precipitation" in the country. The report explained how La Nina, a temporal oscillation over the Pacific Ocean characterised by cooler water temperature is likely to push air current known as Walker Circulation which can create conditions that result in increased rainfall. The United Nations Secretary General Antonio Guterres termed this year's exceptional rainfall as "monsoon on steroids". The rainfall from June to August was 190 percent above its normal threshold; a five decade high for the country. This is what caused these flash floods to come about.
"Pakistan is facing a monsoon on steroids," the United Nations's Secretary General.

Source: BBC News
Where is the State?
While it is true that Pakistan is one of the most vulnerable countries to climate change despite about 1% contribution to global greenhouse gases, the state response prior to and after floods has been disappointing. The impacted people have been left without homes and shelter, access to food and clean drinking water, and at the risk of contracting various water-borne illnesses, skin infections, malaria, dengue, and diarrhoea. Despite early warnings by the Meteorological Department, no concrete steps of early warning or evacuation were taken by district, provincial or federal governments. The districts in Sindh and Baluchistan worst impacted have been neglected by governments over decades; extreme poverty, socioeconomic gap, absence of proper infrastructure further intensified the destruction. In absence of proper drainage systems and machinery, it will likely take the water two or three months to be fully drained from impacted villages and districts. The government still has not presented any roadmap for rehabilitation and reconstruction process in the aftermath. In fact, Climate Minister Sherry Rehman shunned accusations of a lapse on part of the government by stating that no amount of planning would have mitigated the disaster.
On the contrary, had it not been for the government failure to make adaptive changes after the 2010 floods and decades of government neglect to develop these districts that stand submerged underwater today, the situation might not have been so grim. Early planning and action do help save lives in face of an imminent catastrophe.
For example, Bangladesh, a country prone to cyclones suffered about 500,000 deaths and immeasurable devastation in 1970 when it was still a part of Pakistan. However, post-independence, Bangladesh invested heavily on infrastructure adjustments, early-warning systems, and financial relief by facilitating building of more flood resistant houses, ready-made shelters with specific arrangements for women and animals, and use of technology to issue alerts for evacuation and provide quick cash transfers; all in addition to ensuring availability of trained volunteers to assist people should such a calamity hit. Consequently, when a cyclone like the one in 1970 hit in 2020 only 30 lives were lost. Such an example proves and carry within wisdom that Pakistan should learn from in order to better prepare for similar catastrophes which are likely to occur in years to come owing to climate change.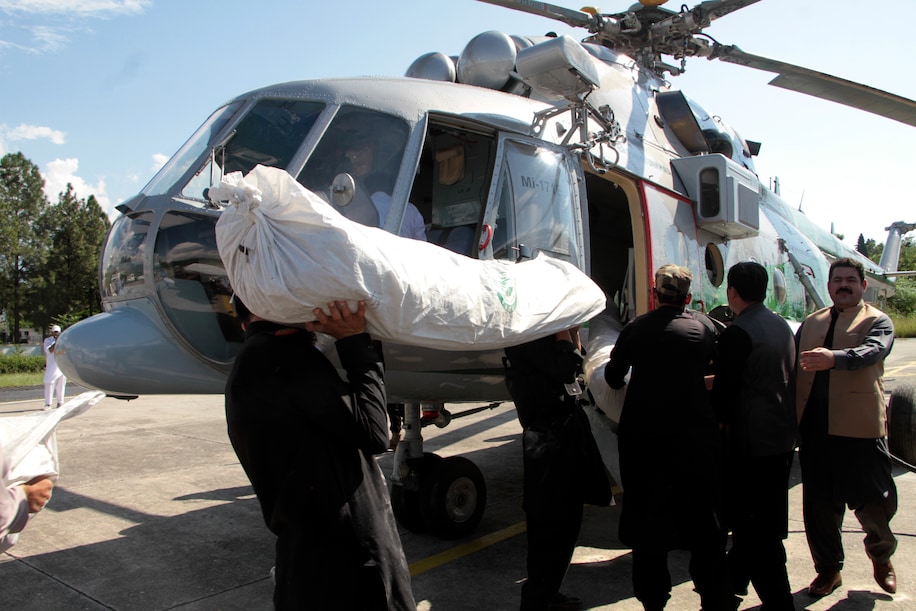 What about the Victims?
While the government and the army together are mobilising all available resources to rescue trapped victims, relocate them to make-shift shelter houses, the scale of damage has pushed them to ask for assistance. They have urged the local and international community for donations to assist the state in managing the unfolding crisis. Subsequently, international organisations such as the United Nations, World Health Organisation, and countries such as UK, France, China, United States, the Gulf States have come forward to donate generously for the victims. However, most significantly, and in upholding the true spirit of community and volunteering, scores of local volunteers have gathered, using social media to their advantage to connect with individual people and organisations to ensure essential supplies and medical aid reaches the victims. Local students together with international volunteer teams of organisations such as Red Cross are conducting donation collecting drivers to assist local NGOs, gathering essential supplies to be then transported to the affected areas as well as providing onsite assistance.
As the crisis unfolds, more assistance, aid and need for volunteering will be required to assist flood victims. Amidst concerns of corruption and lack of or slowed assistance from government, individual volunteers have stepped up to offer help. Though commendable, this raises significant concerns over lack of proper government machinery available to assist its people before, during and after such natural calamities which are likely to, owing to climate change, become more frequent in the future.
---
The opinions expressed in this publication are those of the author. They do not purport to reflect the opinions or views of IVolunteer International.
IVolunteer International is a 501(c)3 tech-nonprofit registered in the United States with operations worldwide. Using a location-based mobile application, we mobilize volunteers to take action in their local communities. Our vision is creating 7-billion volunteers. We are an internationally recognized nonprofit organization and is also a Civil Society Associated with the United Nations Department of Global Communications. Visit our profiles on Guidestar, Greatnonprofits, and FastForward.