All of us have been to stores like H&M and Zara. While walking through these stores, glancing at seemingly innumerable fashion designs, have we ever wondered where these clothes come from? Or has the affordability of these clothes ever prompted us to think how their mass production is even possible or who is behind all this? Well, all these millions of dresses that look so similar to the ones worn by fashion models are a result of a phenomenon, called "Fast Fashion".
"Fast Fashion isn't FREE. Someone, somewhere is paying."

— Lucy Siegle
Understanding the Concept: A brief Introduction to the World of Fast Fashion
Fast Fashion is a phenomenon that constantly keeps changing, as more and more companies develop the latest fashion designs to urge consumers to accelerate their purchasing of these cheaply-made "trendy" clothing items. The very concept of fast fashion is based on a business model that mass produces trendy clothing rapidly using inexpensive, exploitative labor and environmentally harmful practices. It is no longer just fashion but a new kind of recreational activity whose societal cost seemingly almost no one is willing to understand. In the same way clothes come with a price tag, so does fast fashion – one that our planet is forced to pay. As more and more clothes move from the runways and fashion shows to stores, fast fashion's distressing consequences severely impact human rights, the environment, the global economy, and individual psychology. Although it is a quick response system that provides customers with the latest designs, it plays a prominent role in promoting the culture of obsolescence. Therefore, it's relevant to review the various socio-economic aspects of the fashion world and explore the possible ways forward for a sustainable future in this industry.
The Birth and Evolution of Fast Fashion
The fast fashion industry has seen a substantial transformation in the past few decades. To better understand its origins, we must rewind to the time before the 1800s. In the early 1800s, people depended mainly on cloth materials like wool, calfskin, and leather to prepare clothes. However, with the arrival of the Industrial Revolution, things began to change dramatically. This era brought on new technologies like sewing machines, textile machinery, ready-made cloth factories, and many more – making the manufacturing process cheaper, efficient, and more manageable. This period was followed by World War 2, which further supported the mass production of clothes by imposing various restrictions on raw materials and popularizing artificial fibers over their natural counterparts. The war not only affected fabric choices but also simplified the style and silhouette of clothing, especially that of women's garments.
In the late 1960s and 1970s, cloth manufacturing methods began to change drastically as more middle-class people became acquainted with the idea of mass production, new trends (like catwalks featuring ready-made clothing) and high fashion designs emerged, and most importantly, these cheaply-made clothes became a medium of personal expression for individuals. But the modernization of the fashion world was not limited to this. This industry blossomed at an alarming rate in the early 1990s – when top fashion brands like Zara, H&M, Primark, and Topshop took to the streets, initially beginning from small stores in Europe and extending all the way to the American markets. To keep up with the increasing demands, these companies built fashion models based on inexpensive, trendy clothing, outsourced their labor to achieve low-cost production, and vigorously marketed these clothes at highly cheap rates to fashion-conscious consumers.
Modern Day Disasters
Most people never realized the setbacks of this industry until the horrific tragedy of Rana Plaza collapse in Bangladesh on the 24th of April 2013 – which claimed the lives of over 1134 garment workers. Besides this, around 2500 people were also injured. This was considered one of the deadliest industrial incidents to have ever occurred in the history of the fast fashion industry.  
Prior to this incident, another disaster occurred – the Triangle Shirt Waist Factory Fire in New York on 25th March 1911, which killed approximately 129 women and 17 men. The factory owners were summoned to be criminally charged, but later released in December of the same year. In the end, they benefited from the enormous amounts of insurance claims they submitted after the devastation. However, the public turmoil caused in the aftermath of the incident led to the inception of the Factory Investigation Commission, which passed around 30 health and safety laws, including factory fires codes and child labor restrictions.
These tragedies have not been isolated incidents. Several more buildings have collapsed, many more fires have occurred, and numerous workers have lost their lives in these garment factories. Despite this, the fast fashion industry continues to achieve spectacular growth year after year and keeps on producing cheap $5 t-shirts and jeans, still not coming to terms with its hidden human cost.
Poor Working Conditions
"According to a report by UNICEF, 170 million children are employed in the garment industry. Hands that should be holding books and pens, are toiling 12 hours a day, sewing, stitching and dyeing garments to satisfy global consumer demand for fast fashion. This is the reality for 11% of children in the world."

Mehreen Tariq Ghani
Human rights violations persist in global garment industries – ranging from denial of trade union rights to significant risks to the workers' health and safety. Many company owners, who are always on the lookout for inexpensive labor, take advantage of the poor people who come to them in search of opportunities. They are forced to work under these exploitative conditions as they have no other livelihood options. Many fashion brands do not pay a minimum legal wage to the workers, which is, at times, not even the bare minimum needed for their survival. They are often compelled to work for long hours (approximately 14-16) and are not even paid if they work overtime. They are threatened or fired if they refuse to do so. Employees work under extremely inhumane conditions – like a lack of ventilation, polluted air, no access to clean drinking water, restricted access to bathrooms, or unsafe buildings where fires, accidents, and injuries are common. Child labor, forced labor, and women's harassment are also prominent in this industry. In fact, the European parliament describes the current working conditions of the workers as a transparent form of "slave labor".
Implications on the Environment
We are living in a world driven by forces fo consumerism and materialism, which have now become the indicators of our happiness. However, this happiness comes at an exceptionally high cost – especially to the environment. Global fashion industries have a detrimental impact on the environment, be it in terms of resource consumption or greenhouse gas (GHG) emissions.
In many regions, garment industries directly dump toxic waste (lead, arsenal, mercury, etcetera) and carcinogenic chemicals into water bodies, leading to water pollution. Contaminated water affects not only aquatic life but also the healths of millions of people living near these water sources. According to recent research, the fashion industry is the second largest industry worldwide and consumes around 2.6% of the world's freshwater. Not only this, it uses about 700 gallons of water to manufacture one cotton T-shirt.
This industry is also the second-largest air polluter after aviation, accounting for approximately 10% of carbon emissions. The production and transportation of millions of these clothing items are energy-intensive processes. Since most fashion bands have switched to synthetic fibers to manufacture clothes, converting these fabrics into textile garments consumes a lot of petroleum products like coal and releases harmful chemicals and particulate matter in the air.
In this line, a  study by the IUCN reports that around 35% of the microplastics entering the oceans come from the apparel industry. As they make their way to the oceans, they enter the human food chain, severely impacting human health. Studies suggest that these microplastics are, overall, expected to contribute to 31% of the plastic pollution in the oceans. This single-use plastic is non-biodegradable – and even if it breaks down, it harms marine life ecosystems.
Garment production has roughly doubled since the 2000s. As a result, retailers constantly tempt consumers through these affordable, trendy clothes and convince them to dump the current so-called "unfashionable" clothes after a few uses. Ultimately, all the abandoned clothes and discarded waste materials end up in landfills – which keep on piling up for months. According to a recent study, approximately 57% of the discarded cloth waste throughout the fashion supply chain culminates in landfills. This waste is further circulated to incineration areas where all of it is burnt – thereby affecting the nearby communities, as poisonous gases are released into the atmosphere.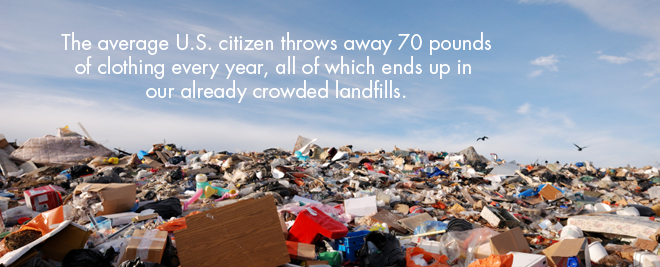 Finding the Way Forward
"There is no beauty in the finest cloth if it makes hunger and unhappiness"

Mahatma Gandhi
Fashion brands sell cheaply made clothes of the latest designs that you can only wear a handful of times, before shoving them away as soon as they become "outdated" – even if they remain intact and in perfect condition. Thanks to fast fashion, everyone can now dress up like their favorite celebrities or fashion models. This may seem a fantastic notion for those who always want to remain in style – however, one must understand that our beauty is not on the outside, it's on the inside. Despite looking at the environmental footprint left behind this trendy fashion – a monster that's now dominating almost every closet – we choose to ignore the impact of such consumerism. If we continue to do so, there will be another Rana Plaza taking place soon and thousands of innocent families will continue to suffer. If this remains so, the pockets of corrupt company owners will be filled with money, while those of their vulnerable workers will be kept waiting for years for compensation.
We as consumers have the power to bring about change by just being careful of what we are buying. Preferring quality over quantity, buying second-hand clothes from thrift stores, buying from sustainable brands (brands that have eco-friendly certifications like USDA Organic, etc.), donating to the poor, and raising consumer awareness, are only some of the practices we can adopt to combat the wasteful culture of fast fashion. We can also exercise pressure on fashion companies to follow environmentally sustainable practices.
For instance, to counter the pollution caused by man-made fibers, textile companies could switch to organic fabrics – like recycled cotton, wool, recycled linen, and so on, to reduce their carbon footprint. They can improve the working conditions of their workers by providing them with basic low-cost amenities like healthcare, childcare, special leaves, canteens, and transport facilities. They must also be forced to comply with regulations and improve the technology and machinery used in their factories, to avoid accidents or injury during production. Increased transparency in the manufacturing processes and avoiding "token sustainability initiatives" that promote sustainability just for the namesake will also be key to bring about lasting change. Lastly, broad changes should be encouraged industry-wide to embrace a zero-waste pattern that will reduce the amount of waste generated during the fashion supply chain and follow the 5R's of Fashion: Reduce, Repair, Recycle, Repurpose and Reinvent.
It's important we realize the ugliness of this industry and develop more responsible consumption habits. It's your choice to buy a new 5$ T-shirt or use the one that you already have. Remember that it's always our greed for new-looking clothes that will allure us to buy more. It's us who can stop ourselves. Never wear clothes because you just want to go with the trend or look a little bit more expensive than those around you. We can work together to slow this fashion trend before it reaches the first ranking in the world's largest polluter list. The reality is it's not just a cheap 5$ T-shirt, it's a cost we can bear the burden of.
"Sustainable Fashion is not a trend but the future"

Antonia Böhlke