Snake! Chances are when you hear someone scream snake or either see one, that your nervous system instantly reacts by releasing adrenaline into your bloodstream. Your heart rate gets faster, pain perception drops, and your sense of hearing sharpens. This is known in psychology as the fight or flight response in view of a perceived threat, a response that is crucial for self-preservation. The good thing is responses can be learned.
Like most people, I was also afraid of snakes. However, that changed when I came across the "Snakes in the Philippines" Facebook group. Here, people can post pictures of sighted snakes, dead or alive, for identification. The administrators are kind enough to provide basic information – such as its common name, scientific name, and danger category below. They also have an interesting rule not to demonize people who post pictures of dead snakes they killed for identification, as the primary purpose of the group is to raise awareness. Interacting with this group has been an eye-opening experience and made me aware of the significance these small reptiles have for ecology and the balance of local ecosystems.
The Danger Categories
We may tend to assume all snakes are dangerous, but that's far from the truth. There are a multiplicity of categories that these animals fall into in terms of their potential risk to humans. One of the easiest scales to understand is as follows:
Harmless: incapable of inflicting medically significant wounds or envenomation. Medical care is usually unnecessary if bitten. Examples of this are the paradise flying snake (Chrysopelea paradisi), Philippine cat snake (Boiga philippina), common wolf snake (Lycodon solivagus), smooth-scaled mountain rat snake (Ptyas luzonensis), Philippine rat snake (Coelognathus erythrurus), among others.
Nonvenomous but with sharp teeth: capable of causing medically significant wounds that may need a doctor's attention. An example is the reticulated python (Malayopython reticulatus), known as sawa in the Filipino languange.
Venomous: can cause medically significant envenomations. Fatality is possible and medical care is highly recommended. The Philippine pit viper (Trimeresurus flavomaculatus) belongs to this category.
Highly venomous: capable of inflicting a fatal bite. A bite is an emergency that urgently needs medical attention. Examples are snakes from the elapids family, such as the king cobra (Ophiophagus hannah), Philippine cobra (Naja philippinensis), Samar cobra (Naja Samarensis), and banded sea krait (Laticauda colubrina).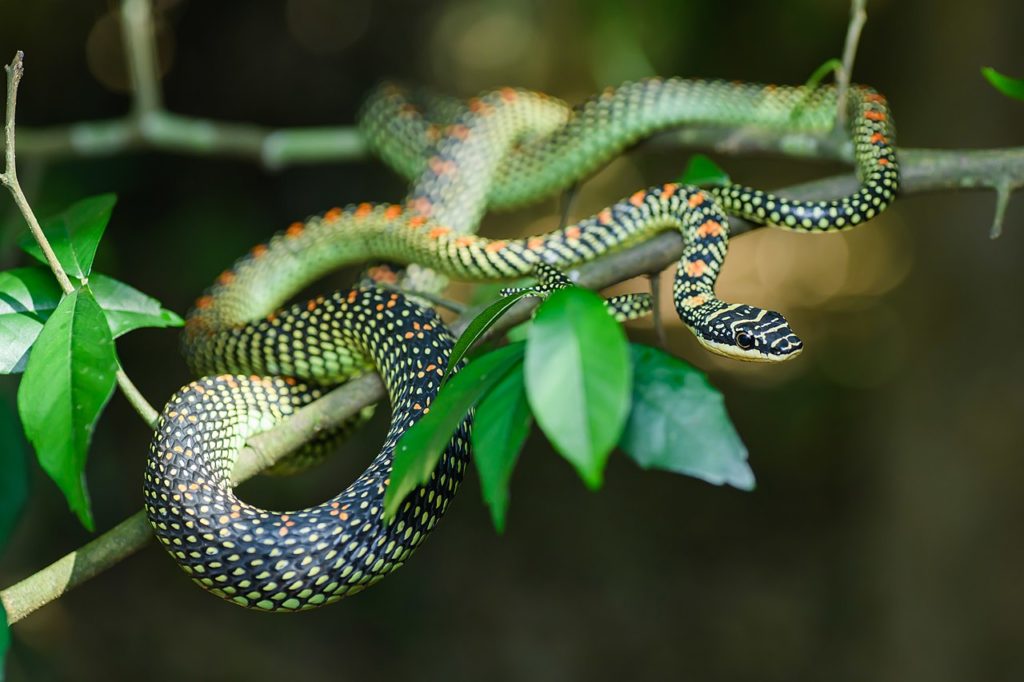 It was upon learning about these categories that I realized that most of the snakes killed in our village are harmless. Nobody, including myself, had prevented the needless killings because nobody knows how to discriminate between harmless and hostile venomous snakes. Since identification is not a practical knowledge usually taught in schools, ignorance leads to an often harmful belief that "the only good snake is a dead snake."
There is a reason for this belief, if still misguided. Statistics show that globally up to 138000 people die due to snakebites per year while another 2.7 million people suffer injuries. It is an established fact, however, that 85 to 90 percent of snakes worldwide are nonvenomous, and most snakes are not aggressive in nature and will usually bite only in defense.
Most snakebites occur when people try to capture or kill snakes. When left alone, snakes present little or no danger to people. Snakes usually prefer to retreat when encountered, but can become defensive when threatened.

Yash Singh, Conservationist
Thinking of killing a snake when you see one? Apart from the threat of a snakebite, here are three reasons why you should think twice. These reptiles actually play a much more important role in the ecosystem than you may have previously thought.
The Role of Snakes in Ecology
1. Population Check
Snakes prey on frogs, insects, rats, and other rodents, thus significantly keeping their population in check. Estimates suggest that the number of food grains destroyed by rodents each year can feed as many as 200 million people. More so, rodents are carriers of zoonotic diseases such as leptospirosis, hantavirus, and Lyme disease. No idea what a zoonotic disease is? COVID-19 would be a perfect example.
As the pest population usually grows as long as there is food, the presence of predators greatly helps in keeping their detrimental effects at bay. If snakes one day cease to exist, we will need to be prepared for the catastrophic consequences of their loss. Silently, snakes are doing critical jobs for us: ensuring food security and shielding us from disease outbreaks.
2. Biodiversity
In the intricate web of life, everything is connected to everything else. Snakes are not on top of the food chain: they are mesopredators, hunted by other predators such hawks, skunks, eagles, and even other snake-eating snakes species, such as the king cobra. In essence, snakes control the population of their prey, while also serving as food for other animals. Thus, the loss of snake populations would consequently affect the population of their predators, and thus the balance of the entire ecosystem.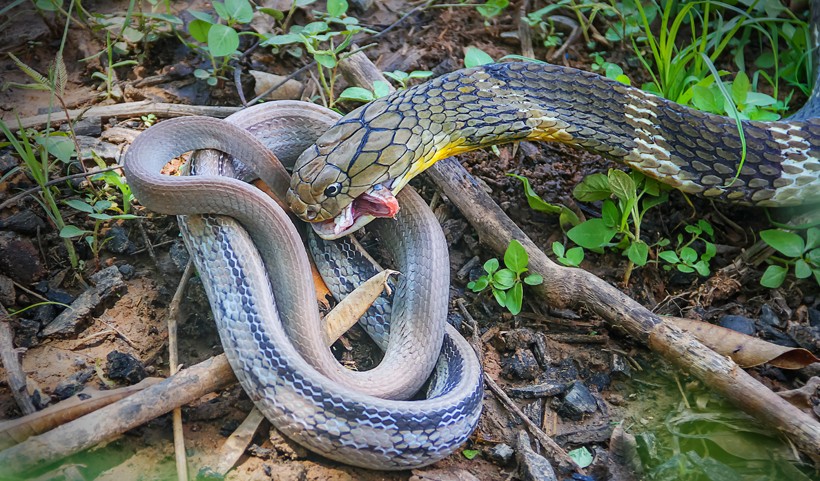 Additionally, snakes also provide essential ecosystem services through secondary seed dispersal, which contributes to the reproduction of plants. Simply put, the seeds consumed by rodents when they are eaten by snakes are excreted in an intact manner. Since snakes usually have longer home ranges than rodents, this facilitates the dispersal of seeds farther from the parent plant. Furthermore, it has also been found out that such ingestion proves to be favorable for the germination of seeds.
3. Medicine
Ironically, the anti-venom for snakebites is also made from snake venom. Scientists do this by injecting venom into horses and sheep and collecting and purifying the produced antibodies afterward to make the life-saving anti-venom. More so, this creates benefits beyond the production of anti-venom, as many drugs also derived from this venom have proven therapeutic value. For instance, the venom from a saw-scaled viper (Echis carinatus) is an integral component of Tirofiban, a drug approved for clinical use for the treatment of acute coronary syndrome and unstable angina.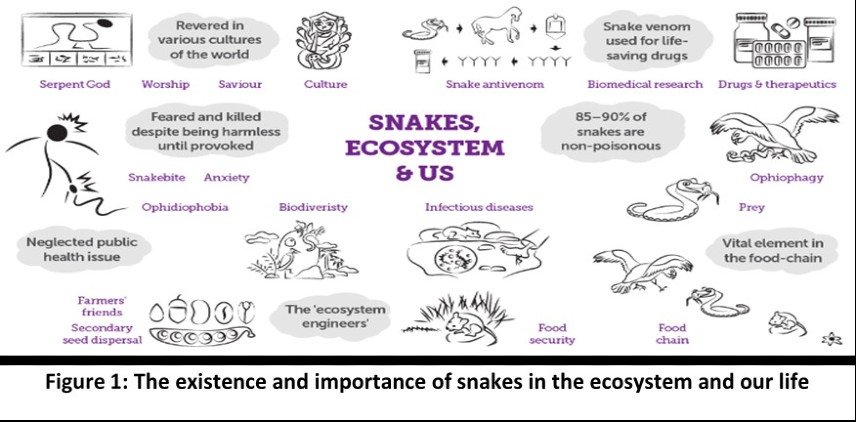 SOS: Save Our Snakes
There has been an observed reduction of snake populations across the world – primarily because of the adverse impacts of climate change – and such losses will surely cause a reverberating impact on the biodiversity of our planet. Compounding this situation is the needless and senseless killing of snakes done by humans. Sadly, snakes' contribution in sustaining and nurturing life has been clouded by either fear or ignorance – usually, a combination of both. Additionally, their vilification in popular myths, such as the tempter that leads to the fall of man in the garden of Eden, and being typified as the symbol of betrayal, has further added to the stigma, leading to hatred. This has to change, we cannot understate the importance of snakes in this web of life. We can, and should, be part of this change.
Where to start? Here are some practical tips. First, know the common snakes in your area. Snake species vary from place to place depending on natural attribution, thus identification is integral towards the goal of conservation. Second, upon knowing the common species, know their degree of harm. Such knowledge is crucial in convincing people who deliberately harm snakes, for the sole reason that they are snakes, to leave them alone. This information is readily available by joining snake conservation online groups. Hence, we can also contribute to demystifying the myth that all snakes are dangerous. Third, in any snake encounter, leave them alone and do not try to do any threatening actions – harming snakes is one of the major causes of snakebites. Finally, equipped with the necessary basic knowledge, be a part of ending the stigma against these reptiles. They too deserve to live.
Hopefully, snakes will not remain one of our misunderstood friends, with their importance only appreciated once they are gone. It is high time for united calls of SOS. Save our snakes!
---
IVolunteer International is a 501(c)3 tech-nonprofit registered in the United States with operations worldwide. Using a location-based mobile application, we mobilize volunteers to take action in their local communities. Our vision is creating 7-billion volunteers. We are an internationally recognized nonprofit organization and is also a Civil Society Associated with the United Nations Department of Global Communications. Visit our profiles on Guidestar, Greatnonprofits, and FastForward.