The surface of our planet is approximately 71% of water, making it the largest habitat for an enormous ecosystem. The oceans provide us with a lot of benefits, especially by keeping the planet cool to be live-able. The 5 oceans – Arctic, Atlantic, Indian, Pacific, and Southern – is home to millions of discovered and undiscovered species that we are lucky to share this earth with.
But we all know the status of our oceans; neglected and ignored. According to Clean Ocean, an estimated 5000 plastic bottles are thrown away every second around the world, and less than 4% of it is actually being recycled. The solution is not recycling. The solution is less usage of plastic. Most of these bottles end up in landfills and is then burnt or transferred to our oceans where we don't "see" them.
Inspired to make a change and to encourage people around the world to keep our beaches clean, a young woman in Sydney, Australia – Jemma Scenico –  started her own awareness campaign #Take3ForTheSea. The campaign was initiated to support Take-3, which is a nonprofit organization operating with the vision of reducing global plastic usage. Jemma grew up in land surrounded by the ocean and wanted to do something that will help reduce the plastic waste we (humans) leave behind on the beaches around the world.
"I came to my favorite beach for a swim one morning and within the first 20 meters of sand, I found this [plastic]. If you are enjoying our beautiful beaches, take your garbage home or dispose them in trash bags on the beach. If you see plastic, take 3 of them with you." – Jemma shares her inspiration and encouragement with us.
The #Take3ForTheSea campaign is pretty simple. If you are going to the beach, make sure you take something back. If you came with plastic (hopefully not) you should take all your garbage back home to dispose of it properly. If you're preparing to leave empty-handed, don't! Thanks for not using plastic, but on your way back from the beach, take 3 things from the beach (like plastic garbage) and contribute to reducing waste in the beaches.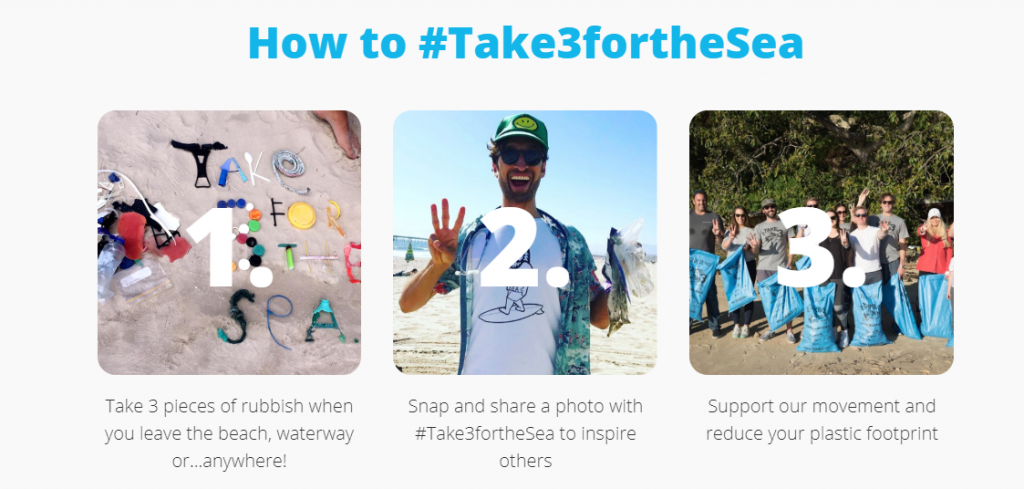 Jemma is a great inspiration to all of us – that change doesn't have to start big. It can start in your neighborhood as an awareness campaign and in support for an organization that is making change. Next time you go to the beach, remember to #Take3 and if you do, share your contribution on social media using the hashtag "#Take3ForTheSea."
---
Take-3 is a nonprofit organization based in Australia. All pictures included in this article are from Take-3. For more information about their work and on how to get involved, visit their website.