All over the world, technology remains an important element in the fight against COVID-19, especially in recent days when the fourth outbreak has been rapidly spreading in many provinces. In the face of the widespread Delta variant, the application of technology is an urgent measure to relieve the pressure on frontline staff and improve the effectiveness of social distancing.
Simultaneously, many public and private entities have been coordinating and contributing to the technological front. More and more innovative products and services that can be used on a large scale are being introduced. These innovations are mainly focused on reducing the spread of the virus, and improving the effectiveness of the pandemic prevention in daily essential activities such as transportation, office works, mass testing facilities, education, etc.
Let's take a look at 5 fascinating technology innovations that have come out recently to combat the spread of the virus in every corner of the world.
Want To Travel Somewhere? First Thing On The List, Prove That You Are Covid-safe
The hackathon Hack for Sweden usually gathers a few hundred participants to come up with 48-hour IT-based solutions to various societal problems. This year, the focus was on the corona crisis, and everything was set up at a distance. "It was a fantastic response with over 7,500 committed people who came up with very varied proposals, from a service that would make people dare to go to stores again with the help of a QR code as an entrance ticket to get their own time slot in the store, to a way of quickly produce protective visors for healthcare professionals," says Madeleine Serenhov, project manager for Hack the Crisis. 
The winning concept in the "save communities category" is the Coronafree app, which aims to track – not those who have corona – but those who have had it and become immune. The idea is that you should be able to go to a doctor's office and do a coronavirus test, and if you have the antibodies, you should get an "immunity certificate" which, among other things, can be displayed in an app. The Coronafree app gives you access to your certificates in a convenient way on your mobile phone. It contains all the necessary information from your healthcare provider that is required regarding your sampling.
"We talk about a second, maybe the third wave, if you are not to continue to be in "lockdown", the only way is to interact with healthy people in your community. When you have a certificate that you are immune, you can go back to work or hang out with friends again", says CoronaFree's project manager Anders Jonson.
An App Developed By Leading Experts To Accurately Tracking And Predicting Coronavirus's Spread
Efforts to get a handle on the spread of COVID-19 in the U.S. have been hampered by the lack of widespread testing. Most public health experts, in fact, say that absent the emergence of a treatment, vaccine, or herd immunity, having data from a robust national program should be a precondition to reopening the nation.
With the initiative to begin the task of gathering data on the spread of the disease, How We Feel, a mobile app that was developed by leading health experts from several institutions, including Harvard University, MIT, the University of Pennsylvania, and the Weizmann Institute of Science was created in response to the need for health officials and doctors to obtain more information on COVID-19. It only takes users about 30 seconds each day to report any symptoms they may be experiencing, and the information shared has the potential to reveal outbreak hotspots and provide insight into the progression of COVID-19.
"Each health check-in may feel like a small act, but together they'll make a huge difference for researchers like myself who are trying to understand this outbreak and develop intervention measures to control it," said Xihong Lin, Professor of Biostatistics, Harvard T.H. Chan School of Public Health and Professor of Statistics, Harvard University, a member of the National Academy of Medicine. Every day, you can share how you're feeling physically and emotionally and quantify how many people you may have been in contact with. The data you choose to share enables scientists and doctors to:
Identify new outbreaks.
Understand how the coronavirus is spreading.
Discover new populations that may be at risk.
Evaluate how interventions are working to slow the spread of the disease.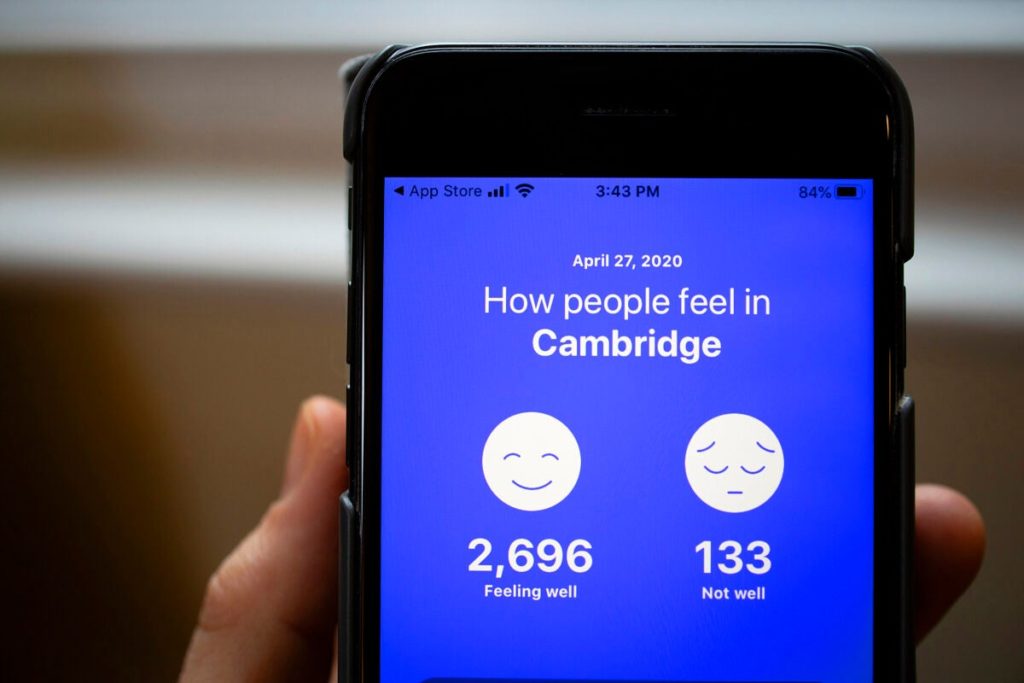 "We're all looking for something we can do to stem the spread of the COVID-19 pandemic, and this app provides an opportunity for everyone – regardless of whether you are currently sick or if you are in healthy condition – to share how you're feeling to leading health professionals, so they can track the spread of this virus and quickly determine where a new outbreak may be occurring," Governor Lamont said. "Likewise, as people report healthier symptoms, the data could reveal which health measures are having the fastest impact and apply those learnings in other areas. It's quick and easy to use, and completely anonymous. By encouraging everyone to use How We Feel, we all benefit."
Google Maps: Your Trusty Maps App That Can Help You Navigate the Pandemic
Google Maps has added a new feature that lets people see the number of covid-19 cases per 100,000 people for any given area, with a label indicating if cases are trending up or down. The functionality, which launched for Google Maps iOS and Android users in around 200 cities in 2019, is being expanded to cover "over 10,000 transport agencies in 100 countries," Google said. The updated Covid layer on Android and iOS will also show more information, including all-time detected cases in an area, along with quick links to Covid resources from local authorities. This new feature will help users traveling from one location to another by providing information about local guidelines, testing sites, and restrictions in another city.
The layer is designed to help people "make more informed decisions about where to go and what to do," wrote Sujoy Banerjee, a Google Maps project manager, in a blog post. Public health experts and the Centers for Disease Control and Prevention (CDC) recommend that people keep track of the amount of COVID-19 spread in their area to figure out the risk of certain activities. Transmission rates in local communities are important for parents to consider when deciding if they should send their kids to school and for families to monitor in advance of any holiday plans.
How it works: You open Google Maps, click on the top right-hand corner of your screen, and click on "covid-19 info," Google Maps product manager Sujoy Banerjee explains in the blog post. Color-coding makes it easy to see at a glance how many new cases each area is reporting. Trending case data is visible at the country level for all 220 countries and territories that Google Maps supports, along with state or province, county, and city-level data where available.
Where's the data from? Google says the data comes from "multiple authoritative sources," including Johns Hopkins, the World Health Organization, health agencies, hospitals, the New York Times, and Wikipedia.
A Social Distancing App That Uses Space To Save Lives
Health experts around the world have been advising everyone to practice social distancing in order to stop the spread of the coronavirus. We are repeatedly reminded to maintain a distance of at least 1.5 meters from one another to minimize the chances of contracting the infection. Given it's a very new practice, it may be difficult to maintain social distancing sometimes.
But luckily, now there is an app for that. In June 2020, the United Nations Technology Innovation Labs program launched 1point5, a social distancing app aimed at helping the world get back to work safely while the COVID-19 pandemic remains an ongoing reality. The app works by scanning for nearby mobile devices via Bluetooth and warns users when a device enters the 1.5-meter perimeter. 
1point5 also lets you select the nature of the notification. You can turn on or off Sound and Vibrations for proximity alerts. The application notifies about close proximity when it is turned on and doesn't send alerts when it is closed. You can also set up the app to exclude the devices of family members and those with whom you live.
"Social distancing saves lives, and the 1point5 app is a clever piece of technology that allows people to know when they're too close," said Maurizio Maria Gazzola, UN-OICT Chief, Strategic Solutions. "Our vision is to #MakeTechInclusive and to demonstrate how brilliant technologists can quickly address pivotal issues related to health and safety during COVID-19 with ensuring the strictest privacy standards."
Fighting COVID-19's Mental Health Impacts With Online Education
The COVID-19 pandemic has resulted in a number of negative health-related consequences, including impacts on mental health. In January 2021 alone, 41% of adults reported symptoms of anxiety and/or depressive disorder, a share that has been largely stable since spring 2020. Given the need for physical distance during the pandemic, and the increase in demand for mental health services, digital interventions that support mental health and wellness are very beneficial. Thus, introducing CAMH, Canada's largest mental health teaching hospital, and is using data-driven technology as a tool for suicide prevention and improving mental health outcomes. 
"We've adapted by improving access to resources for the general public beyond patients and their family members. The CAMH COVID-19 mental health hub has information on how to manage stress and anxiety and several other resources to help the public, depending on the condition or challenge they're facing. In addition, there's a companion mobile app that features self-assessments, discussion boards, and a variety of coping tools for patients." said Lydia Sequeira, health informatics doctoral candidate at the Centre for Addiction and Mental Health (CAMH) in Toronto. 
The website, which is an online resource that includes a discussion forum where people can share their experiences and get tips and suggestions about coping with anxiety and depression during the pandemic. A National Survey Dashboard tracks the mental health of Canadians and reports key statistics about their experiences and feelings. The site also provides resources for healthcare workers, those coping with loss, and information on combating discrimination that has arisen as a result of the pandemic.
In the months since they became available, the online resources have been accessed by thousands of people, providing high-quality guidance for individuals and families at a critical time. 
Disclaimer
The opinions expressed in this publication are those of the author. They do not purport to reflect the opinions or views of IVolunteer International.
---
IVolunteer International is a 501(c)3 tech-nonprofit registered in the United States with operations worldwide. Using a location-based mobile application, we mobilize volunteers to take action in their local communities. Our vision is creating 7-billion volunteers. We are an internationally recognized nonprofit organization and is also a Civil Society Associated with the United Nations Department of Global Communications. Visit our profiles on Guidestar, Greatnonprofits, and FastForward.