Often, grassroots charities are overlooked in their ability to bring about change. In 2019, 100 of the largest charities raised $49.5 billion in donations in the US alone. Additionally, smaller charities are sometimes underestimated against larger global charities – which are often working with more resources and people. However, it is becoming increasingly clear that we need to support grassroots organizations.  Grassroots organizations have historically been able to push and successfully mobilize a lot of people, since they have community trust. Often that trust is absent for larger nonprofits – community leaders bring pressure in a different way from non-profits. This function on social trust allows for social mobilization – something that's incredibly important for long-lasting social change. Today, supporting grassroots charities is becoming easier with the help of social media and the internet. Studies have shown that grassroots organizations that utilize the connective powers of the internet are able to better achieve their goals, and they become more effective at implementing long-lasting social change than bigger nonprofits.     
GroundBreakers is a leadership network of local leaders in 65 countries. Their core motivation has always been supporting local leaders and community solutions. Communities develop in different ways, and they recognize it means they require different methods. They want to promote different methods, mainly asset-based approaches that are more representative of their communities, hence they want to support local leaders and community best practices GroundBreakers is also a multimedia hub used to amplify community voices.
Often big non-profit organizations are bogged down in bureaucracy. To receive funding, to campaign for change, to enact changes or implement programs they have to navigate environments they are unfamiliar with, as well as local bureaucracy. Not to mention, larger charities are good at finding solutions to injustice rather than fixing the problem at the root of the injustice. Larger non-profits make communities reliant on the benevolence of other people rather than making them able to advocate for themselves or their communities, making it an extremely unreliable source of resources. Grassroots charities don't face the same challenges – they are already part of their communities, understand their needs and how things work. With increased partnerships and a platform to share their aims, grassroots charities are able to help their communities more than big non-profits would. 
We had the chance to sit with one of the GroundBreakers' founders – Rara Reines – and discuss their most recent social media campaign – 16 Days of Activism against Gender-Based Violence.  
What is Groundbreakers?
GroundBreakers is a leadership network of local grassroots leaders in 65 countries. It was founded in 2017 by Rara Reines and Sebastian De Beurs in the USA to try to promote solutions that focus on the strength of communities rather than their weaknesses. They do this by adopting a paradigm that welcomes global knowledge and approaches.
Development paradigms usually focus on a specific path through which development should be achieved – for example, a western development paradigm focuses on development that mimics the processes of Western countries with a focus on quantifiable growth.  This development paradigm doesn't necessarily always work for many other communities, and the international development industry is still characterized by eurocentric and racist norms. For so long, this has been the only way things work – but GroundBreakers want to pluralize that.
GroundBreaker's work serves to amplify community leaders and insights, as well as center and embrace local cultures.  They are committed to supporting and promoting methods that work for those communities. One example of the community leaders they support is the founder of the Refugee Trauma Initiative, Zarlasht Halaimzai, who advocates for trauma-informed support for refugees in Greece. Her organization trains local government workers throughout Greece for more culturally relevant service provisions. 
The GroundBreakers initiative also incorporates a multimedia hub – operating as a base for connection and collaboration amongst local leaders. They are focused on building up content and improving their ability for networking – so every leader that engages with these videos is able to network. By putting those ideas and methods out there, they are focused on becoming a knowledge hub, as well as growing this knowledge base. GroundBreakers aims to centralize a lot of the lessons and practices from leaders so that others can access that and participate in a mutual learning environment. They have seen that momentum can be maintained through relationship-building between activists, curating networks, and sharing what's working and what's not. By identifying what works, successful practices can hopefully be shared with other leaders to help with solutions in other places around the world.
16 Days of Activism
16 Days of Activism and Awareness is a campaign that began in 1991, first launched by the Centre for Women's Global Leadership (CWGL). It campaigns against gender-based violence (GBV), and runs every year from November 25th to December 10th. The campaign works by drawing attention to the persistence of GBV and campaigns for states to enact legislation to end it. Since its start in 1991, the campaign has grown immensely with over 6000+ organizations taking part – including GroundBreakers taking part this year.
Whilst the theme of every year is to focus on GBV, this year there was also the focus on 'The Shadow Pandemic'. The shadow pandemic is the term given to the increased rate of GBV caused by the COVID-19 pandemic. Lockdown, quarantine, and isolation meant that domestic violence rose. This has been exacerbated by cramped living conditions, lack of financial security, health troubles and isolating with only their abusers. The resources that would usually support women, including government resources, have felt the strain of COVID-19, restricting women's abilities to leave these situations.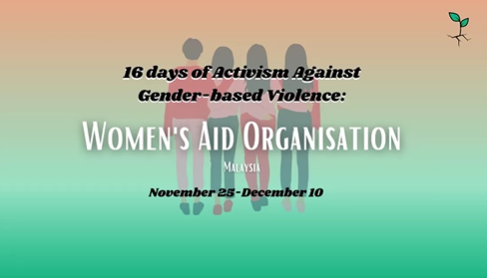 Much of what Groundbreakers does is based around connection and collaboration. With the COVID-19 pandemic, much of their activity had to take place online. 16 Days ideally would have happened with in-person components, but that wasn't an option in 2020. In order to adapt to these circumstances, the team came up with video spotlights. The video spotlights are a number of short videos, posted on Instagram with various leaders from around the world highlighting GBV and how we can advocate for change. Having local leaders do the video spotlights was the best method for them to advocate against GBV and the shadow pandemic, particularly considering their capacity right now. Groundbreakers wanted to show a multifaceted variety of leaders from different places and backgrounds – Kenya, Malaysia and Nigeria are just a few of the many countries that were represented. 
16 days highlighted speakers from around the world. They wanted to show that this is really a global issue – affecting people from Canada to Malaysia to Kenya to Nigeria and beyond, in many different ways.
"It's really a conversation about the community having champions who are people they relate to, like male allies".

Rara Reines, Co-founder of GroundBreakers
People need to recognize gender-based violence in their own communities. But prevention and recognition are yet to normalised in a lot of different places, like schools and various public institutions. To visualize the pervasive nature of this violence GroundBreakers has actively shared statistics of how many people have been calling GBV hotlines during the pandemic. The aim has been to get people to recognize what is happening in their community, and work to support prevention mechanisms, or speak out against GBV in their own families or societies.  
This campaign featured several male allies that were speaking out and sharing how they fight GBV. It is valuable to have male allies because they infiltrate social spaces that women may not be able to access, and shows why it's important that men are also aware of the issue. Ren Chung, who is an advocacy director of a women's aid organization in Malaysia – providing shelter and support to women and children who have suffered abuse – talked a lot about policy change and advocacy alongside frontline responses to GBV. Additionally, Canada-based activist Hawa Mire, spoke to his experience working with a number of feminist and women's rights groups advocating at the level of the UN. Susan Nyabena, from Kenya, was organising responses to GBV in rural communities with mobile units at a grassroots level. This set of speakers shared several approaches to advocacy – local, regional, national and international – hoping to mobilize others. 
To ensure continued interest and focus on this movement, Groundbreakers has been incredibly focused on building up content and networking through their blog posts and social media. Every leader in these videos is networking as they share their ideas and aims, not only with followers of the blog, but with other leaders. These videos also contribute to the knowledge hub (part of the resources that GroundBreakers makes available on their website), enabling the centralisation of many of these lessons and practices. For many of the leaders, it allows them engage in mutual learning and to speak about the problems they are facing. For communities that don't have access to other features of the campaign, sharing ideas and solutions from various leaders has been incredibly important in moving forwards with their work amidst the pandemic.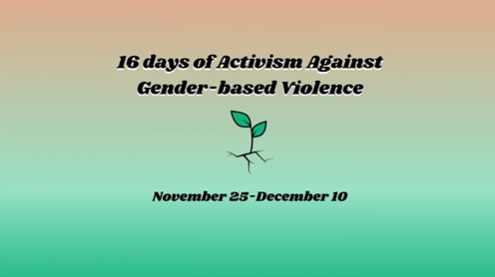 We are working to pluralize things, so we see momentum from relationship-building between activists, in addition to documenting and sharing what's working and as well as what's not working.

Rara Reines, Co-founder of Groundbreakers
When thinking of social movements, it can be hard to reach people outside of your followers. Sometimes these conversations can operate in an echo chamber, or it's difficult to maintain the momentum. For several of the posts, they found that including actions for citizens, including talking to family members and friends, or speaking up, enabled the public to be part of the change and campaign for bigger changes at a policy level. For those who have rarely participated in these movements, but are emphatic to gendered violence, the conversation should not be dismissed. In Ren Chung's video, he began with an appeal to think about a woman who has been in this situation, using empathy as a base of this conversation, encouraging viewers to think:  How does it feel to be in a small apartment with your abuser? How does that feel to have small children? How does it feel to not have much information on how you can escape that situation?
Once you have engaged a core group of people, or people in respected or high-level positions, you can normalise the discussion about these issues. It's the best way to learn and the best way to push others to enact changes, since they can apply pressure in their circles or reach more people from their demographic.
You can emphasise and create that relationship, that connection with anyone, particularly anyone who thinks differently from you.

-Rara Reines, Co-Founder of GroundBreakers
Social Media and Grassroots charities
Social Media can be a really powerful tool for activism and grassroots movements. The use of social media allows small charities to reach more people, share more actionable items, and connect with other small charities – creating opportunities for connections and collaboration. 
Additionally, by creating a digital connection and bringing it directly to the public, social media enables them to empathize with people who may be different from themselves or their communities. However, the learning aspect is only one part of the equation. Media and educational aspects have to be very action-oriented and aware of a citizen's capacities – conscious and targeted to what people can do. Next steps should be action-orientated – from signing petitions to cold-calling representatives in Congress and government, sharing information on their stories, and discussing these issues with their friends and families.
Future Plans
GroundBreakers' work is trying to create a global network for grassroots charities to share information is incredibly important. Their 16 Days campaign found many men, who previously hadn't, shared and interacted with their posts – demonstrating that pluralizing activism and creating those networks can create lasting change. They're working on a number of really exciting projects at the moment – including building a writers' council. They have a blog, but they want to be able to access people in different languages and to have more input on their publications. With this, they hope to support the writers in their own campaigns, in their own communities. In the upcoming months, they will also offer training in solutions journalism to help contributors to go beyond identifying these problems and to help enact change. With these actions, GroundBreakers is continuing to push themselves further – and inspire others to join them and take action to make change happen.
References
Chao Guo, and Gregory D Saxton. 2013. "Tweeting Social Change: How Social Media Are Changing Nonprofit Advocacy." ResearchGate. SAGE Publications. January 9, 2013. https://www.researchgate.net/publication/236133995_Tweeting_Social_Change_How_Social_Media_Are_Changing_Nonprofit_Advocacy.
Gunther, Marc. 2017. "Rich Charities Keep Getting Richer. That Means Your Money Isn't Doing as Much Good as It Could." Vox. Vox. April 24, 2017. https://www.vox.com/the-big-idea/2017/4/24/15377056/big-charities-best-charities-evaluation-nonprofit.
Forbes. 2021. "America's Top Charities 2020," 2021. https://www.forbes.com/lists/top-charities/#27f3b85e5f50.
"When Grassroots Charities Fail, We Are the Greatest Losers." 2017. The London Economic. January 11, 2017. https://www.thelondoneconomic.com/news/grassroots-charities-fail-greatest-losers/11/01/.
Marmura, Stephen. 2008. "A Net Advantage? The Internet, Grassroots Activism and American Middle-Eastern Policy." New Media & Society 10 (2): 247–71. https://doi.org/10.1177/1461444807086469.
GroundBreakers. 2018. "Expanding Trauma-Informed and Contextualized Interventions for Refugees – GroundBreakers." Groundbreakershub.org. 2018. https://groundbreakershub.org/refugeetraumainitiative/.
‌
‌
‌
‌