Every day, I wake up and start my morning routine as quickly as possible. However, I lose an interesting amount of time in front of the closet looking for a new outfit. I end up mad and frustrated about how I never have enough clothes. That's how I end up buying clothes that I don't even use that much. I never really had a reflection on the story behind what I'm buying. One day, scrolling down Instagram, I saw a video about the impacts of "Fast Fashion". That was a real eye-opener.
Fast fashion by definition is "inexpensive clothing produced rapidly by mass-market retailers in response to the latest trends". In other words, It is the use of low-quality materials to make inexpensive trendy designs created at quick speeds.
Nowadays, fast fashion brands produce about 52 "micro-seasons" a year—or one new "collection" a week leading to massive amounts of consumption and waste.

Elizabeth Cline
The story behind fast fashion
Fall, winter, spring, and summer were the seasons that the fashion industry ran on. In fact, before the 1800s, in order to make clothes, you had to first of all source the materials and then prepare them, and finally weave them. However, everything changed with the start of the Industrial Revolution. It was the turning point for fashion. It introduced sewing machines which made the process of making clothes easier, quicker, and most importantly, cheaper.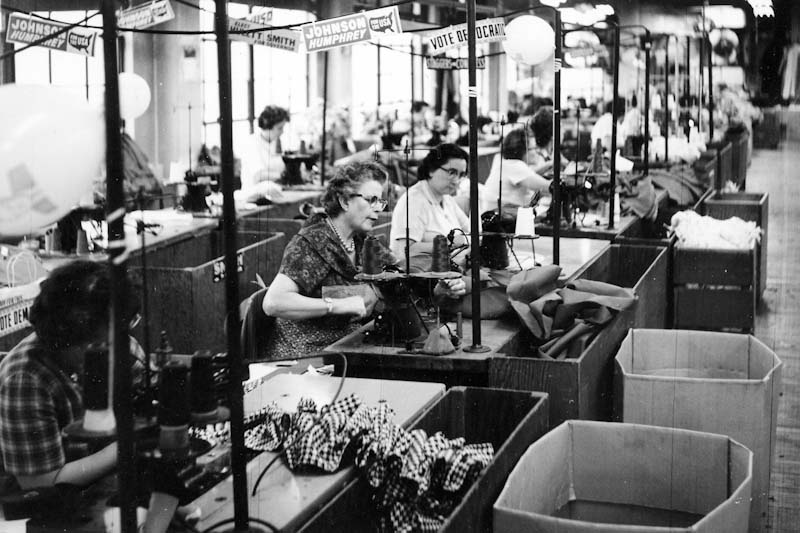 With sewing machines, clothing shops emerged to cater to the middle-class society. First H&M opened its first shop in Sweden in 1947 then expanded in London to reach the USA in 2000. Then Zara followed it in 1975 with its first shop in Spain. During that time Fashion become a sort of personal expression for young people.
It particularly came to the fore during the vogue for 'boho chic' in the mid-2000s.

Sunday Style Time
The industry kept getting bigger and bigger as new clothing brands started to emerge and follow the steps of Zara and H&M. Each brand focused on reaching every country and on being more accessible to the middle-class society. By the end of the 1990s and 2000s fast fashion reached its pick already.
On March 25, 1911, in New York City, the first accident in the fast fashion domain occurred. A fire broke out in New York's Triangle ShirtWaist Factory. This disaster claimed the life of 146 workers, most of whom were young women. Later on, Such incidents became more recurrent in the fast fashion industry and it even developed other serious problems.
Consequences of fast fashion
Fast fashion has benefited a lot of people financially. Consumers have easier access to clothes; they can dress differently each day without paying much. Shop owners are gaining more by spending less. However, the environment and those who are sewing your clothes are paying higher bills.
Cheap fashion is really far from that, it may be cheap in terms of the financial cost, but very expensive when it comes to the environment and the cost of human life.

Sass Brown, author of ECO Fashion.
Impact on the environment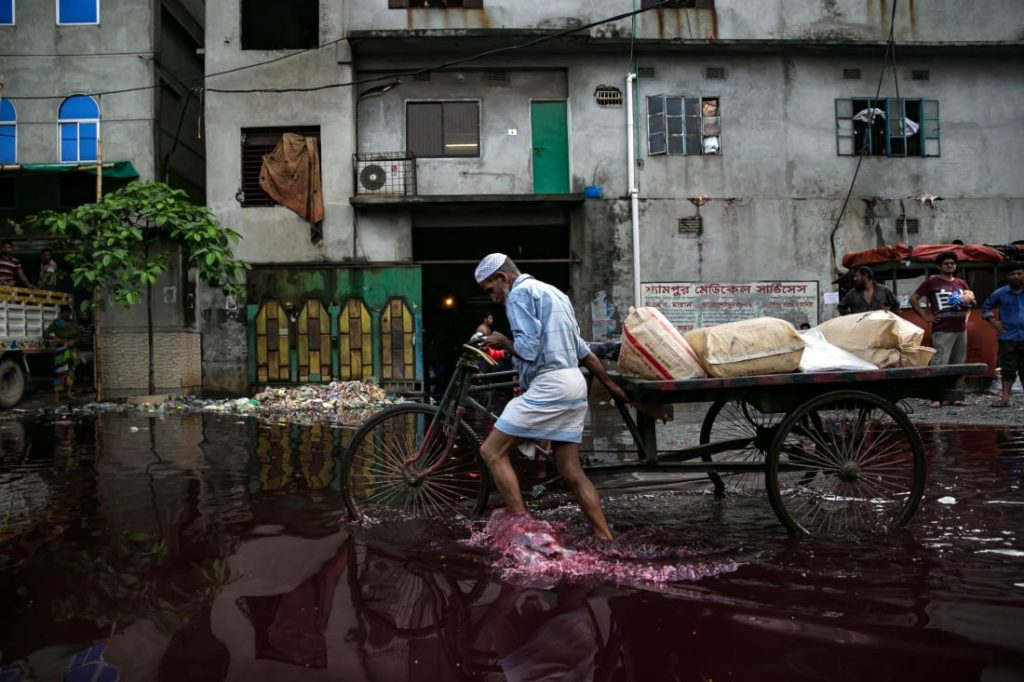 70 billion barrels of oil each year, 7,000 liters of water per jean, shoes that take up to 1,000 years to decompose, and much more are the price that the earth is paying for us to consume fast fashion.
The less time clothes take to be made the more dangerous the materials used are. Fast fashion clothes are made of synthetic materials such as polyester and nylon which are the main sources of microplastics. Also, these clothes are dyed using toxic dyes and an excessive amount of water. All of which end up in our oceans and lands. These toxins not only endanger our water resources but also wildlife.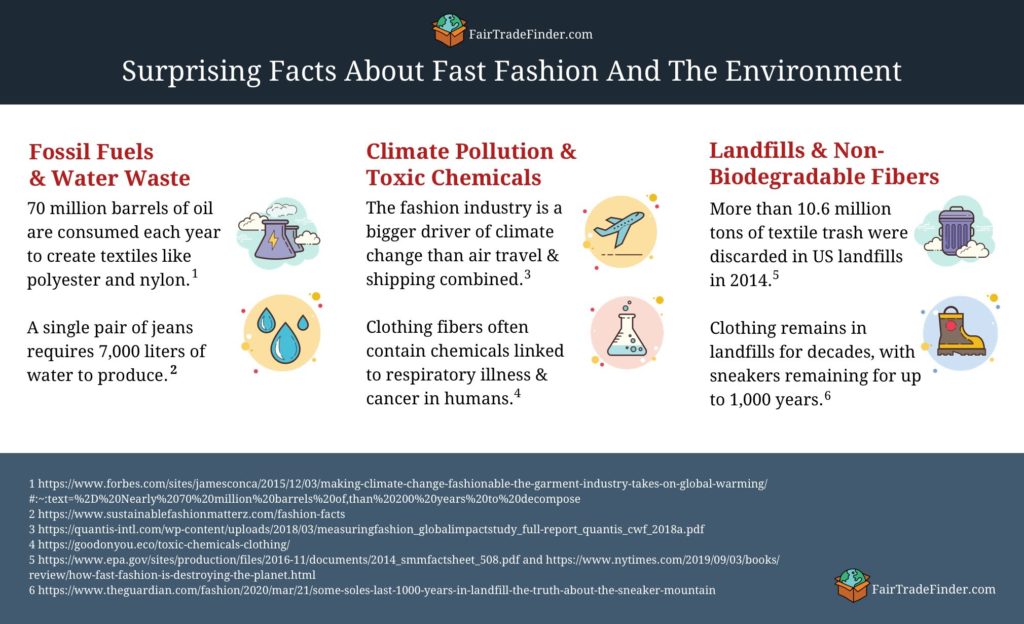 It takes more than just some textiles materials and scissors to make jeans and shirts. 93 billion cubic meters of water are used every year in the garment industry, a number that can easily meet the needs of 5 million people. With this serious water waste, researchers found that 6 billion people will suffer from clean water scarcity by 2050.
In Australia, more than 501m kg of unwanted clothing ends up in landfills across the nation. Clothes can take up to 1000 years to decompose. Clothes that can and will be food for the wildlife. In addition to the water and earth pollution that the fast fashion industry is causing, our air is also being infected. 1.2 tonnes of CO2 is released each year only by the fast fashion industry .
Violation of human rights
Aside from the violation fast fashion had on the environment, human rights have also been infracted in different ways.
Fast fashion is not free. Someone, somewhere is paying the price.

Lucy Siegle, British journalist and writer who specialises in environmental issues.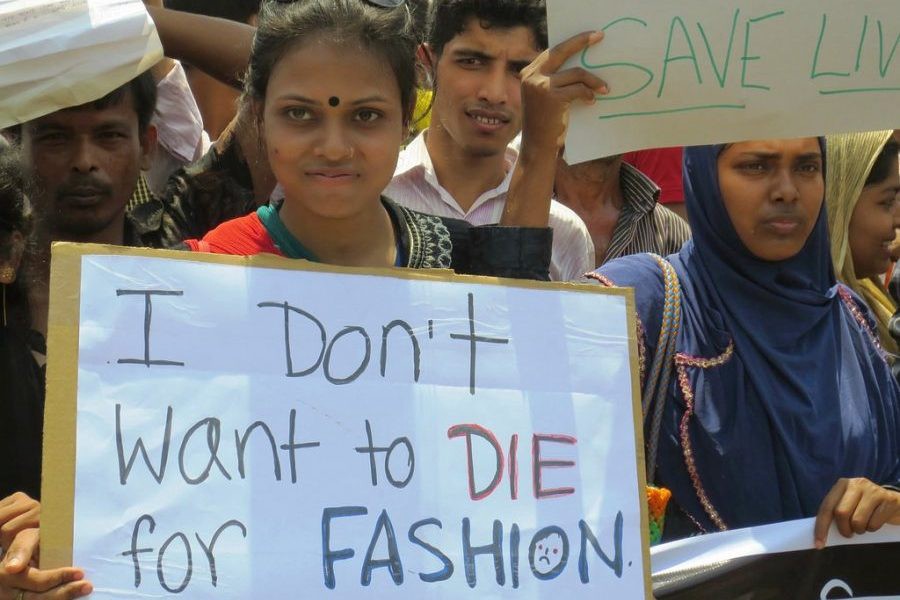 Less than 2€ per day is what female garment workers in Bangladesh are getting for spending hours on a sewing machine. While it is being sold for 180€ in other countries. These female workers spend more than 16 hours in dangerous working conditions and do not even receive the minimum wage. Most of the time, these factories are located in countries where the minimum wage is between half to a fifth of the living wage. Workers are obliged to accept the salary. In autumn, adults and children in Uzbekistan are forced to leave their jobs and schools to pick cotton.
We can never afford to watch a movie at the cinema. Holidays are unthinkable. I rarely see my children. My husband complains that when I come home, I'm tired and exhausted.

An anonymous worker in Bulgaria.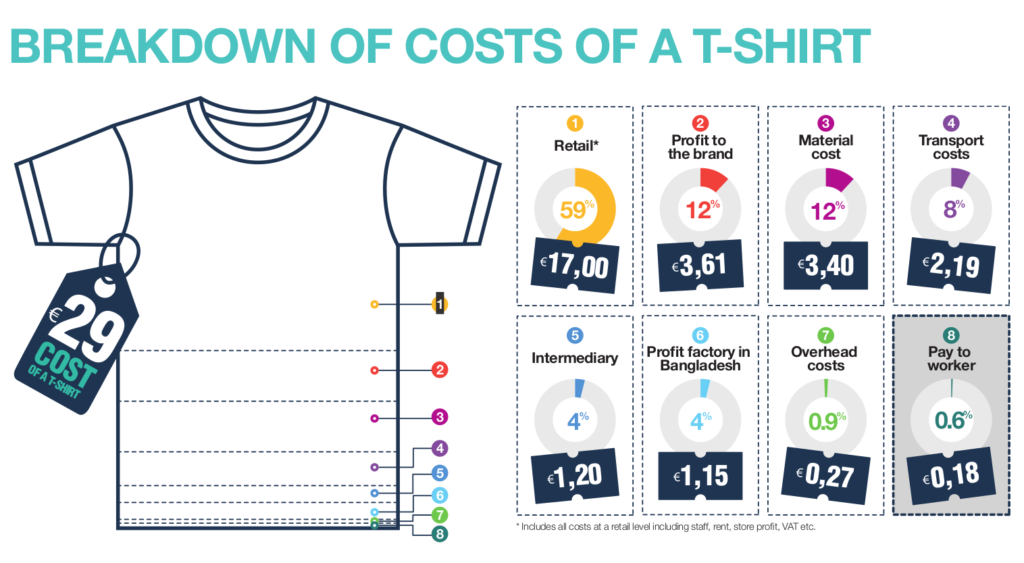 Not only are they underpaid but they are also working in risky conditions. Fires break out in factories regularly. In 2012, two large fires broke out in the factories of Pakistan and Bangladesh. Even though new safety guidelines were put. In 2013, the Rana Plaza building in Bangladesh collapsed entirely on its work, resulting in the death of hundreds of garment workers.
The life of other people and the future of our earth depend on us – consumers. There are always ways to start implementing some changes in our life in order to make a difference.
It is never too late to change our clothing habits
Buy less, choose well, make it last.

Vivienne Westwood, A british designer.
Different methods can help us reduce our fast fashion consumption. First of all, search in your closet for some old clothes and redesign them into a new version, maybe change those old jeans into shorts. Nowadays, there are different online platforms to sell and exchange clothes. Give a new home to your old clothes. There is always the possibility to buy handmade clothes online from small shop owners. Support your local shops. In addition, you can always hit the thrift shop. Some shops offer vintage clothes in better condition than new ones found in fast fashion shops. Donating to charities and thrift shops provide a wider range of options for consumers who cannot afford ethical, sustainable fashion elsewhere.
Recycling can also mean making new clothes out of your old clothes. You can nowadays find factories that collect old textiles instead of putting them in bins.
Another way to spread more awareness about fast fashion organizations is to collect data and different statistics and throw some light on the toxins we wear! Therefore, climate activists are arranging manifestations in different countries. Protesters march through the cities chanting about fast fashion.
Become an active citizen through your wardrobe.

Livia Firth, Founder and Creative Director of Eco-Age.
Changing our habits completely over a night can be a hard thing to do. However, the first step towards change is awareness and willingness. Our environment and the garment workers need us. The earth will not survive for future generations if we consume fast fashion much longer. It is never too late to start caring about what you wear.
---
IVolunteer International is a 501(c)3 tech-nonprofit registered in the United States with operations worldwide. Using a location-based mobile application, we mobilize volunteers to take action in their local communities. Our vision is to create 7-billion volunteers. We are an internationally recognized nonprofit organization and is also a Civil Society Associated with the United Nations Department of Global Communications. Visit our profiles on Guidestar, Greatnonprofits, and FastForward.