"Success" doesn't always come easy. It usually requires a lot of hard work and knee bending courage. Some will define success as a journey and not a destination.
We believe success stories will increase our willingness to take a shot at our dreams. The idea of launching IVolunteer Stories came to life through such confidence. There is no better way to start this, than having a chat with one of Sri Lanka's promising representatives: Dylan John.
Dylan's Explains His Beginnings
I am originally from Colombo, Sri Lanka. I grew up around an environment in which my family had to experience the ups, downs, joys, and challenges of being a first-generation business family.
I considered myself blessed to have access to a lot of opportunities. Because of this, I live by the biblical reference from the book of Luke 12:48 – "To whom much is given, much is expected." I work diligently and very hard towards this as I identify my blessed background and growing environment should not be taken for granted.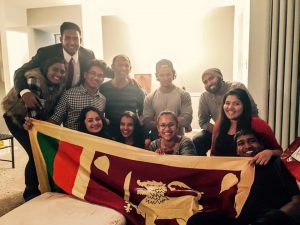 I identify myself as a Tamil Christian. Thanks to my family background, high school experience and friends, I have always had the opportunity to interact with individuals from various religious and ethnic backgrounds. This appreciation has elevated my capacity in understanding the principle of "unity in diversity."
I have many role models and mentors in my life who have contributed to scope my life for the better. Some of the role models include:
My father Dharshan John, a man of principles, hard work and personality who taught me lessons about to principles of service, business, and life in general.
My mother Winifred John, who taught me to love, care, hear, and listen to people.
Nelson Mandela, a political leader who I greatly admire as a man who struggled to make a change in peoples lives and found the common ground to unify people.
Growing Up
I was very fortunate to attend one of the top private high schools in Sri Lanka known as S.Thomas' College, Mount Lavinia, which is most affectionately referred to as "the school by the sea." It is in this high school that I began exposing myself to a leadership legacy, which allowed me to blossom in many areas and has also made me learn many lessons that have defined my approach to life.
A majority of my growing up was defined through my own involvement in organizations, groups, and teams. These exposures and experiences helped me build a foundation for myself.
As a Basketball player, I learned the discipline of working in a team including the importance of strategy and the interdependence between members of a team to ensure the victory of an entire team.
Through drama, band and orchestra, I learned lessons that are related to rehearsing, creativity and expression. I enjoyed these aspects of learning as they did not seem to directly tie in or resonate with my area of study but it greatly enriched my thinking process and creative approaches to tough problems. In fact, I used my involvement in Music to start an organization called the Youth Music Council, which at the time was the only organization in the country that combined resources, seminars, and activities for students pursuing western music to be better prepared for their national exams. Although the organization has ended its operations, its impact is still alive with the enhanced service provided by the education ministry to Western Music students in the country thanks to influence I brought in through my organization.
As a member of clubs like Interact, I learned about organizational structure, budgeting, and operations. These came in handy in a management perspective as I learned processes of approvals, crisis management, and project execution.
While all my organizational involvements were working in my favor and towards my success, my academics struggled significantly during my time in high school and that was one area that I was not paying sufficient attention to. I found academia to be boring and was disinterested in what it could mean or be for me. This is one of the things I regret, as I feel that it would have been of great value to shine while i was in high school in the area of academics.
Your Failures and Setbacks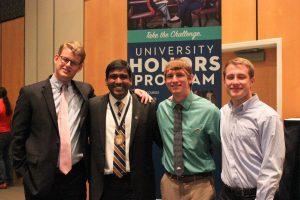 Without a doubt, everyone has had to go through some significant failure/setback and this is where we learn the most in our lives. It is very important that we identify what the failure/setback entails and work out a way to get on top of it.
A few of my Failures and setbacks:
A back/spine injury in 2008 significantly affected my ability to attend classes and hindered the process of staying in range of my peers in terms of academic pursuance. The injury kept me away from school for a few months as I went through the recovery process and this resulted in me tragically failing my first attempt at the London A-Level exams. But, it was also difficult for me to take this and keeping moving forward because nobody cares about the reasons as to why you may have failed. They only see a transcript, which reads "failure".
I lost my mother in January 2009, which destroyed me from within and I really lost control of what I wanted to pursue and become. I had failed in exams, I had lost one of the most valuable people in my life and it seemed like life was crumbling down before my eyes. I did not have the motivation to bounce back. I was afraid that I was incapable after all.
My biggest failure as a student leader was as President of the Youth Music Council. The organizational structure was built around a few key leaders and I. This meant that there was hardly anyone who was prepared and ready to have a continued legacy. This resulted in the organization struggling to survive eventually died off as there was no one to build it back up. This failure still resonates close to my heart as one of my biggest leadership learning experiences.
Transition Story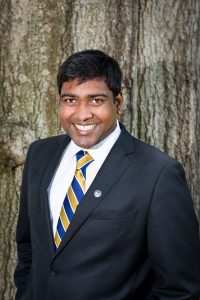 In 2011 still battered and bruised by failure I was trying desperately to get into College. Many family and friends suggested that the odds maybe low of me going to university with my academic track record.
A Ray of hope: GRSP (Georgia Rotary Student Program)
I took a chance and applied for the GRSP scholarship, not at all expecting to get it because of my academic track record. What I did not know at the time was that scholarships like the GRSP tend to look beyond just your academics.
The GRSP scholarship gave me a renewed shot at life by looking deeper than just academic performance. It gave me an opportunity to come to the United States to participate as a GRSP scholar. To me, this was my opportunity to take ownership of transitioning from failure and setbacks that I did not necessarily control.
I began throwing myself at every opportunity I got, I started volunteering for every service, leadership and networking opportunity that came my way. I began to dream bigger, pen down my dreams, found friends who supported my pursuance of these dreams and helped me chase after it.
Today, I can proudly say that I have bounced back to define success for myself.
I graduated in May of 2016 with a Bachelors of Science in Construction Management (Magna Cum Laude – 3.86/4.00 GPA) from Georgia Southern University at the top of my class with honors thesis research in cutting-edge construction technologies, energy efficiency in construction, integrating lessons from work experience into construction education with presentations at National and International conferences.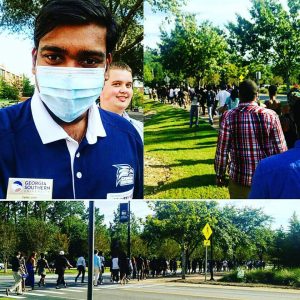 In student leadership, I have left a leadership legacy on campus that people will remember, as "the student leader in over 19 organizations with 12 Leadership positions." I can look back proudly on my accomplishments and awards including being named to the hall of fame for student leaders, becoming Greek Man of the Year and having led a mediation team that I started on campus to being the first undergraduate team to win a World Championship at the Graduate Level International Law School Mediation Tournament, to name a few.
All this after being told 5-6 years ago that I was not fit for college/university.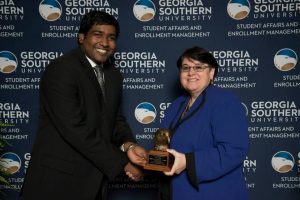 How did I do it and stay actively involved: I developed something called a "Focus Six" a way for me to prioritize and evaluate my involvements. My Focus Six: Construction, Business, Mediation, Leadership Development, Diplomacy, and International Relations.
The focus six has been a very integral part of how I have been able to transition from failure to what I perceive as success in my new collegiate environment.
It is important to find your passion, your intended direction and work towards it with diligence and hard work. Today, as the President of Georgia Southern University Student Government Association, I have launched many ambitious projects and initiatives internally to effectively engage and address the needs of our students at Georgia Southern University.
I feel accomplished as an individual. It took a lot of searching, hard work, and understanding on my part. Success is not about comparing yourself to someone else or how others define it for you, but what you set for yourself as you chase after your dreams in leaving a legacy of service, leadership, and achievement.