For centuries humans across the globe, have been restrained in some form or the other. Forced to live while being chained to a social system of hierarchy, be it class, gender or in this case Caste. In words of BR Ambedkar, a system so deeply entrenched in society that even 'Virtue becomes caste ridden and Morality becomes caste bound.'
Casteism, is a systemic form of discrimination which was originally established 2000 years ago as a division of profession or varna, however, with time, it transformed into a system of social hierarchy. This system of caste division was corrupted into becoming a mechanism which validated the discrimination of people by bringing a change in their discursive knowledge. Ultimately, conditioning them over centuries to believe in their inferiority as human beings.
Owing to the nature of their profession, shoved at the bottom of this social system of hierarchy was the Dalit community, which was restricted to professions such as cleaning, manual scavenging and sanitation work. They were robbed of their right to resources such as land, education, justice and in turn were subjected to countless brutalities ranging from segregation, and violence, to exploitation of resources. Placed at the lowest class of the caste system, the Dalit community have found themselves to be at the receiving end of extreme forms of physical, mental and emotional torture. The Dalit community has suffered legally sanctioned practices of exploitation and brutalities up until 1947, when untouchability was made punishable by law and casteism was abolished constitutionally.
However, 73 years later, the question that arises is: Does the caste system only discriminate against Dalits as a community or does there exist a section of population which is the marginalized amongst the marginalized? Dalit women are that section of population. They find themselves to be at the intersection of caste and gender. As victims of double discrimination, they are often positioned by society at the bottom of caste, class and gender hierarchies. They have always been the primary targets of discrimination from patriarchy, which exists within their own community, and from those outside their community.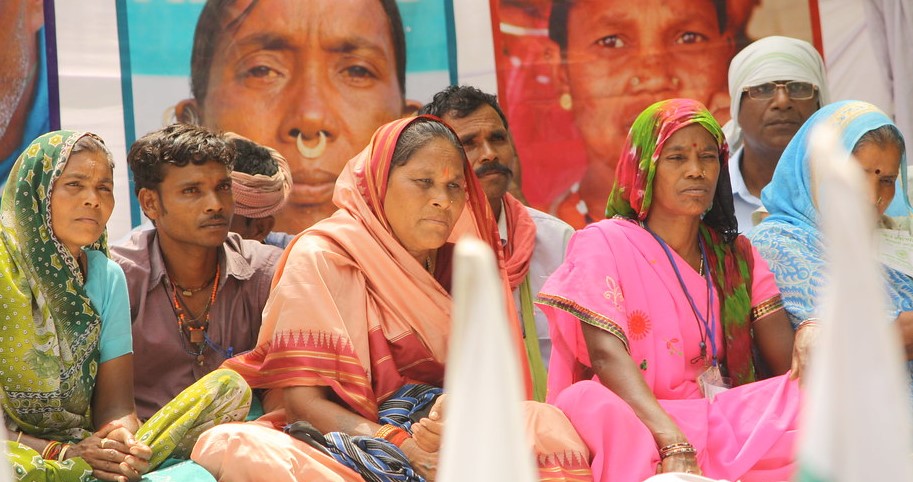 Dalit women, to date, lack the economic, legal and financial resources required to lead a dignified life as an equal. As more than three-fourths of the Dalit population resides in rural India, women are mostly engaged in wage labor, where they are forced to work within the village-based economy due to care and reproductive responsibility. Owing to the agrarian nature of the economy they receive low wages and unstable employment contracts . Being victims of structural violence, Dalit woman are often landless, due to which they fall into a vicious cycle of poverty and as a result lack the capital, skills and knowledge required to be self-sufficient. Having one of the highest levels of poverty in the country, unable to afford an education, young women are often married as teenagers which results in large scale illiteracy amongst Dalit women. Illiteracy ultimately acts as a deadlock in terms of future employment opportunities. As a result, the opportunity to rise above one's social status through education does not always exist for them.
In a world that is rapidly advancing towards the future, promising the dawn of a new era, there remains an entire community of women trapped in an oppressive and backward system of exploitation. While the international community preaches the ideals of equality and liberty, 97.9 million women belonging to the Dalit community in India are at a risk of becoming victims of 'modern slavery' in the garb of caste and gender.
The hardships suffered by Dalit women is not just limited to socio-economic issues, but extends to physical and mental abuse. One of the worst forms of violation that Dalit women have suffered through centuries of caste discrimination is caste-based gendered violence. Violence be it physical or sexual has been exercised as a social mechanism to maintain Dalit women's perceived subordinate position in society. Heinous crimes and atrocities such as rape, homicide, physical and mental torture inflicted on Dalit women have gone unchecked for decades.
As someone who has been raised to believe in the idea that every woman is a shakti, a reincarnation of strength and power, coming across reports of oppression suffered by women in the Dalit community not only evokes a sense of sorrow but also shame.
Even though several policies and laws aiming to prevent caste-based discrimination have been enacted and implemented, at the national and local level. There remains a dire need for immediate action that needs to be taken at the individual and international level.
As you find yourself reading this, far away from the harsh realities which Dalit women battle through each day of their lives, you can either choose to ignore this or you could use your power of education to be a voice for these voiceless and create awareness by providing them with forums of redressal where they have access to social and economic justice and can receive their chance to lead life with dignity as equals.
References
1. Bringing Dalit Women To the Forefront https://idsn.org/wp-content/uploads/2018/12/Bringing-Dalit-Women-to-the-Forefront-Realities-and-Challenges2937.pdf Khan, R. U. (2016).
2. Trust, N. (2013). The situation of Dalit rural women. ohchr https://www.ohchr.org/Documents/HRBodies/CEDAW/RuralWomen/FEDONavsarjanTrustIDS.pdf
3. Pradeep, M. (2014). Current Scenario of Dalit Women in India http://idsn.org/wp-content/uploads/user_folder/pdf/New_files/Key_Issues/Dalit_Women/Manjula_Pradeep_-_Current_scenario_of_Dalit_women_in_India_2014.pdf
4. Mangubhai, J. P. (n.d.). Violence against Dalit Women. IDSN. http://idsn.org/wp-content/uploads/user_folder/pdf/New_files/Key_Issues/Dalit_Women/Manjula_Pradeep_-_Current_scenario_of_Dalit_women_in_India_2014.pdf
---
IVolunteer International is a 501(c)3 tech-nonprofit registered in the United States with operations worldwide. Using a location-based mobile application, we mobilize volunteers to take action in their local communities. Our vision is creating 7-billion volunteers. We are an internationally recognized nonprofit organization and is also a Civil Society Associated with the United Nations Department of Global Communications. Visit our profiles on Guidestar, Greatnonprofits, and FastForward.