The COVID-19 pandemic brought about mass upset to the social, economic and political fabric of communities with no immediate and probable remedy in place. As a result of the pandemic lockdowns there has been unimaginable and unexpected gendered and socially constructed negative impacts. Quite worrisome to digest is the disproportionate effects this has had on persons living with disabilities. It is a known factor that marginalized groups generally have inordinate struggles in exercising their human rights, such as access to healthcare and livelihoods, in normal times. This phenomenon is further exacerbated during crisis and emergency settings, of which COVID-19 has been a prime example.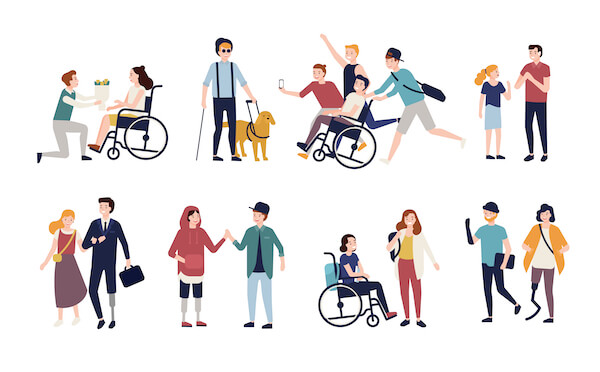 Importance of considering the needs of persons living with disabilities in all Emergency Response Mechanisms
While the pandemic threatens all members of society, persons with disabilities are disproportionately impacted. This is due to attitudinal, environmental, and institutional barriers that are introduced in the various emergency response plans or mechanisms. We are likely to suffer a huge risk in the response to crisis if the response mechanisms regarding persons living with disabilities is not thoroughly monitored. Clear examples can be drawn from previous crisis and emergency settings such as the Ebola Pandemic. Persons with disabilities account for 15% of the world's population, yet continually face marginalization in social, economic, and health terms and provisions. This marginalization increases the threat to their lives and livelihoods that any crisis, such as COVID-19 and its magnitude, pose.
For instance, persons with albinism's vulnerability to exclusion, abuse and violence has been noted to increase amid crisis such as COVID-19 and its accompanying lockdowns. This is so because it obstructs their access to healthcare facilities for vital sunscreens. Recently in Zimbabwe an albino woman, Agnes Gurunhe (35), was refused entrance into TM Pick n' Pay Masvingo branch. She declined to be sanitized at the entrance claiming her skin would react to the chemical that the retail giant was using. She then suggested her hands be sanitized using water and soap which the shop management could not provide. Hence proceeding to turn her away. This is a clear example of how persons with albinism are more susceptible to maltreatment during emergency settings, and calls for urgent address.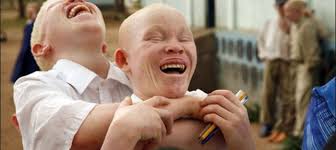 In some communities, there have been disturbing reports that people with albinism are being called 'corona' and blamed for the outbreak of the 'foreign' virus. Thus leading to most facing mental health problems such as depression, anxiety, and suicidal idealization. This compounds upon underlying myths among African countries that sleeping with a woman with albinism cures infertility and AIDS. More so, unscrupulous witch doctors spur violence by propelling the myth that the body parts of a person with albinism can bring wealth and fortune. COVID-19 lockdown measures and restrictions, therefore, makes women with albinism susceptible to Gender-based violence. Mostly affected are those with lack of access to WASH, that travel long distances each day to access clean safe water. Anecdotal evidence suggests that this particular misconception has killed 212 people in sub-Saharan Africa. It leaves one to imagine how many more are going to succumb to this violence as the COVID-19 pandemic and lockdowns create a conducive environment for these acts to go unpunished. Thus, we must raise an urgent call to action on what can be done to put this to an end, especially now. There is a heightened risk of loss of life of people living with albinism from violence, false myths, and ritual killings.
Gender, disability, and health: intersecting challenges in a pandemic

Gender, disability and fundamental inequalities, which are the norm of our communities are being aggravated by the multifaceted impact of the crisis. The COVID-19 crisis has exposed underlying inequalities and intensifies the situation of women and girls with disabilities. Emergency settings or not, women and girls living with disabilities are subject to intersecting forms of discrimination. These are related to sexual and reproductive health, gender-based violence, and legal protection.
"The COVID-19 pandemic has increased the feeling and fear of sexual violence among women and girls with disabilities. As per our current assessment COVID-19 is affecting women and girls with disabilities living alone."

Mary Balikungeri a member of the UN Women expert group on EVAW and President of the Rwanda Women's Network and Coordinator of Rwanda's National Coalition on EVAW
First and foremost, Sexual and Reproductive Health (SRH) is an essential component of health and a pillar for sustainable development. However, people with disabilities in this area have been neglected for decades because of the widespread view that they are asexual. Nevertheless, studies indicate that women and girls living with disabilities are at increased risk of GBV during crisis settings. However, there is very little accessible information on what they should do after experiencing crime/ GBV, not to mention police stations and courthouses are poorly equipped to handle persons with disabilities, and have limited knowledge on dealing with disabled survivors, with many resorting to victim-blaming.
Additionally, with the shift to online learning as part of global COVID-19 responses, girls and boys with disabilities are at risk of exclusion from education. This is due to the fact that remote/ distance learning programs specifically catering for their needs are sometimes not accessible, or they do not come with assistive devices to allow full participation and accommodate their learning needs. This inherently means that persons with hearing, visual, intellectual or physical disabilities may not get access to online learning facilities. More so, the shift to digital/virtual technology in arguably indicates that we are leaving behind a great population in terms of access to education. Research points out that, persons with disabilities, 15% of the world's population, are more likely to be poor, to have lower levels of education and economic participation, and to live in households that are more exposed to economic insecurity and shocks. The above makes their shift to digital technologies quite more difficult than for the rest, favoring them being left behind in terms of access to education amid the pandemic.
Notably, persons with disabilities tend to have pre-existing health conditions, therefore making them more susceptible to contracting the COVID-19 virus. Due to this, they experience more severe symptoms upon infection, leading to elevated levels of death. During crises, persons with disabilities who are dependent on support for their daily living may find themselves isolated and unable to cope under lockdown measures. Specifically, those living in institutions are particularly vulnerable, as evidenced by the overwhelming numbers of deaths in residential care homes and psychiatric facilities.
How can this be actively addressed?
Voices of women with disabilities are not heard. Their capacities are not recognized. Humanitarian actors should seek technical advice from women with disabilities. They should involve them in COVID-19 pandemic mitigation.

Rosario Galarza, Focal Point at the Economic Commission for the Latin American and the Caribbean (ECLAC).
More efforts need to be put towards responding to the needs of persons with disabilities during crisis. Now more than ever, with the advent of COVID-19, we risk leaving them behind in the promise of Agenda 2030. Firstly, we need to ensure the continued supply and access to medicines for persons with disabilities during the pandemic. We must conduct training and awareness-raising of health workers to prevent discrimination based on prejudice and biases against persons with disabilities. It is the governments' obligation to maintain undisrupted access to the services required by this population. This will ensure they are not further marginalized by crisis settings. COVID-19 is a lesson as to what needs to be addressed and put in place towards protecting this population and safeguarding their rights in the event that another pandemic breaks out.
Civil Society organizations working with this population should emphasize the right of women with disabilities to access SRH rights on the basis of equality with others in their societies. This is very instrumental in surmounting the dual challenge of gender and disability-based discrimination, especially in crisis situations. Again, there is a need for closely consulting with and actively involving persons with disabilities and their representative organizations in framing a rights-based response to the pandemic that is inclusive of, and responsive to, persons with disabilities.
More so encouraging one another to volunteer both physically or virtually in our free time in spaces and homes that cater for persons living with disabilities, so they do not feel neglected during crisis settings. Inarguably, public information on any crisis dealings should be steadily communicated and disseminated in accessible formats and means to reach all persons with disabilities, for instance, sign language interpretation, captioning, or easy-to-read format. In conclusion, it is quite apparent to note the need for a more responsive world to the needs and services for persons living with disabilities during crisis/ emergency settings.
---
References
Hughes K, Bellis MA, Jones L, Wood S, Bates G, Eckley L, McCoy E, Mikton C, Shakespeare T, Officer A. Prevalence and risk ofviolence against adults with disabilities: a systematic review and meta-analysis of observational studies. Lancet 2012.
Rohwerder, B. (2017). Women and girls with disabilities in conflict and crises. K4D Helpdesk Report. Brighton, UK: Institute of Development Studies
Wisner B., Blaikie P., Cannon T., Davis I. At Risk: Natural hazards, people's vulnerability and disasters, 2005, p.11
UN System Task Team on the Post-2015 UN Development Agenda. 2012. Realizing the Future We Want for All, Report to the Secretary-General, New York, June.
Adelina Comas-Herrera and Joseba Zalakain, "Mortality associated with COVID-19 outbreaks in care homes: early international evidence", International Long term care policy network, 12 April 2020, p 5.
Baker C., Lund P., Nyathi R., & Taylor J. (2010) The myths surrounding people with albinism in South Africa and Zimbabwe. Journal of African Cultural Studies p.22
Disability, Rehabilitation and Integration (2001)- Role of Governmental and International Organizations and Institutions of Aden Society, UNESCO Palace, Beirut
Women With Disabilities Australia (WWDA) (August 2016) 'Improving Service Responses for Women with Disability Experiencing Violence'; Final Report. WWDA, Hobart, Tasmania.
---
IVolunteer International is a 501(c)3 tech-nonprofit registered in the United States with operations worldwide. Using a location-based mobile application, we mobilize volunteers to take action in their local communities. Our vision is creating 7-billion volunteers. We are an internationally recognized nonprofit organization and is also a Civil Society Associated with the United Nations Department of Global Communications. Visit our profiles on Guidestar, Greatnonprofits, and FastForward