COVID-19 has transitioned from a local outbreak in Wuhan to now affect almost every country in the world. Fearing the spread of this contagious disease, many countries – like the UK, USA, India, New Zealand, Australia, and Japan – have imposed severe mobility restrictions. These social and travel lockdowns have not only disturbed the common patterns of living of their residents but also severely affected the lives of refugees – already vulnerable and often fleeing violence.
The current health crisis has had disproportionate impacts on the lives of refugees in a variety of ways – compromising basic needs like healthcare, education, and socio-economic wellbeing. According to a UNHCR report, around 79.5 million people have been forcibly displaced during the COVID-19 outbreak. Most of these people belong to marginalized communities from under-developed countries – like Jordan, Columbia, Iraq, Lebanon, and Bangladesh – which are already experiencing a severe economic downturn during the pandemic. These minorities have faced evictions, social discrimination, unemployment, inadequate medical aid, and several other challenges during the global lockdown. Indeed, there has been significant neglect of human rights during this time – further exacerbating the vulnerability these communities face – with everyone concerned about the virus that has barged into our lives, and not so much about its impact on those already most marginalized.
The situation invokes a need to call for actions to help refugees exercise their fundamental rights in these unprecedented times. Here, we aim to provide a comprehensive assessment of the socio-economic impacts of lockdown on displaced populations and offer guidance on how to pave the way forward for achieving equitable social and economic development for these communities amidst the pandemic.
Refugees' Socio-Economic crises: a problem in cycles
Various social and economic factors – like poor sanitary conditions, insufficient medical personnel, administrative and legal barriers, and lack of basic amenities, among others – have severely affected the lives of refugees and other displaced communities during the pandemic. They have often been deprived of basic rights – including the right to education, right to life, right to health, and right to freedom. In this way, the pandemic has worsened progress towards the Sustainable Development Goals – specifically goals 1,2,3,4,5 and 6, which claim no poverty, zero hunger, good health and well-being, quality education, gender equality, and clean water and sanitation, respectively.

Another Health Crisis: lack of service and support
Due to financial constraints, many refugees have been unable to attain proper healthcare during the crisis. The operational data of the United Nations High Commissioner for Refugees (UNHCR) agency reported that around 26 million refugees are on the verge of a health crisis amidst the COVID-19 pandemic. These groups often have limited access to clean water and sanitation needs, like masks and hand sanitizers. With many families having lost their jobs, there have been increased cases of malnutrition and hunger. Low-income groups also tend to live in crowded places, further magnifying the risk of exposure to the virus. In some cases, language barriers have refrained them from properly understanding and following the healthcare protocols and directives. Often due to the fear of extradition, many have not accessed even public healthcare services. Besides physically being affected by the pandemic, many have also reported a deterioration of their mental wellbeing. In a WHO survey, one out of every five refugees mentioned degrading psychological health and symptoms like depression, stress disorders, and high alcohol dependence.
Right to Education: Refugee Children's plight for schooling
In 2020, with the accelerating COVID cases, exposing children to this pernicious virus was highly risky. But at the same time, students' education could not be hampered at any cost. Therefore, online learning was considered the best option by many governments worldwide. Although online learning is highly versatile and has enormous potential, it proved to be disadvantageous for children belonging to specific economically disadvantaged communities – most notably refugees. Filippo Grandi, the UN High Commissioner for Refugees, reported that already half of the world's refugees are out of school. This condition has only worsened amidst the pandemic.
Lack of proper broadband and network setup, digital equipment like laptops and mobiles, and parental support have hindered the process of learning among refugee children. Indeed, UNICEF reports suggest that around 1.3 million children globally lack appropriate facilities for online Education. Language barriers and lack of participation also contributed to declined levels of learning in this community. Even when adequately equipped with peripherals, refugee children faced various complications while adjusting to the online environment – in learning to use multimedia features like discussions, polls, and quizzes and coping with technical glitches. All this was complicated by the lack of any technical assistance or training before implementing the online mode of Education.
Social Protection: the Refugee struggle for fair work
Women and informal refugee workers are some of the most socially unprotected groups from harassment, violence, xenophobia, discrimination, and sexual abuse. According to a UNHCR report, nearly 40 million people are at higher risk of rights violation and discrimination during the pandemic. Refugee workers in the informal economy are experiencing even more significant abuse. Their exploitation has increased since they can't leave their jobs – for there will be no option to secure their livelihood during the pandemic. They have been made to forcibly work longer hours with minimal wages, often under unsafe conditions. At times, they are also sexually harassed or assaulted by their employers. Women who are engaged in caretaker jobs – like domestic work, hospitality, agriculture, and so forth – or are confined at home during the lockdown have also been exposed to greater levels of gender discrimination and domestic and sexual abuse. For instance, in the Central African Republic, reported cases of rapes, sexual abuse, and forced marriages have doubled amidst the pandemic. The UN estimates that around 13 million more underage marriages can occur in the next ten years due to the side effects of the pandemic. Child protection services are also affected due to sudden school closures as a consequence of global lockdown – compromising the care of many migrant child refugees. In short, movement restrictions and border closures have exacerbated the stigmatization and discrimination of numerous refugee workers and their children experience, further compromising their basic human security.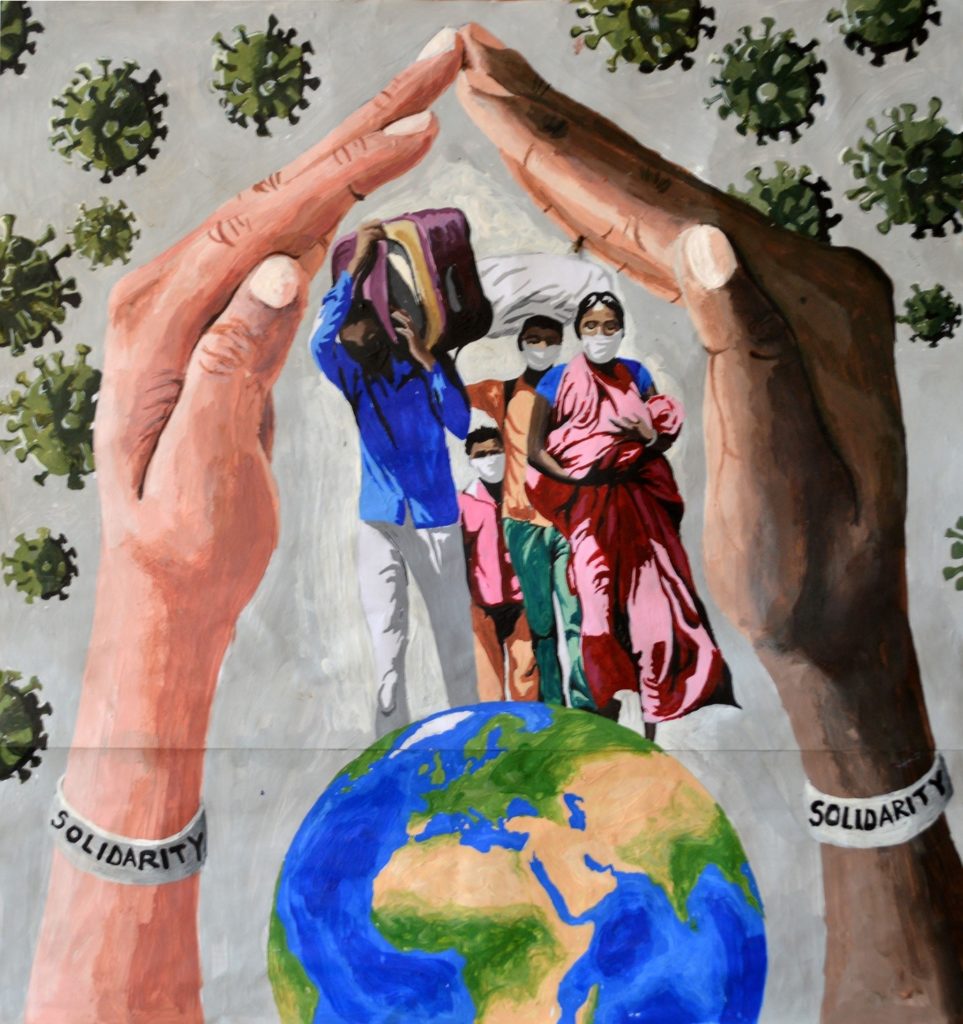 Looking forwards: How can we protect them?
The atrocities faced by refugees invoke the need to develop and implement policies and plans that provide social protection and immediate financial assistance to this collective. Setting up clinics, vaccination camps, and sanitation facilities – like hand-sanitiser stands and clean water dispensaries – in or near refugee camps will provide core services and required medical assistance during the height of the pandemic, helping reduce outbreaks. Social Safety nets should be provided – which include free testing, food and accommodation, transport assistance, and cash grants – to mitigate the challenges faced by refugees. Online surveillance technology can also be adopted to track and assist social violence cases – redirecting victims to established safe houses and shelters to offer further support. The increased provision of childcare and protection services to children suffering from violence and exploitation should be a priority for national governments at this time. In addition, refugee families need to be guaranteed inclusion into social protection programmes.
We need to really stand by and support host countries, not just because of shared responsibility, but because a country that is receiving, hosting, nourishing millions of refugees and migrants actually pays a service to global society

Dr Santino Severoni, director of WHO's Global Health and Migration Programme
It is necessary to realize the inequalities faced by refugees and address the human rights concerns that have left these communities vulnerable to the pandemic. During this unprecedented global crisis, these people are facing extreme hardships. Even if they flee to protect themselves from violence, they are at risk of being detained, abused, persecuted or accused of an illegal act. We must raise our voices to guarantee human rights to these groups. Various international non-profit organisations like United Nations High Commissioner for Refugees (UNHCR), United Nations World Food Programme (WFP), Refugees International, Save the Children, among others, are working towards the welfare of migrant, female and child refugees, asylum seekers and other displaced communities. UNHCR is working around 128 countries for protecting 82.4 million forcibly displaced people worldwide. WFP is one of the largest humanitarian organisations that provides emergency food supplies to people impacted by climate change, natural calamities, wars and the current situation- "COVID-19 Pandemic". Refugees International strives to develop young leaders by increasing the understanding of today's younger generations about these humanitarian issues. Save the children is an anti-racist organisation that works tirelessly to provide better lives to children in need by supporting their education and health. By donating or engaging and volunteering in these communities, one can work for the betterment of the refugee community and do their needed humanitarian services because, after all, there is nothing better than serving and loving others.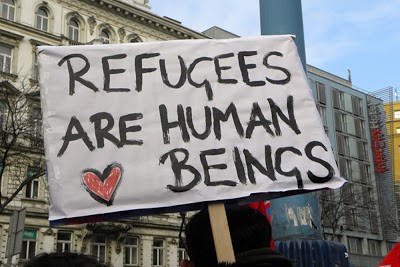 Now is the time to consider human rights more than ever since these rights will only help us fight and mitigate the pandemic. Amidst this pandemic, we should protect the refugees' lives as a priority just like we do to save those people living inside the country. They are human beings, too and require the same economic and social support during this humanitarian crisis. #Stand with refugees!
---
Peace can only last where human rights are respected, where the people are fed, and where individuals and nations are free

Dalai Lama
IVolunteer International is a 501(c)3 tech-nonprofit registered in the United States with operations worldwide. Using a location-based mobile application, we mobilize volunteers to take action in their local communities. Our vision is creating 7-billion volunteers. We are an internationally recognized nonprofit organization and is also a Civil Society Associated with the United Nations Department of Global Communications. Visit our profiles on Guidestar, Greatnonprofits, and FastForward.