Imagine a world where vulnerable populations, especially in developing countries, don't have to struggle with issues such as hunger and starvation as a result of food insecurity. People don't have to worry about unpredictable floods that destroy their livelihoods and homes. This is what many households in different parts of Africa hope for. However, there is still a lot that needs to be done to make this a reality. In August this year, the World Meteorological Organization (WMO) reported that the Horn of Africa is poised to enter its fifth consecutive failed rainy season. This report comes after the World Health Organisation (WHO) and other humanitarian agencies warned that over 50 million people face food insecurity in the Horn of Africa. Food insecurity has been exacerbated by the effects of climate change in the region.
What climate justice for Africa means
The United Nations Environment Programme (UNEP) recognizes that climate justice stems from the idea that climate change is not just an environmental issue, but also a political and ethical one. This is because the effects of climate change fall disproportionately across different parts of the world. Regions like Africa are much more vulnerable to the effects of climate change. However, the continent has contributed the least to the problem, with less than 4% of the global carbon emissions.
In some parts of the continent, children are experiencing learning poverty since their schools have been washed away by floods. Others can't attend school as they have to work extra hard to look for food as a result of food insecurity worsened by droughts. The most affected are women, adolescent girls, and people living with disabilities (PWDs) who remain the most vulnerable population in the continent. Many of them face risks of malnutrition and even death. According to the United Nations International Children's Emergency Fund (UNICEF) Somalia representative Wafa Saeed, more than 700 children died in nutrition centers in Somalia from January to July 2022. This shows the severity and urgency of the situation in Africa. Therefore, climate justice for Africa is anchored on advocating and pushing for equal sharing of the burden of climate change and recognition that even though it's incumbent upon everyone to #ActNow, wealthier nations need to do more to finance climate change adaptation in Africa.
What exactly is climate adaptation?
Climate adaptation is simply the process of adjusting to the actual effects of climate change with the aim of reducing vulnerability. With Africa experiencing the brunt of climate change, it is becoming increasingly important to reduce the risks associated with climate change by boosting the continent's capacity to absorb and recover from harsh climatic events. This can be done in various ways; for instance, investing a lot of resources in food security programs, disaster management initiatives, and other infrastructure expenditures to safeguard the lives and livelihoods of people.
However, these initiatives need a lot of funds in the form of climate finance. Today, most African countries have very tight fiscal space with already skyrocketing debt. This situation was made worse by the Covid-19 pandemic, whose effects are still being felt on the continent. Hence, African governments alone cannot fund climate change adaptation and even mitigation initiatives from their budgets.
Last year at COP 26, climate adaptation financing especially for developing countries was a major point of discussion. UN secretary general Antonio Guterres urged international donors to allocate at least 50% of their climate finance for adaptation. New pledges were made to the Adaptation Fund (over USD 350 million) and the Least Developed Countries Fund (over USD 600million). The money from the LDCF was meant to help finance adaptation initiatives in the least developed countries which are worst hit by the effects of climate change. Additionally, the Glasgow climate pact also included a goal for developed countries to double their commitment toward climate finance for adaptation in developing countries by 2025. Whether they will actually honor these commitments is something we must wait and see.
Loss and damage
Today, the most vulnerable communities in Africa are already facing loss and damage as a result of climate change. Loss of lives, culture, biodiversity and economic losses such as damage to infrastructure and crops. In previous COPs, loss and damage finance has not been a mainstream issue of discussion. Developed countries recognize the need to help poor countries deal with the effects of climate change, but are still reluctant to discuss loss and damage expensively due to the serious financial implications. To add, African countries are still struggling with getting relevant data on loss and damage thus making it difficult to mobilise resources for that purpose. Without quantifying loss and damage , it would be difficult to advocate for compensation and make progress on this very crucial issue.
Even so, the global north and other developed countries ought to commit to financing loss and damage in Africa, since the most vulnerable cannot adapt to loss and damage. For starters, loss and damage ought to be included as a mainstream issue in COP 27 so that leaders of governments, international financial institutions and the private sector can be held to account on what they are doing when it comes to helping foot the bill associated with climate change.
Road to COP 27
The Conference of Parties ( COP) are annual United Nations climate change conferences that bring together leaders of nations, international financial institutions, the private sector, activists, and other players to deliberate and agree on issues related to climate change. This year, the 27th annual conference will be held in Egypt from the 6th to the 18th of November. Referred to as 'Africa's COP', COP 27 will provide world leaders an avenue to #ActNow and progress on major climate justice issues.
Earlier this month, Africa held its Climate Week in Gabon, building up to COP 27 later in the year. From the discussions and deliberations, it's evident that the continent is full of enthusiastic young people who are at the center of climate action and are conducting numerous initiatives to advocate for climate justice. What is remaining is empowering the young people with the requisite skills by investing the little resources available to them so as to enhance climate action in different sectors that they operate in.
I think the biggest resource that Africa has got are her youth, that's her sovereign capital.

Richard Munang, Deputy Regional Director of the United Nations Environment Programme, UNEP at an Africa climate week event in Gabon, August 2022.
Youth-Led initiatives: The art of volunteering
The most valuable resource for the continent is the youthful population, with research showing that the median age in Africa is 19 years. At the forefront of advocating for climate justice and action are many young people from all corners of the continent. Young people working in different areas of climate change activism . For instance, in climate education, many young people have committed to disseminating information about climate change in their local communities in languages that the people can actually understand. One such initiative is the Climate Education Leaders Fellowship program by Ecochampions Nigeria in which I was a fellow representing Kenya. The fellowship trained over 70 climate education leaders from different countries in Africa who reached out to thousands of people in their local communities.
In Uganda and other countries, students hold school strikes advocating for various issues related to climate justice. Joining the international movement dubbed 'Friday's for future' , students skip classes on Friday to advocate for climate action from their leaders. In Kenya, Elizabeth Wathuti and her team at the Green generation initiative provide nature based solutions to the climate crisis mainly by advocating planting trees and educating young people on the importance of nature. The organization also focuses on nurturing young children into being climate conscious and establishing food forests in schools. To add, the 1 million activists stories founded by Vanessa Nakate focuses on not only telling the stories of young climate activists worldwide but also amplifying their voices. The organization documents the experiences of young activists, which inspires hope and action among many young people who are advocates of climate action.These are just some of the initiatives that young Africans have committed their energy, resources, and time to.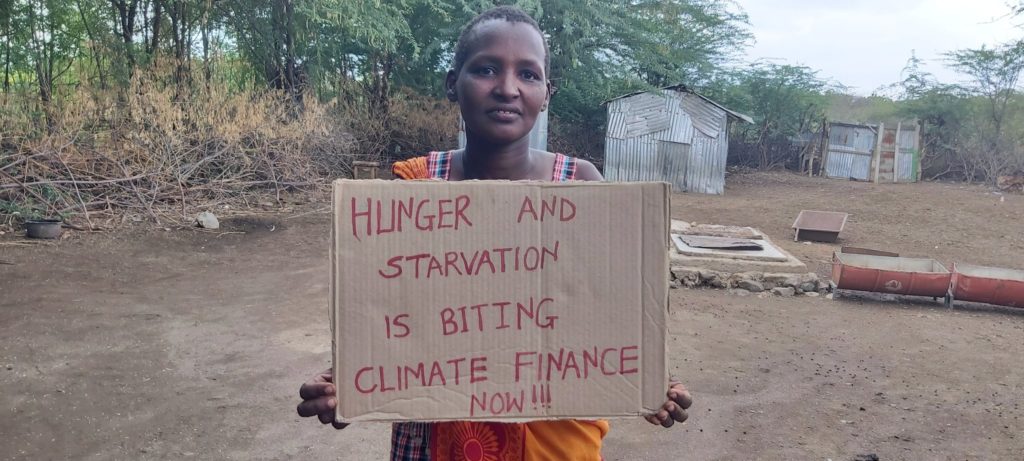 It's, therefore, necessary for us to recognize that even though more needs to be done to help Africa get climate justice, we can as well #ActNow in our own individual capacities pulling resources, energy, expertise, and time together to help alleviate the suffering of vulnerable communities in Africa.
---
IVolunteer International is a 501(c)3 tech-nonprofit registered in the United States with operations worldwide. Using a location-based mobile application, we mobilize volunteers to take action in their local communities. Our vision is to create 7-billion volunteers. We are an internationally recognized nonprofit organization and are also a Civil Society Associated with the United Nations Department of Global Communications. Visit our profiles on Guidestar, Greatnonprofits, and FastForward.