The stand-off between Beijing and the Hong Kong rioters has reached a new phase and the situation is now spiralling out of control. The protests erupted following an extradition bill that would enable Hong Kong citizens to be tried in mainland China and was widely condemned by Hongkongers as an assault on their legal system and the nation's autonomy. Since mid-June, when the protests started to gain real momentum, a protester has been shot dead, a pro-Beijing counter-demonstrator has been inundated with petrol before being set alight and the Hong Kong University was under siege for over a week.
By the second week of November, police had fired over 7,500 canisters of tear gas at protesters along with 3,500 rounds of rubber bullets and more than a dozen live rounds. Some 4,000 arrests have been made. Meanwhile, numerous projectiles have been hurled at police, including corrosive liquid and at least 350 petrol bombs.
Notwithstanding establishing itself more peacefully, the movement has gradually become more violent and the situation has now reached what seems to be a tipping point where Beijing is taking an increasingly harsh tone and the riots are becoming more severe. Despite this, the recent election held on Sunday 24th November offers hope for real reform.
An Authoritarian Absorption
The increasing assertiveness of China can be put down to its growing regional might coupled with the power vacuum left by President Trump's revisionist foreign policy and decaying U.S. hegemony. These factors allow the communist state room to regionally expand as shown by its island-building in the South China Sea and One Belt, One Road Initiative (OBOR). Yet over and above such a fact, it offers President Xi an increasing capacity to push for his wider goal of reunifying Taiwan and, indeed, subduing what remains of Hong Kong's autonomy. President Xi Jinping now has more authoritarian control than his predecessor, Chairman Mao, and in his quest for absolute power, there have been many casualties. The most consequential loss, however, are the freedoms of the Chinese population.
"Party ideology increasingly pervades everyday life in China, narrowing the space for the expression of alternative views."
The riots are first and foremost a product of the fear that China will continue to impeach the human rights of Hongkongers and forcefully impose what the Chinese president himself has coined 'Xi Jinping Thought', an ideology that underlies his political aims of a unified China and regional hegemon.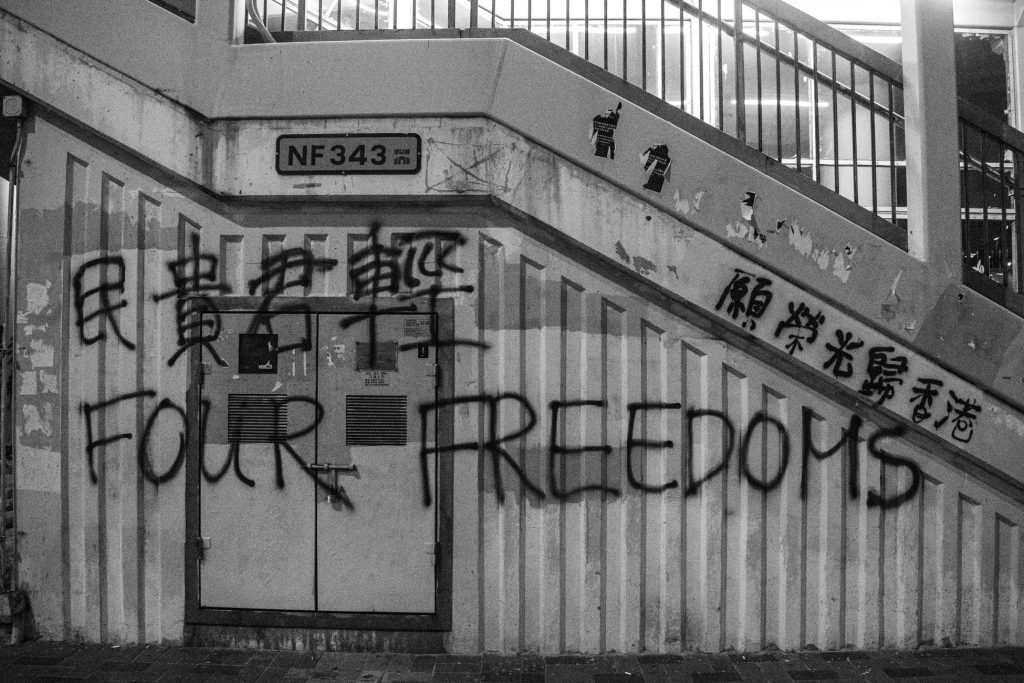 A Lost Democracy
As Hong Kong's former colonial ruler, Britain bears the brunt of the guilt for the current circumstances. Hong Kong does not share the values of other parts of China, its identity is distinctly liberal when compared to the people of its suzerain. This can be put down to its past and the contrast between China's suppressive political ethos and Britain's liberal democratic ideology. But when Britain handed the territory back to China, the international anti-colonial consensus meant that the ethnic fact that liberalism is preferable to communism in Hong Kong was not realised.
The legal obligations come because the United Kingdom is one of the two signatories of the Joint Declaration, an international agreement registered at the United Nations, which promises the ways of life in Hong Kong—including the freedom of expression, guarantee of human rights, and rule of law—would be unchanged for 50 years, until 2047 .
The Basic Law, enacted during the handover under the United Nations between China and Britain, enshrines a set of rights and freedoms by law in Hong Kong. The extradition bill would have compromised Hong Kong's 'One Country, Two Systems' legal framework and as Beijing continues to politically encroach on these freedoms, the constitutional integrity of the state is becoming more questionable, and the sheer fury of the dissidence reflects the loss the region feels. This is Britain's failure, not doing more to protect Hong Kong's rights to self-determination. The crux of the predicament remains, however: is Xi prepared to wait until 2047? And if not, what is to become of Hong Kong?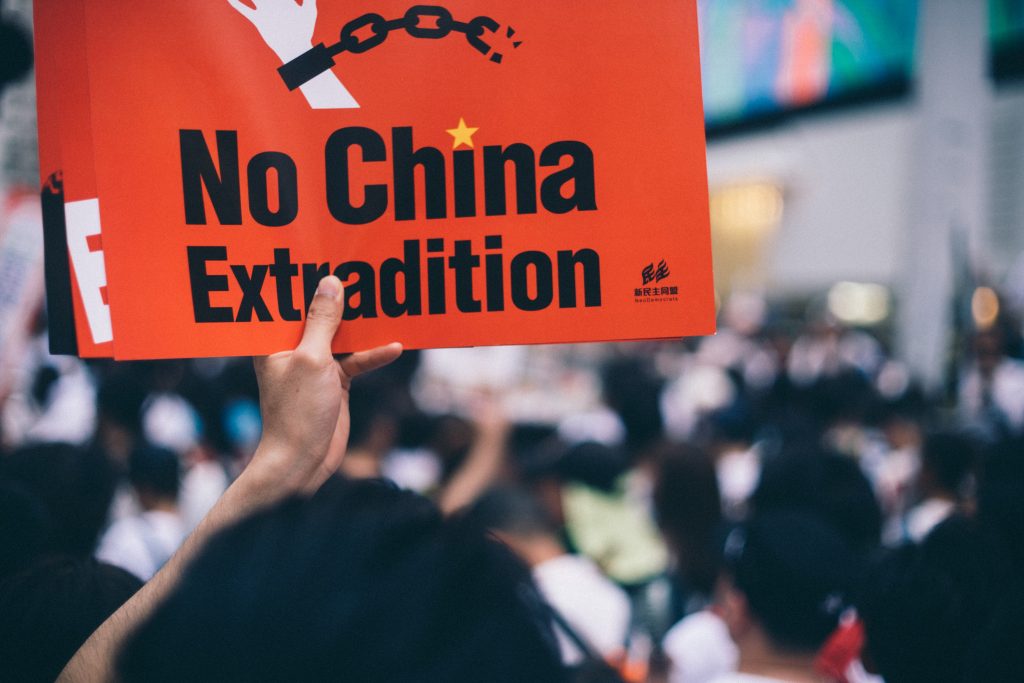 Transformation or Tragedy
Throughout the demonstration, Beijing has maintained that pro-democrats were a loud minority while there was a large number of silent Hongkongers. Such a notion bodes well with Xi's assertation of 'one China': that all ethnic Chinese people want to be reunited (Rachman, 2019). Yet Sunday's landslide election portrays an entirely different picture, one of mass revolution against demagoguery.
"Pro-democracy candidates and their allies won a staggering 17 of the district council seats while pro-Beijing nominees won only one."
Such a victory could go either way. If the movement continues to riot against the establishment then the consequences could be devastating. On the other hand, if the protests take heed that the ballots speak for themselves and Beijing acknowledges the situation properly, altering its course to a position that would allow for some form of compromise, then there could be a chance for resolution and progress.
Nevertheless, there is a real danger that the situation escalates further, risking a repeat of 1989's Tiananmen Square massacre where a reported 10,000 people were killed by China's People Liberation Army. A peaceful end to the conflict is urgently needed, yet the protestors have developed an impenetrable sense of dissent and belief in their cause while President Xi cannot afford to lose face. That said, China is highly aware that a Tiananmen-like incident will carry severe international connotations. As the U.S. Senate Majority Leader Mitch McConnell said on August 10: "The world is watching."
---
References
Economy, E. (2019) 'China's Neo-Maoist Moment: How Xi Jinping Is Using China's Past to Accomplish What His Predecessors Could Not', Foreign Affairs. Available at: https://www.foreignaffairs.com/articles/china/2019-10-01/chinas-neo-maoist-moment (Accessed: 23 November 2019).
Editorial Board (2019) 'Hong Kong poll is a chance to embed democracy', Financial Times. Available at: https://www.ft.com/content/8ab203d6-0f9d-11ea-a225-db2f231cfeae (Accessed: 25 November 2019).
Hau, M. (2019) 'Britain Failed Hong Kong: The U.K. owes Hongkongers fighting for democracy a moral debt.', Foreign Policy. Available at: https://foreignpolicy.com/2019/06/12/britain-failed-hong-kong/ (Accessed: 23 November 2019).
Rachman, G. (2019) Hong Kong is Xi Jinping's failure: The revolt raises questions about the Chinese president's entire project. Available at: https://www.ft.com/content/15f3a7b2-09e8-11ea-b2d6-9bf4d1957a67 (Accessed: 25 November 2019).
Robles, P. (2019) Key events from Hong Kong's anti-government protests. Available at: https://multimedia.scmp.com/infographics/news/hong-kong/article/3032146/hong-kong-protests/index.html (Accessed: 22 November 2019).
Schelle, O. (2019) 'Tiananmen in Hong Kong: The Alarming Echoes of 1989', Foreign Affairs. Available at: https://www.foreignaffairs.com/articles/china/2019-08-19/tiananmen-hong-kong (Accessed: 23 November 2019).
---
Disclaimer
The opinions expressed in this publication are those of the author. They do not purport to reflect the opinions or views of IVolunteer International.
---
IVolunteer International is a Gold Seal nonprofit organization on Guidestar. Operating from Savannah, Georgia, IVolunteer International connects volunteers to volunteer projects around the world. Since 2017, IVolunteer has connected over 3,000 volunteers worldwide. In 2019, World Trade Center Savannah selected IVolunteer International as finalists of the Peace Through Trade Competition. In 2020, IVolunteer International will develop and launch a geo-connecting mobile application which will be available to volunteers around the world.