Last year, the 68th United Nations Civil Society Conference took place in Salt Lake City under the theme "Building Inclusive and Sustainable Cities and Communities". The series of sessions focused on SDG 11 "to make cities and human settlements inclusive, safe, resilient and sustainable by 2030", but took into account the interlinkages between this SDG and the remaining 16, thus giving a special insight on gender issues. The event had a very diverse group of speakers and attendees that included representatives from NGOs, UN agencies, academia, faith traditions, the public sector, the private sector and the youth (which is of particular importance to us).
As 55% of the world's population is currently living in urban areas, the complexity of urban growth has to be addressed in a way that ensures an adequate way of expansion. Poverty, hunger, health, clean water, gender equality and environment are some of the key points that must be taken into account when discussing the rapid enlargement of urban communities. Given the variety of topics, the conference was divided into eleven thematic sessions outlined hereunder, where some of the most important aspects to address in SDG 11 were discussed.
Inclusive Communities: Leaving No One Behind
During this session, there were some very important points, such as the necessity of developing an ability to listen to all voices in the conversation. It is urgent to help invisible communities to become visible. Minorities such as female-headed households, youth, poor, stigmatized ethnic groups, the LGBTQI+ community, the elderly and people with disabilities have been muted as they do not represent the majority of the population. This way, some of them have been facing the denial of several rights such as education. The importance of action not only by individuals but by governments was made clear during this session.
Creating inclusive cities and communities will be greatly enhanced by policies that support free health-care, climate action, and more inclusive governments."

Soraya Sayed Hassan and Annise Parker


Climate Change – Cities and Communities in Action
Individual actions were extremely important during this session. Speakers talked about how a little change they made in their daily life can have a really good impact in our environment. The need for a cultural shift was emphasized given that policies can only go as far as social deconstruction can allow. If we, as a community of individuals, do not make the decision to take care of our future and our environment, there is no governmental policy that can have the huge impact that climate needs right now. If there is no commitment, there will be no results.
Climate change is a race we can win, a race we must win. We must redouble our efforts."

Maher Nasser
Peaceful Societies – Recovering from Conflict and Nurturing Peace
Peace is such a difficult topic to talk about, as there can be a lot of angles in which one may focus. During this session, some points were made clear:
Peace needs to grow on a local level and refugees must be integrated into communities.
Corruption needs a special focus, as it is the weak link between funds donated and the intended recipient.
Prisoners would eventually return to society. Therefore, the stigmatization and segregation of former inmates must be eliminated.
Entrepreneurship needs to be boosted.
Young people are in prison because many of them lack job opportunities."

Yinka Lamboginny Lawanson.


Youth-led Session: Creating Opportunities and Economic Success for Youth
The indexes for youth unemployment are worrying. Nearly 60 million young people worldwide (World youth report, 2018) do not have a job, not taking into account the ones that are underemployed or in a vulnerable and exploitative working context. Therefore, economic opportunities for the youth is very important, and the discussion was based on the meeting of basic needs. Many young people struggle with having food, clean water and shelter, which makes them especially vulnerable to unemployment. Moreover, speakers agreed that education is an essential point of access for youth, but it does not guarantee a laboral future. Especially women are very vulnerable when aspiring to have a career. Even if they can accomplish to overcome the education barrier, they are likely to face gender discrimination in hiring, workplace culture, and compensation. Victoria Díaz García recommended supporting policies that support protection for women in workplaces and that makes it easier for them to not have to choose between having children and working. In many other cases, youth finish college, but the jobs require a wealth of experience, which they do not have.
The older generation does not trust that youth are capable."

Moses Mbasu
Infrastructure and Natural Resource Use
With almost half of the global population currently living in urban areas, and the likelihood of an increase in this percentage, sustainable and durable infrastructure must be given priority. During this session, Satya Tripathi, UN Assistant Secretary-General and Head of New York Office at UN Environment, explained a threefold problem:
The human species is arrogant enough to think that nature exists just for itself.
Ignorance on climate reality is still very persistent.
Unwillingness to act is very much present in most communities.
It was said that many issues can be solved by the community members themselves and do not need a major government policy to create local action and have a good impact. Nevertheless, people must have the willingness to really make a change.
"Change can happen, but people must feel empowered to act."
Emerging Technologies and Innovation
As humanity is developing, technology is one of the main new areas of study that can help address the SDGs. According to Curtis Thornhill, effective implementation of technology was dependent upon economic development, workforce transition and K-12 education. Nevertheless, the implementation of technology in our communities also has its downsides. There are still many people in the least developed countries that do not have access to the internet, which represents a huge disadvantage in terms of development opportunities. We must work on reaching these and many other vulnerable communities and including them in the fourth industrial revolution.
"Technology is displacing high and low skilled jobs."

Kelly A. Lovell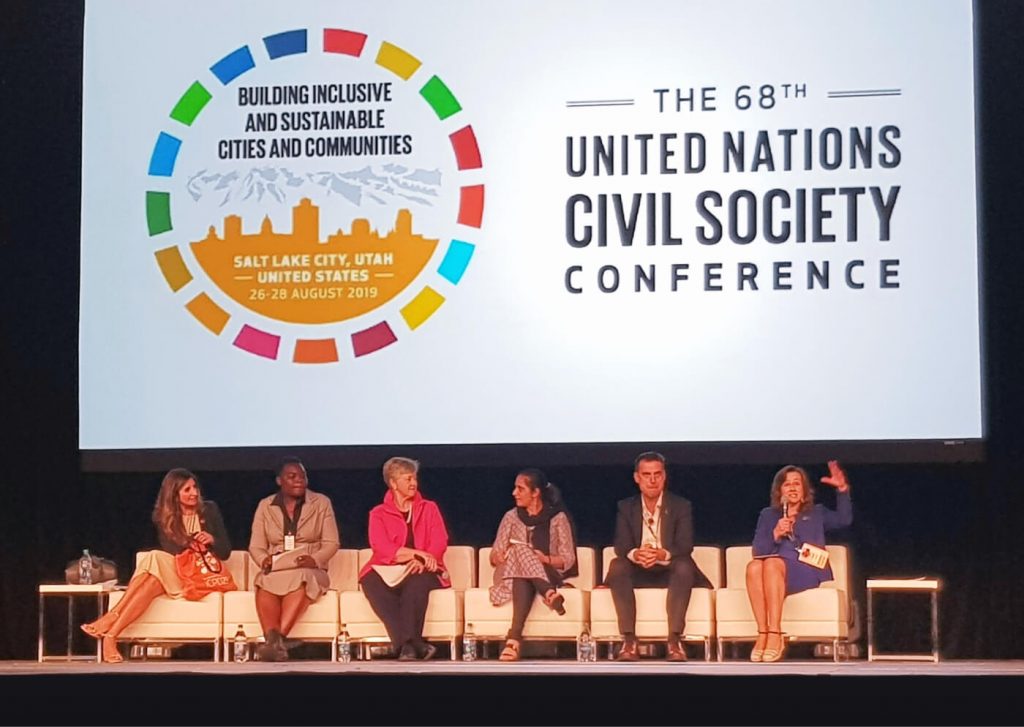 Impact Investing: Closing the SDG Financing Gap
As many investors seek only returns, either social or capital, the financing gap of the Sustainable Development Goals´ achievement remains in the trillions. As a solution, great collaboration between governments, investors, philanthropists, and service providers is needed to make an impact in society. Panelists agreed that change should come faster, but something we can all do right now is to put pressure on investors and make legislation that motivates them to invest in humanitarian issues.
"SDG 11 finance gap requires so much wealth to be mobilized that government aid is not enough."
Local and Regional Governments Leading the Way to Sustainable Communities
Collaboration was made a clear necessity for achieving sustainability. There were some key points shared by panelists to advance in climate change action:
Be in constant dialogue through networks;
Identify emerging leaders and garner their support through education;
Engage the youth; and
Make system changes.
In this session, speakers encouraged vividly the need to learn to collaborate and build partnerships, as they are the true way for making change.
"Collaboration is the key to success."
Building Inclusive Communities Through Education
The fourth industrial revolution had an important focus during this session. Reuben NG espoused that education must catch up with what industry 4.0 will be demanding. He stated that education should now focus in four types of intelligence:
Augmented intelligence.
Behavioral intelligence.
Contextual and cultural intelligence.
Data intelligence.
With this, it is explicit that education should be universal and must be provided to all in order to achieve the SDGs and have better and more inclusive communities.
The fourth industrial revolution should not lead to another century of continuing inequality, especially in education."

President Astrid Tuminez
Enhancing the Role of Civil Society to Monitor Implementation of SDG 11
Given that SDG 11 was introduced fairly recently, Christopher Williams, acknowledged the difficulty that comes with measuring a variable that has very little to no history. To mitigate this challenge, it is important to design methods of including citizens in the monitoring of this SDG. Also, there is no data aggregation on a national level. The government census is in many cases inadequate. It is hard to visualize the people living in informal settlements. Because of these aspects, civil society must have a role in monitoring the implementation of the SDG 11; governments sometimes have a blurred vision of how their communities actually work. Michael Mlynar offered six words for civil society's monitoring: participation, partnerships, coherence, coordination, localization and appropriate leadership.
How we manage urban growth will determine how successful we are with SDG 11″

Michel Mlynar


Civil Society Partnerships for the UN We Need
The United Nations has accomplished several goals since its creation in 1945, but there are many others in which it must find a more effective way to work on reaching its goals and mandates. Throughout this session, panelists discussed how multi-lateralism is currently decreasing and the UN must work with civil society to correct the individualistic trends. Attendees agreed that we need to worry about the future and take action now – an action that must be driven by youth, civil society and business groups. Additionally, we need a stronger and more effective UN than the one we have today.
The UN was created to stop humanity from descending into another world war, but the threats are equally bad, even if they are different. We need cooperation now as we did then."

Fabrizio Hochschild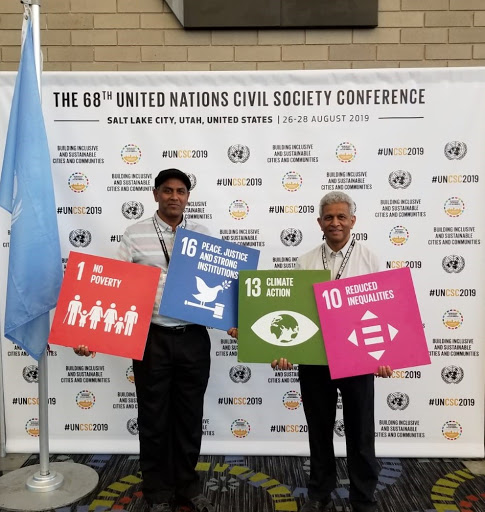 Overall Outcomes
As the summit reached its end, a document to advance the 2030 Agenda for Sustainable Development was adopted by all the members of the civil society. The statement focused on the main theme of the conference "Building Inclusive and Sustainable Cities and Communities".
The document highlights the main subjects approached during the various sessions:
The importance of inclusivity and respect of human rights and dignity urging communities and cities to cultivate opportunities for individuals despite their cultural, social or economic backgrounds. An emphasis on the urgent need for a powerful response to the climate crisis was also made.
The recognition of peace as the presence of harmony rather than absence of injustice.
The fight against corruption.
A strong desire for more empowerment of people of all ages with education, skills, and opportunities to give them the resources to prosper in an attempt to reduce pecuniary precariousness.
The possibility for a more ethically-centered use of technologies to tackle the issues that must be solved by communities.
As stated in the document, acknowledging a problem does not constitute progress in itself; solutions must be found and concrete action must be taken.
Therefore, the civil society urges stakeholders to enhance inclusivity, support the family to combat social segregation, recognize the gravity of the climate change crisis by adopting the use of sustainable energies, and give up our habit of excessive consumerism. Additionally, it encouraged peace and social justice by promoting conflict resolution and supporting communities globally to help them have a positive impact in society. Furthemore, individuals and institutions are encouraged to act at their respective levels to commit to these actions.
Going Forward
The civil society conference highlights the desire for the UN to start an intergenerational dialogue by including young voices in the global discussion about the future of our communities, the various issues they are facing and the right way to solve them and creating a space to act collectively. For far too long, young individuals have been excluded from such conversation because of their age and their alleged inexperience, preventing them from preparing for the leading positions they will eventually fill in. This conference was a stepping stone in the systematic and sustainable dialogue that needs to be implemented between the United Nations and the youth.
We fully support and salute the concrete engagements taken by the civil society to reduce inequalities and enable every individual to develop and grow regardless of their backgrounds. We urge them to be proactive in designing solutions, including and educating every person on the matter so that no one gets left behind, and providing practical insight on what can be done on a molecular level to support that global initiative. Finally, we encourage every single person to act upon social injustice, discrimination, climate action and education. Let's create 7 billion volunteers!
---
References
United Nations. (2020). 68th United Nations Civil Society Final Report.
United Nations. (2018). World Urbanization Prospects: The 2018 Revision
United Nations. (2018). World Youth Report: Youth and the Agenda 203 for Sustainable Development.
---
IVolunteer International is a 501(c)3 tech-nonprofit registered in the United States with operations worldwide. Using a location-based mobile application, we mobilize volunteers to take action in their local communities. Our vision is creating 7-billion volunteers. We are an internationally recognized nonprofit organization and is also a Civil Society Associated with the United Nations Department of Global Communications. Visit our profiles on Guidestar, Greatnonprofits, and FastForward.