The World Immunization Week 2021 rans from April 24 to April 30. The world celebrates this week every year in the last week of April. This year's commemorations were premised on the use of vaccines to protect people of all ages against disease. The theme of this year's Immunization Week was 'Vaccines bring us closer' which sought to stimulate engagement around immunization globally. By reiterating the importance of vaccination, the commemorations are able to bring people together, and improve the health and wellbeing of everyone, everywhere throughout. This article thus recognizes and honors the role played by volunteers in clinical trials, particularly, in vaccine development.
The history of the World Immunization Week dates back to 2012 when the World Health Assembly endorsed these commemorations during its May 2012 meeting. That year, the Immunization Week was observed simultaneously for the first time, with the participation of more than 180 countries and territories worldwide. Previously, Immunization Week activities were observed on different dates in different regions of the world. The World Immunization Week sprung out of the efforts taking place across different countries and regions for a week-long immunization awareness commemoration. The weeklong commemorations were an opportunity to underscore the importance of immunization in saving lives and to encourage families to vaccinate their children against deadly diseases.
The World Immunization Week is one of eleven official campaigns marked by the World Health Organization, along with World Health Day, World Blood Donor Day, World No Tobacco Day, World Tuberculosis Day, World Malaria Day, World Patient Safety Day, World Hepatitis Day, World Antimicrobial Awareness Week, World Chagas Disease Day and World AIDS Day. Each Each World Immunization Week focuses on a specific theme. Previous themes for the Immunization Week include the following:
| | |
| --- | --- |
| Year (s) | Theme |
| 2020 | Vaccines Work for All |
| 2018 & 2019 | Protected Together: Vaciines Work! |
| 2017 | Vaccines Work |
| 2015 & 2016 | Close the immunization gap |
| 2014 | Are you up-to-date |
| 2013 | Protect your world – get vaccinated |
| 2012 | Immunization saves lives |
World Immunization Week Themes since 2012
Vaccine development
Vaccine development became a big topical issue in 2020 and 2021 mainly because of the COVID-19 pandemic as global organizations such as the World Health Organization (WHO), governments, and private pharmaceutical organizations rushed to urgently develop a vaccine. This rush for the vaccine was catalyzed by the ravaging pandemic. There was great need to make these vaccines and approve them for emergency use against SARS-CoV-2 (popularly known as COVID-19) infection. The COVID-19 vaccines were therefore developed relatively quickly when compared to other vaccines that have taken years to make. This rush to produce vaccines and approve them for emergency use has raised serious safety concerns about the whole process. Many have questioned their safety or efficacy, however, prominent experts have emphasized that all the necessary steps were taken in all processes of research and production. They said that the speed with which the COVID vaccines were made does not equal to sloppiness. To date, no COVID-19 vaccine has been approved for full approval but several have been licensed for emergency use. That stated, Pfizer and Biontech became the first vaccine manufacturing company to seek full approval when they lodged a Biologics License Application (BLA) with the U.S. Food and Drug Administration (FDA) for approval of their mRNA vaccine to prevent COVID-19 in individuals 16 years of age and older.
Vaccine development is usually a rigid, multi-stage process that usually involves 6 stages which include: exploration, pre-clinical tests, clinical tests, regulatory approval, production and quality control. The clinical development stage has 6 sub-stages which are phase 1, phase 1/2, phase 2, phase 2/3, phase 3 and phase 4.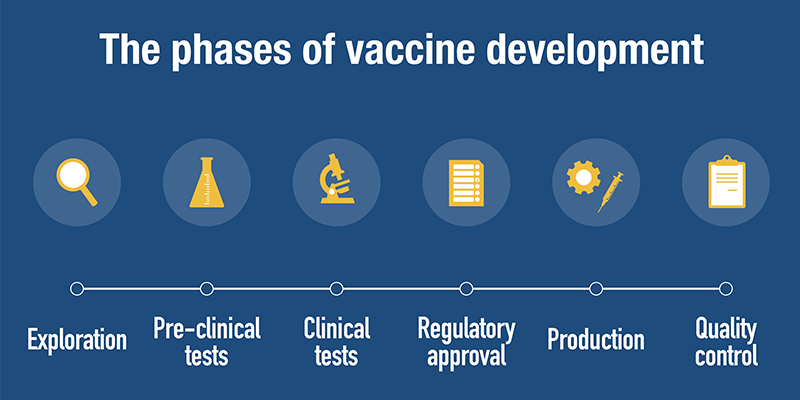 Currently there are 4 vaccines that are at the phase 4 clinical development stage. The phase 4 clinical trial studies the side effects caused over time by a new treatment after it has been approved and is on the market.
| | | | |
| --- | --- | --- | --- |
| Developers | Other name | Vaccine description platform | Phase |
| Sinovac Research and Development Co., Ltd | CoronaVac | Inactivated virus | 4 |
| AstraZeneca + University of Oxford | Covishield | Viral vector (non replicating) | 4 |
| Moderna + National Institute of Allergy and Infectious Diseases (NIAID) | mRNA-1273 | RNA based vaccine | 4 |
| Pfizer/Biontech + Fosun Pharma | Comirnaty | RNA based vaccine | 4 |
Vaccines at Phase 4 Clinical Trials Source: WHO Draft landscape and tracker of COVID-19 candidate vaccines
The role played by volunteers in vaccine development
With several vaccines being rolled out now across the world, much of the credit has been going to the pharmaceutical companies, scientists and healthcare workers. It has thus been easy to forget the essential role played by volunteers in drug development. It is important to take note that this whole process of vaccine development would not see the light of the day without volunteers who play a major role at the clinical trials stages of vaccine development.
The clinical trial stages I, II and III rely heavily on volunteers of various race, age, gender or background. These volunteers assist medical research when they offer their bodies to test drugs. Clinical trials are critical to assess the safety and efficacy of drugs. These trials are done in order to study the way a drug candidate will affect a person's health. In my own perspective, this act of offering one's body for clinical trials is no different to how soldiers risk their lives on the front line to defend a territory. In its phase III clinical trials, Johnson and Johnson enrolled up to 60,000 people. The AstraZeneca US Phase III trial of its vaccine AZD1222 recruited 32,449 participants. Additionally, AstraZeneca also conducted Phase III clinical trials of its COVID-19 vaccine in the UK, Brazil and South Africa, on 17,177 subjects which showed that the vaccine is safe and effective in preventing COVID-19 more than 22 days after the first dose. Pfizer's Phase 3 clinical trial of its vaccine BNT162b2 enrolled 43,661 participants from 150 clinical trials sites in United States, Germany, Turkey, South Africa, Brazil and Argentina. Moderna recruited 30,351 participants in its Phase III clinical trials while Sinovac conducted its Phase III clinical in Brazil, Turkey, Indonesia, and Chile on a total of 25,000 participants enrolled in the trial across those four countries.
It is clear that clinical trials validates a drug candidate and enables it to be either licensed, approved or authorized for emergency use, as has been the case with most COVID-19 vaccines. Without volunteers in clinical trials, all this would not be possible as there would be insufficient statistical and clinical data to make sound conclusions and give decisions by national regulatory authorities such as the US Food and Drug Administration or by international organizations such as the World Health Organization.
It is important to pinpoint that many volunteers have continued to offer their bodies for science and research, despite several controversies of scientific research that have occurred in the past. Examples of these controversies include unethical scientific experiments that have been conducted on enslaved persons and World War II prisoners. Other examples include the Tuskegee Syphilis study conducted between 1932 and 1972 in the United States. Those dissuaded from participating in clinical trials cite these historical controversies and conspiracies around vaccines. More so, most of the clinical trials are biased in certain geographic locations. According to the African Academy of Sciences, only 2% of clinical trials globally, take place in African countries. What does that mean for the continent? It means that the safety and efficacy of most drugs has not been tested on the African population. African populations would be justified to believe that the drugs and vaccines probably were not meant for them, as they were not tested on their bodies. The African Union (AU) and World Health Organization (WHO), are however hoping that the number of clinical trials will increase across Africa. This will ensure that any successful vaccines that come to market will actually work for African populations.
Clinical trials – the way forward
The COVID-19 pandemic has demonstrated how preventing health crises should be a priority for mankind. During the World Immunization Week 2021, It is important to encourage people to volunteer to join clinical trials. The current state of enrollment in clinical trials is still appalling especially here in Africa. However, there must be limits on how people are encouraged and "compelled' to be vaccinated. It is important to always avoid infringing on the rights of those who may not wish to be vaccinated. The idea of vaccine passports which has been mooted in several countries would go against the spirit of respecting human rights and free will. There has to be encouragement and education among populations on the benefits of immunization. Policies that try to force people into vaccination against their will and conscience should be avoided at all costs.
During the World Immunization Week 2021, the World Health Organization encouraged people to be immunized against the COVID-19 virus. Let us also encourage people to volunteer for clinical trials. The noble cause of volunteering for science will not only benefit the present generation but also the future generations. Humankind has benefited from drug discoveries that have eradicated diseases such as Smallpox and Polio. When the Global Polio Eradication Initiative was launched in 1988, there were more than 350 000 cases a year in more than 125 countries. In 2003, there were just 784 cases, all mainly due to vaccination programmes launched worldwide. The same applies to Smallpox which was declared to have been eradicated in 1980 by the World Health Organization. In 1980, WHO declared smallpox eradicated. This was only achieved after widespread immunization and surveillance were conducted around the world for several years. The eradication of Smallpox remains among the most notable and profound public health successes in history.
___________________________________________________________________________________________________________________________
IVolunteer International is a 501(c)3 tech-nonprofit registered in the United States with operations worldwide. Using a location-based mobile application, we mobilize volunteers to take action in their local communities. Our vision is creating 7-billion volunteers. We are an internationally recognized nonprofit organization and is also a Civil Society Associated with the United Nations Department of Global Communications. Visit our profiles on Guidestar, Greatnonprofits, and FastForward.