An individual's capacity to learn and innovate can only come to life when they step out of the comfort zone. Within a comfort zone, everything is comfortable already. When we remove our blindfolds and see beyond what's possible, we see that there is more we can achieve. This week's discussion is with Veaceslav Cretu.
Veaceslav Explains His Beginnings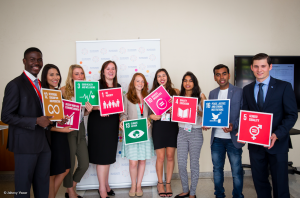 I grew up in a poor family in the Republic of Moldova. I had to see my parents working more than 16 hours a day, every day, to support my family and even struggle financially. For more than 8 years, I grew up with my sister, seeing our parents traveling abroad to make a living just to invest in us. They wanted us to feel like we belong in this society, so we can go to school, get and education and later on a decent job. I believe that these life experiences and challenges that my family and I have been through helped developed in me, the personality of a leader. Since 2010, I was addressing the issue of receiving a quality education and making it available for anyone. I strongly believe that quality education and social inclusion will help us sustainably develop the local communities.
With this vision in mind, I was advocating to encourage the local governments to improve their educational strategies at the local level by increasing the use of digital technology. Governments were and are still failing to provide an effective and reliable educational system which leads to high unemployment rates and as a result, economic crisis.
Your Failures and Setbacks
Since my village was underutilized and was far away from the city, I haven't been able to reap benefits from any technological resources. This was a big barrier to me as a young advocate to gain knowledge and grow at the same rate as my peers from the cities. This lack of access to data motivated me to find ways to create opportunities.
One of the greatest challenges I faced as a youth activist was figuring out how to keep my momentum sustainable. One aspect of that challenge is how and where to start, especially for those that get involved new. In my case, I had to start locally, but I couldn't do it by myself. So I assembled a team, which was not a 'walk in the park' because not all of them were dedicated to becoming agents of change. I took the challenge of finding ways to motivate others to take action and control of the development of the communities they live in.
After years of activism, I realized that this is not going to last. I had to outsource. I had to figure out a way to take the impact we make from local to regional and then national and international.
Transition Story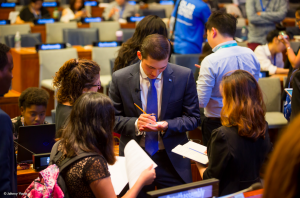 My transition story relates back to how capable you are to invest time to volunteer, to attend conferences, and to apply for project grants. You will obviously not succeed all the time, but when you keep trying there is always hope.
When it comes to opportunities, you need to remember that some of them are already there available, waiting for you. You just have to apply for it. The easiest way to grab an opportunity is getting involved and meeting new people. Volunteering is the only way to do it in the beginning. I was searching to land myself in an opportunity in the fields that were close to my heart such as youth development, social issues, international cooperation, diplomacy, and development programs for youth.
I started with the World Forum for Democracy (WFD) – Strasbourg in November 2014. There I had the chance, for the first time in my life to interact with international youth leaders from around the world. I learned that regardless of the fact that we are so different, as the youth, we have a lot in common and that a sustainable international cooperation is based on true friendship, understanding, and partnership.
Later on that year, two of my colleagues from WFD introduced me to the Youth Assembly (YA) at the United Nations. I joined the YA at the UN on February 10th, 2015. I started as a simple participant and an observer. Since then I haven't missed a single session and thanks to that drive to be involved, I was invited to mentor youth delegates and to be a speaker. The only one skill that helped me get to this level was the ability to communicate constructively. It is extremely important to understand that concept. We can only achieve world prosperity and integrity by listening to each other.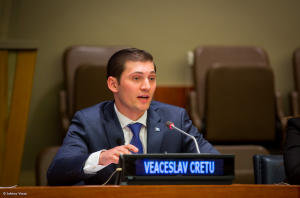 Since 2010, I've been engaged in different youth movements and was able to secure funding for my social development projects. In these years, I led a team of students to victory for developing a network of high schools students connected to e-learning platforms for educational development. Thanks to my involvement I was awarded "The Best Local Youth Council of 2011" and "The Best Volunteer of 2012" – two prestigious titles for responsible social activism and great leadership commitment by the Council of Laloveni. In 2013, I was elected to be the Prime Minister of Youth Government of Republic of Moldova, and in the same year Youth President in Laloveni District.
One of my success story that I can relate to is the DigiKidz project – a social venture that teaches underprivileged students in rural parts of the Republic of Moldova about digital literacy, empowering them to be more confident and aspiring citizens who will be ready lead their communities out of poverty. This concept received funding and support from one of the most popular organizations – The Resolution Project, on which I am a fellow. I have received the award for Socially – Responsible Leaders at the 2015 Summer Youth Assembly at UN, thanks to this initiative.
Next year, I was invited by my Moldovan community in the USA to share about my involvement at the United Nations and my project idea. This opportunity gave me the chance to get support from the local government back home. DigiKidz received funding from the government in the category of "Innovative Projects of Diaspora" in the context of Diaspora Engagement Hub Program.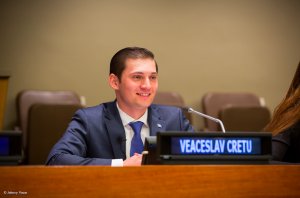 Besides all these volunteering activities, I do my undergraduate studies in Computer Science at Kennesaw State University, Georgia, USA. Recently, I had the opportunity to represent Microsoft on campus as a Microsoft Student Partner.
At the moment, I am working on promoting social development, developing policies, and implementing the Sustainable Development Goals at the local level – mainly Quality Education and Gender Equality.