Retail campaigns usually target female consumers because of the outdated belief that women prefer to shop and spend more money than men. Women are targeted the most in advertisements, which is why the items women buy are more expensive than male products that are essentially of the same kind. Overcharging women to buy the same products as men is called "the Pink Tax".
Why targeting women only when promoting beauty products?
Meridith Hoffman, A finance writer states that "A 2015 study from the New York City Department of Consumer Affairs found that products marketed towards women and girls cost an average of 7 percent more than those marketed towards boys and men".
The New York City Department of Consumer Affairs released a study comparing the prices of over 800 products. The study's goal was to estimate the price differences male and female shoppers face when buying the same types of items.
The results: Products for women and girls cost 7% more than comparable products for men and boys.
7% more for toys and accessories
4% more for children's clothing
8% more for adult clothing
13% more for personal care products
8% more for senior/home health care products
Young girls cannot escape the pitfalls of the Pink Tax because "girl toys" cost on average 2 percent to 13 percent more than "boy toys" that are the same other than their color.

The New York City Department of Consumer Affairs

Higher charged products for her
You might be curious to know about these products and how they are different in terms of price. Here are some of the products with the same function but charged at a higher price for women. This shows that the market is directing a huge focus on women health and beauty products.
Marketing campaigns shed the light on female toiletries because they are sure that women can't live without using them. They believe that no matter how much higher the price is, their products will be sold anytime and anywhere.
For many of us, deodorant, razors, and moisturiser are essential ingredients in our daily routine – but who is paying more to keep themselves groomed?

Rift, 2018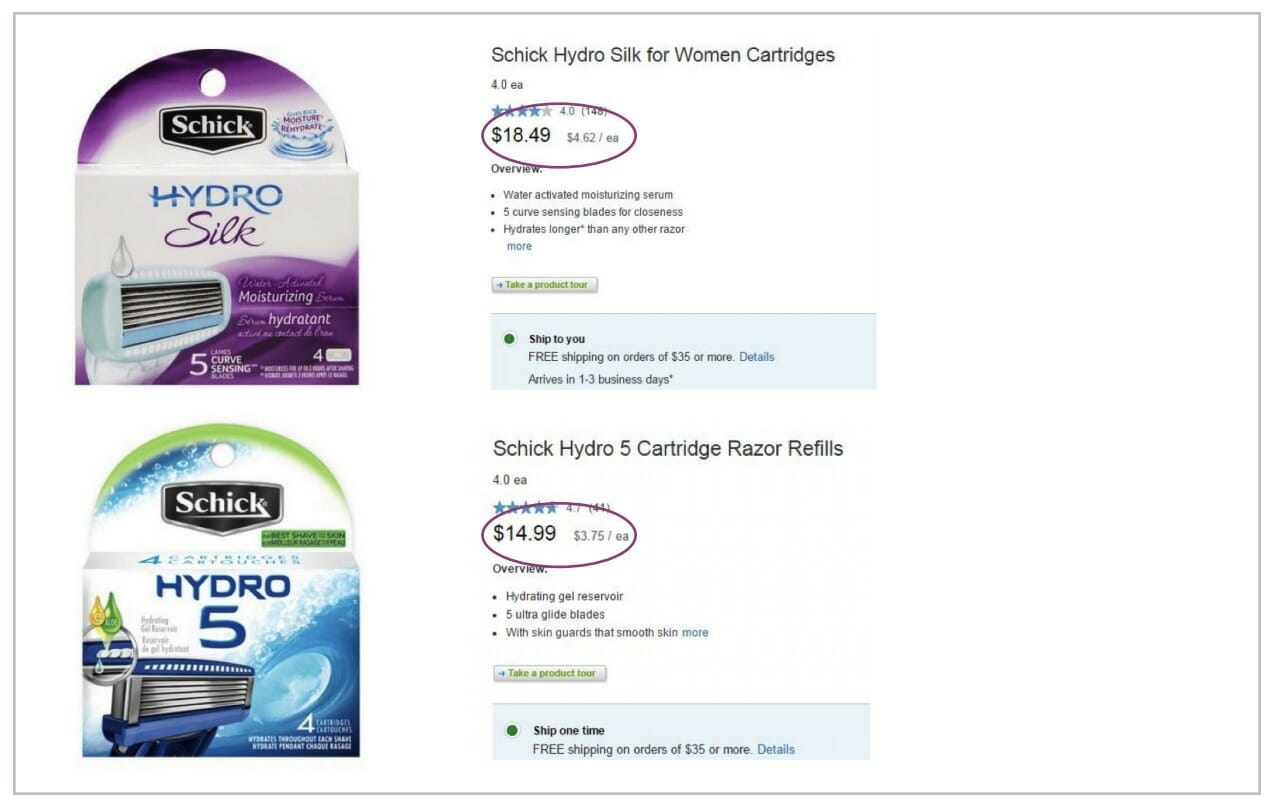 Candice Eliott in her article on Listen Money Matters website, states that apart from pricing differences, there is often little differences between the male and female versions of items, especially when it comes to personal care products.
The classic example is the single-bladed razors sold in most drugstores: no special moisturizing strip, no rust-free titanium.
The "men's" version is blue, whilst the "women's" version is pink. The color is the only difference. However, the women's version is always more costly than the men's.
But there are lots of examples, and many of them cost more than a few cents at the drugstore.
If you want to know more about how women are spending more money on grooming products than man, and how they are doing this just to abide by today's society beauty standards, then you should take a look at this TED talk.
Fashion Icon YSL knew this. He even said that the most beautiful makeup of a woman is passion but cosmetics are easier to buy. That is when women go for the second option and they pay for beauty with their health, wealth and time.

Dr Filicia Clarck
So, how to stop paying for pink?
It is sad and confusing to say that there is no simple and easy solution for pink tax problem. So, what can women do in this case?
Here's what you can do, ladies, buy the men's stuff!

Candice Eliott
Talking about my own experience with this nonsensical issue as a woman, when I think about buying beauty products such as shaving razors, I notice the high prices of pink ones compared to the lower prices of blue razors. I then ask myself where the difference lies? Then I check and recheck them both to compare and I find nothing different but the color. It really irritates me and I consider it as gender exploitation. I end up buying the blue one because I don't care if the cashier is going to stare at me and smirk! By the end of the day, they function the same. Right?
Eliott explains this as she highlights that, unless you purchase the fancy razors with multiple blades and "moisture strips," the only difference between generic old stick razors for men and women is that ours are pink, and theirs are blue.
Bottom line is that, you may save money by purchasing things that are gender-neutral or geared toward guys. This method may not be suitable for everyone, but it can help you avoid pricey "feminine" items such as shampoos and shaving creams.
Ultimately, shouldn't we give importance to the functionality of products instead of its color? Think twice ladies and don't fall into pink tax trap!
---
IVolunteer International is a 501(c)3 tech-nonprofit registered in the United States with operations worldwide. Using a location-based mobile application, we mobilize volunteers to take action in their local communities. Our vision is to create 7-billion volunteers. We are an internationally recognized nonprofit organization and are also a Civil Society Associated with the United Nations Department of Global Communications. Visit our profiles on Guidestar, Greatnonprofits, and FastForward.