Recently, the United Nations passed a significant resolution to declare access to healthy environment – including clean and breathable air – a human right. This was prompted by the growing concern of rapidly increasing air pollution because of the increasing use of vehicles, industrial development, burning of fuels and lack of implementation of strict laws and regulations particularly in developing countries. The growing air pollution across the world is a grave concern for public health as about seven million people die prematurely each year.
This is the case of Lahore, Pakistan's largest and most developed city. Over the past few years, Lahore has gone from being the 'city of gardens' to one of the most polluted cities in the world. Each winter it grapples with the menace of smog – a mixture of 'fog' and 'smoke' usually emanated from vehicular and factory emissions, burning of fossil fuels, and is highly unhealthy for all living beings. Yet, despite its expected occurrence, the government has failed to take timely measures to control and mitigate smog and its hazardous impact on the health of citizens.
Cause and Effect of Lahore's Smog
According to a 2020 report issued by Food and Agriculture Organisation (FAO), vehicular emissions contribute the most at 43 percent, followed by industrial emissions at 25 percent, agricultural emissions, particularly from burning of crops during harvest season in winter at 20 percent, and burning of fossil fuels, particularly coal to generate power at 12 percent. The higher percentage of vehicular emissions are three-fold. First, in light of a weak and limited public transport system, privately owned cars and motorcycles constitute the majority of the traffic on road, with motorcycles comprising of about 74 percent of the total number of registered vehicles as of 2018. Second, motorcycles and autorickshaws, contributing a significant share of on road traffic in Pakistan, have incredibly inefficient engines, thus producing a higher degree of emissions. Third, the fuel Pakistan uses falls under the Euro 2 category of the European Union standards, a significantly lower-quality fuel compared to the Euro 6 category adopted by high income countries. Although the governments have made attempts to switch to a more environment friendly fuel, this is yet to happen. Failure of regulation and control of these emissions result in an unhealthy increase in smoke and poisonous gases which combine with fog during winter months, resulting in a hazardous smog.
According to World Health Organisation (WHO)'s guidelines, the cut off for long-term fine particulate matter pollution (PM2.5) is 25 μg/m3. However, Pakistan's average PM2.5 is significantly higher than the acceptable figure. For example, the following graph taken from the International Growth Centre's Paper (No. E-2019-PAK-1) shows the spikes in μg/m3 concentrations in Lahore from May 2019- April 2020, spiking during winter months and annually averaging at 117μg/m3, well above WHO's guidelines.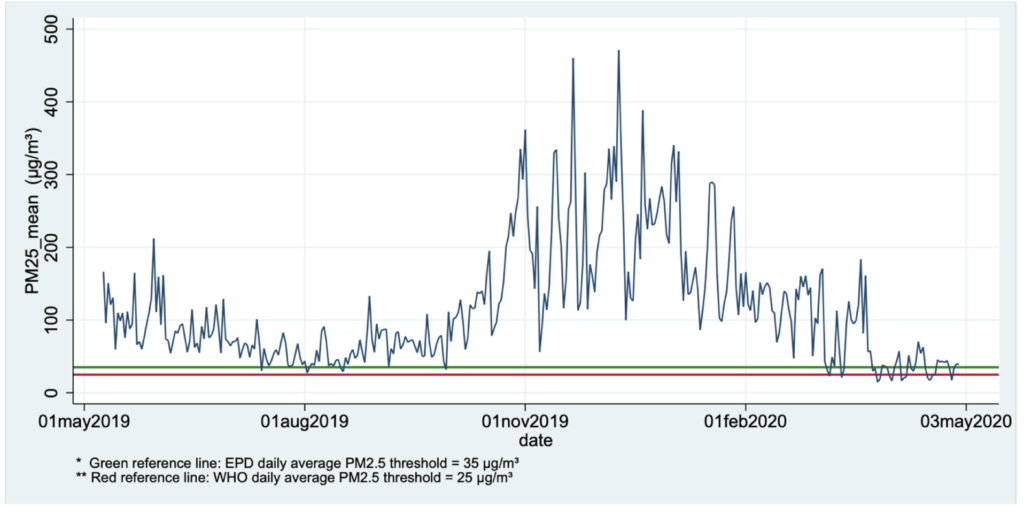 These particles are directly absorbed by the blood stream upon inhalation and significant risk health. Along with the increased risk of developing cardiovascular, respiratory illnesses and cancer, long term exposure decreases average life expectancy of citizens. The National Commission for Human Rights reported that on average, the four winter months dominated by smog reduce the average lifespan of Lahore's citizens by 2.7 years.
On average, the persistent smog smog reduce the average lifespan of Lahore's citizens by 2.7 years.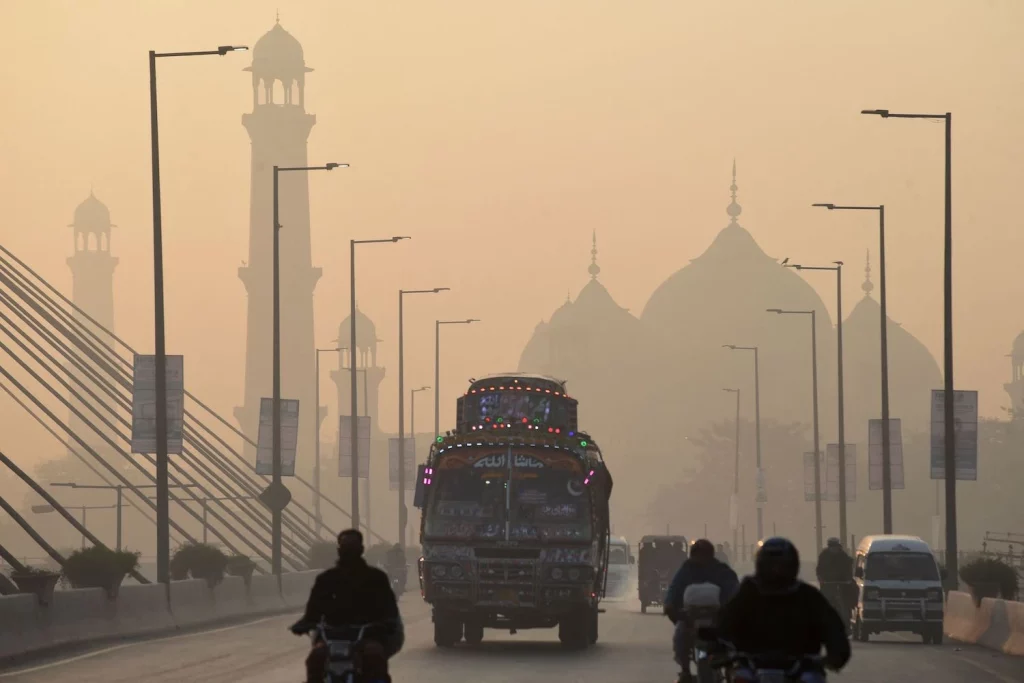 EPA's failure in Policymaking or Implementation?
Instead of long-term sustainable measures, the government often resorts to 'panic responses' near or during winter months to counter the prevailing smog; an effort often seen as too little too late. Furthermore, despite the existence of laws and regulations for pollution control and waste management, the government has often failed to effectively implement these policies.
In 2017, the Environment Protection Department of the Punjab Government issued policies to control smog. First, the adoption of low Sulphur fuel which has proven to be more environment friendly was proposed. However, the government admitted that while this policy was first suggested in 2008, its implementation is annually postponed. On part of the government, this means having to devise new contracts with international suppliers, such as Kuwaiti Petroleum, for supply for low sulphur fuel. Furthermore, the local oil refineries have shown reluctance in agreeing to switch from low to high sulphur fuel as this would require heavy investments to upgrade their existing facilities; a step seen as unfavourable due to economies of scale. This also requires the government to introduce better incentives to push oil refineries to make the shift. Second, efforts to ensure catalytic converters are operational in all vehicles was also proposed. However, this required the provincial government to liaison with the federal government to import required parts; a task subjected to administrative lags and bureaucratic inefficiencies. Third, revamping government efforts to effectively manage solid waste management, ban crop burning whilst introducing alternative, environment friendly technologies, and fine industries and brick kilns emanating excessive pollution. Among the broader aims were effective management of urban development to ensure industries are built away from residential areas and build government capacity to monitor air pollution.
Each year near winter, the Punjab government 'cracks down' against brick kilns, industries and vehicles emitting excessive smoke by imposing hefty fines. However, this is often seen as an ineffective measure which fails to address the root cause of the issue. Often times, many industry owners go undetected or continue emitting hazardous smoke after paying the fines. Furthermore, farmers lament on the crop burning ban, a relatively cheaper method to clear the field as opposed to adopting expensive but more environment friendly technologies. In a 2019 survey, almost 40% of the farmers opposed the ban simply because they were unable to afford alternative methods, arguing that they would welcome the ban if the government provided subsidy and support in acquiring and incorporating other environment friendly technologies in agriculture practices.
Conclusion
Smog continues to be an issue of grave public health concern for the citizens of Lahore. Despite existing legal frameworks, the inability of the government to effectively implement laws and policies to regulate smoke emission from a variety of sources has exacerbated the air pollution in Lahore in the previous years. The government needs to address the administrative and bureaucratic challenges which may impede effective implementation. Furthermore, the government needs to focus on long-term goals of building effective and sustainable public transport system for all citizens to ease pressure off of the roads occupied by private vehicles. Similarly, the government needs to ensure that industries are not built alongside residential areas, and existing industries are either moved elsewhere in the long term or monitored to ensure that they effectively manage their air emissions. To achieve this, the government could also liaison with the industries to ensure they have access to latest and environment friendly technologies. In addition, the government also needs to revamp the agriculture sector of Pakistan which still relies on primitive farming methods and provide the support required to introduce more environment friendly technologies in the agricultural operations. In essence, the provincial government alone cannot be expected to achieve these long term goals, and therefore, the federal government must also step in to play its part in controlling smog to ensure a better and healthy environment for its citizens.
---
The opinions expressed in this publication are those of the author. They do not purport to reflect the opinions or views of IVolunteer International.
IVolunteer International is a 501(c)3 tech-nonprofit registered in the United States with operations worldwide. Using a location-based mobile application, we mobilize volunteers to take action in their local communities. Our vision is creating 7-billion volunteers. We are an internationally recognized nonprofit organization and is also a Civil Society Associated with the United Nations Department of Global Communications. Visit our profiles on Guidestar, Greatnonprofits, and FastForward.