You can directly email Kindred Colombo or direct message them on Instagram to sign up!
About Kindred Colombo
Azmah is a Visual communications designer and a changemaker in residence working with Brown Girl in the Ring podcast and Colombo Cooperative. Kindred's goal is to be a comprehensive solution to the stray cat problem in Sri Lanka. It will cover rescue, foster, sterilization, education and everything in between while working in collaboration with existing rescue organizations to reduce their workload.
About the Meetup
The aim of this event is to gather the community around the cause of stray cat welfare. It will also be an introduction to Kindred and help raise funds for the cause. This is also a good opportunity for education and an open pragmatic discussion about some important topics regarding cat rescue and what it entails.
The event will consist of:
A short moderated panel discussion followed by a Q&A session. The panel will consist of a Veterinarian and two animal welfare activists.
Kittens from the Animal Welfare and Protection Association of Sri Lanka who will be up for adoption.
A small group of pop up shops of small scale businesses/ home businesses.
Entrance to the event will be free by donation. We will also have giveaways to keep the conversation going. People will also be encouraged to sign up to foster, volunteer and adopt with Kindred which will help build the Kindred network of cat champions.
Date: Saturday, July 13, 2019
Time: 10:00 am – 4:00 pm
Venue: Hatch Works, 14, Sir Baron Jayathilaka Mawatha, Colombo 01, Sri Lanka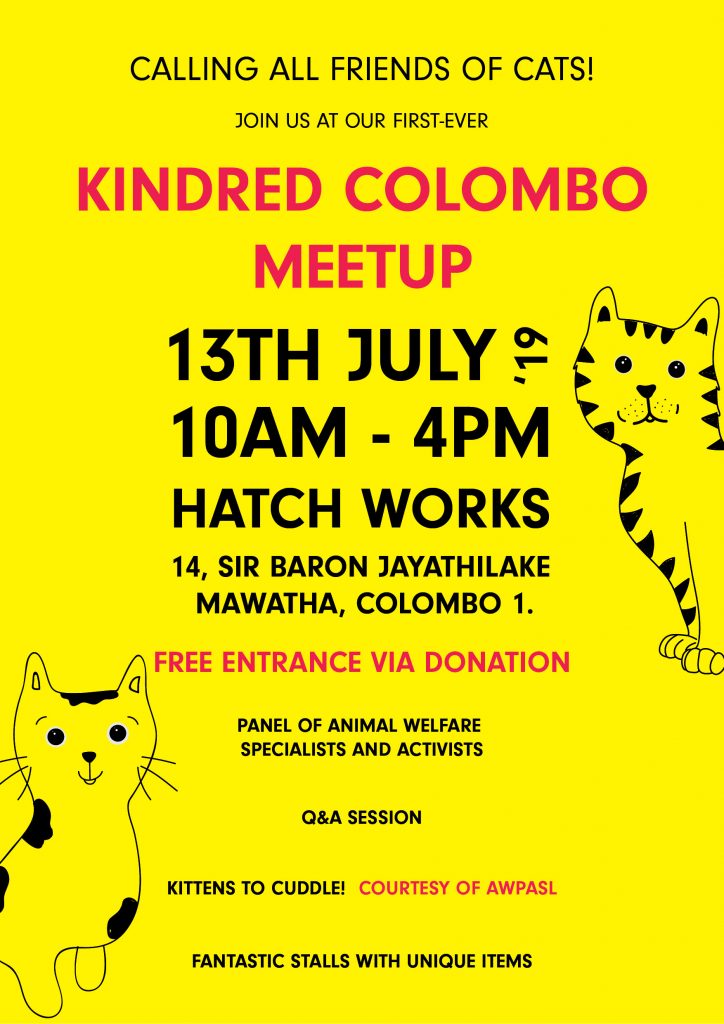 Volunteer Responsibilities
Helping with print material pick up and set up
Looking for vendors
Organizing the giveaways
Organizing a giveaway for the panel and moderator
Coordinating with the shelter to transport the kittens to and from the location.
Taking care of the kittens in the duration of the event – ie, making sure they comfortable, fed, litter is changed and are not hassled by visitors, especially kids.
Taking signups for foster and adoption applications
Coordinating with vendors on set up and take down times
Coordinating with furniture rental company
Set up and take down of the event space on the day.
Volunteer Benefits
Networking opportunities
Event planning experience
Cat welfare experience.
The panel and moderator are people from different fields, not just animal welfare, therefore this is a great opportunity to meet and learn from them.
Sign Up & Contact Details
You can directly email Kindred Colombo or direct message them on Instagram to sign up!