The Deadline to sign-up is over.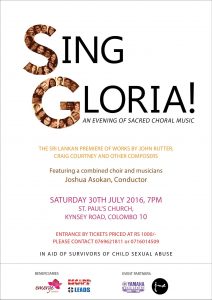 This is your opportunity to sign-up and volunteer for the event "Sing Gloria" in aid of the Emerge Lanka Foundation and Escape. Emerge works with teenage survivors of sexual abuse in Sri Lanka, helping them to heal, develop skills for self-sufficiency, and build a better future for themselves and others. Sing Gloria is a an evening of sacred choral music in aid of survivors of child sexual abuse.
More information about Emerge Lanka, Click Here.
To sign-up to volunteer, Click Here.
For more information contact Angelo Pereira on 0716014509.
Note: A Briefing for all volunteers will take place on the 29th July 2016 (Friday) at 6:00PM. If you choose to volunteer and sign up, your attendance for this briefing is compulsory.