The Indira Cancer Trust in Sri Lanka was inspired by Indira Jayasuriya (daughter of Karu Jayasuriya, Speaker of Sri Lankan Parliament) who passed away after a brave battle with cancer leaving behind her husband and two young children. The trust founded in 2016 currently carries out 22 projects to upgrade the living conditions of cancer patients and their families.
Volunteer Opportunity
The Indira Cancer Trust is searching for volunteers for the following programs and activities.
Music Program: volunteers should be able to play an instrument (guitar/violin/bongo) or any other mobile instrument that can be taken to the wards.

Diriya Hala: Income generating activity through the sale of goods produced by patients and their family members with cancer.

Counseling Program: Trained Counselors only to assist in the financial aid and educational aid program.

Wig Donation Program: patients with cancer get a customized wig free of charge.

Art Therapy: Experience with similar programs are beneficial – short training will be offered.

Birthday Program: Volunteers visit pediatric wards and give gifts to children celebrating.
Orientation will be held on Saturday, June 22, 2019 at 10:30 am (SL time) at the Indira Cancer Trust.

Location: 63 Hospital Road, Maharagama, Colombo, Sri Lanka
Contact: 0112-088288 (excludes country codes)
All volunteers are only expected to spend 4-hours a month to support these programs.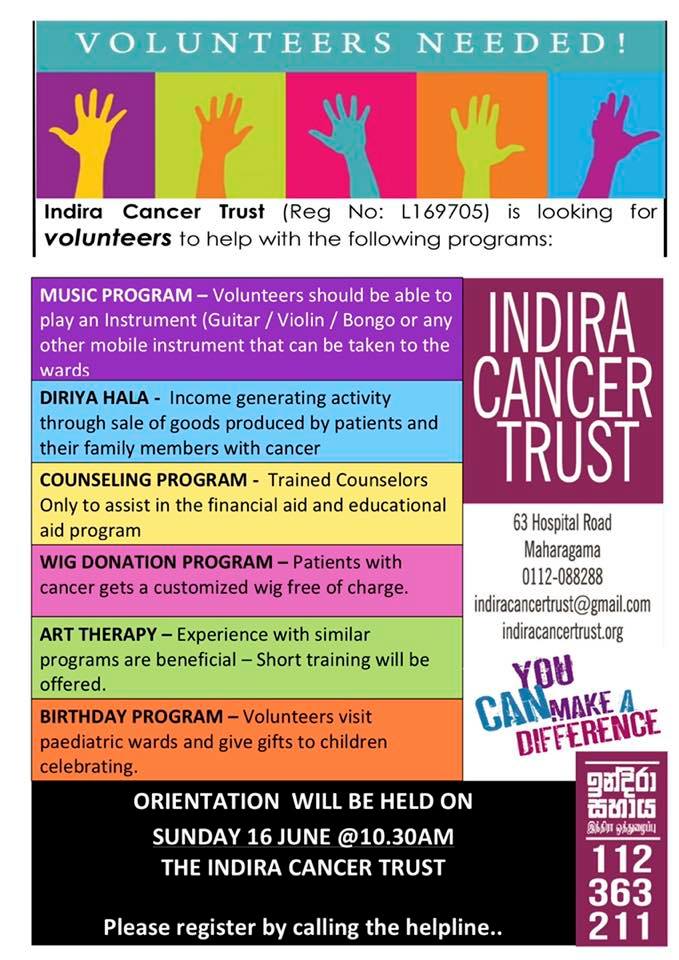 Application & Sign Up
For more information and sign up details, please email Indira Cancer Trust or get in touch with them via phone (0112-088288). Please visit the official Facebook event page for more information as well.