Location: Colombo, Sri Lanka.
To be a part of this event, email Mr. Kumutha Srikanthan.
The Center for Humanitarian Affairs GTE Ltd. is putting together an Open Mic Night and a Movie Screening open to the public, to engage more volunteers in their projects. The volunteers are needed to attend and support these two events which will outline recruiting and connecting volunteers for their future projects.
The purpose of the movie screening is to encourage volunteer participation in the project which is been planned to start on the 1stweek of April. They are planning to establish Learning Support Units for children with special needs at few regular schools and centers. The volunteers will join them for the movie and will be involved on a weekly basis for a maximum of two hours helping and assisting the kids with special needs.
No tickets will be sold, entry free. Will be provided with a small snack or drink.
Date: March 4, 2017, for Movie Screening and March 18, 2017, for Open Mic Night.
Location: #1, Gower Street, Colombo 5.
Time: Movie Screening is 3:00 – 5:00 pm. Open Mic Night 3:00 – 6:00 PM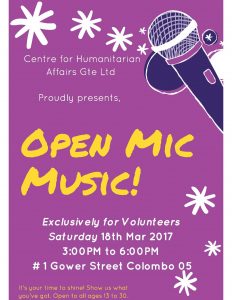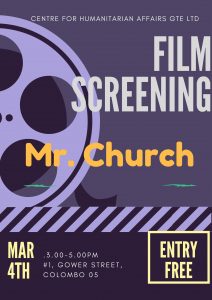 Volunteer Responsibilities
Support the children in need during the event
Being bi-lingual with English with Sinhala or Tamil is an added benefit.
The volunteers will need to spend a minimum of one hour with one child as the requirement with special needs is one-to-one for a day two kids only.
When the volunteers attend these two events, they will be given more information about continued support if they want to continue. To be a part of this event, email Mr. Kumutha Srikanthan.