IVolunteer International recently partnered with Robin Hood Army Sri Lanka – a volunteer-based organization that works to get surplus food from restaurants across to the less fortunate people. Their vision is to eliminate hunger and food wastage globally. Till date they've sated the hunger of 2010873+ covering 41 cities across Sri Lanka, India, Pakistan. 
Hanzalah Haroon, one of the founders spoke to us about the mission of the Army. He is an International Business Studies student and a part-time employee at an IT firm.
1. How did Robin Hood Army Sri Lanka happen?
From a young age I was drawn to social services. I was a member of my school's Interact Club and carried out several charitable projects as a part of the club.
My uncle introduced me to the Robin Hood Army and I researched about it. He asked me to run it in Sri Lanka and I was more than happy to accept the position.
It was relatively tough to establish it in Sri Lanka. But we have one permanent donor who made it easier. Also, I called up few of my friends who I thought would like to volunteer. Our first drive had 6 volunteers and we distributed around 100 parcels. 
We don't have a formal team to handle various aspects of the project. Whoever is willing, carries out different tasks.
2. Challenges?
Volunteers – Having regular volunteers is challenging. We have several people who volunteer on one-off occasions. But we're looking for passionate individuals who can volunteer on a weekly basis.
Donors and Partnerships –

It's easier to convince restaurants but difficult to get the partnerships into action. Particularly with restaurants that are well established and large. There are legalities and it is time consuming. But we appreciate the effort on their end.
3. Are you in touch with the Armies of other countries?
We have a WhatsApp group with all the country coordinators where we share our best practices from India, Pakistan. Team India for example took tea early in the morning during winter and served the homeless and provided blankets, instead of food. It was quite interesting and we always like to hear each other's ideas.
We have a fun competition of sorts that really motivates our volunteers, based on which country distributes the most. Sri Lanka has come in the top 10 quite a few times, and we serve 500 parcels per week on average. However, some cities in India for example distribute 2000 a week, and we're aspiring to reach magnitudes like that.
4. Other than delivering food…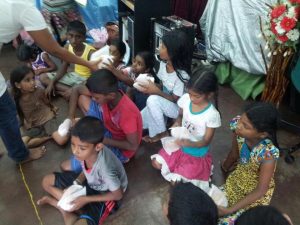 We stay and talk to them usually. Frequent certain places and play with the kids, converse with whoever is willing. We wish we could stay for long but time is limited. We spend as much time as we can creating a volunteer experience, enhancing not only the lives of the less fortunate but ours too.

Its not a lack of food, or resources, its getting it to the right people. Especially hotels in Sri Lanka are guilty of immense amounts of wastage. They replenish buffets for their image but a large majority of it goes to waste.
6. What are the places you donate?
We don't have a formal system, it all depends on feedback from our volunteers. People approach us and tell us that places are in need. We check the area out and then we decide. We're hoping to visit not only slums but also elders homes in the near future.
We frequent the list of places and have a rota of sorts, therefore we ensure we have both frequency and variety. Colombo is a pretty large area, surprisingly, and with more people coming from different areas of the city we think we'd be able to expand, each person will contribute at least one place of concern and there we have a few more mouth to feed.
7. Beyond the boundaries of Colombo…?
If people volunteer, by all means. We'd love to engage with people who are underprivileged regardless of where they are. But getting to and fro would require a significant number of volunteers and we want to donate a significant magnitude too if we're going to go out of Colombo.
8. Is there a place the Army delivered to that was suffering exceptionally?
There is a place near Crowe Island, where asylum seekers from Jaffna were housed. The area is in the  worst condition, with dilapidated houses. Whenever it rains it becomes muddy and unbearable to the inhabitants; the mosquitoes don't make it more comfortable either.
9. Future plans…
Awareness Campaign – We want to carry out an awareness campaign. But we don't accept monetary donations. Projects like a campaign require sponsors. Right now we're looking for sponsors to back us all the way for projects like: encouraging community learning, workshops on local entrepreneurship, soup kitchen model,etc.

Robin Hood Academy – 

The Academy serves the purpose of educating street children or underprivileged students by providing tuition on a volunteer basis. Right now in Sri Lanka that's not our focus, we're maintaining attention on food distribution. If there are individuals willing to take initiative and partner with us in establishing it right now, by all means!
10. How did you contribute during the floods?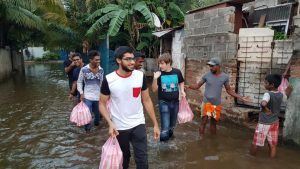 We received 1100 kilos from the Indian chapter, we're still trying to get it cleared, but we've planned on where to distribute them. In the meantime we collected mosquito nets, clothes, etc and distributed them to affected areas.
Robin Hood Army in a nutshell…

We try to create a more personal atmosphere. We're not just delivery boys. When we distribute the food we're sensitized and the most human part of us is enhanced. We make the experience as personal as possible to create a true volunteer experience for our team.
Every day is a new experience!
The Robin Hood Army is truly a force of nature. It is run by an incredibly determined group of people and your passion for social service will only make them stronger! Join the army!