While Aarambhaya means Origin/Beginning in Sinhala, Ayati means Hope in Sanskrit. Living up to its meaning, the Aarambhaya for Ayati was established to improve the quality of life and provide opportunities for development to children with disabilities.
Ayati Trust Sri Lanka is a charitable trust. It is incorporated between the University of Kelaniya – Sri Lanka, Hemas Holdings and MAS Holdings. Ensuring equal access to education, healthcare, social participation and future employment for children with disabilities in Sri Lanka is the mission that drives the Trust.
The First Step towards building Hope
Following are the triad of objectives empowering Ayati.
Constructing and operating a National Centre for children with disabilities
Changing the mindset of the public to eliminate any stigma and promote acceptance of children with disabilities
Extending the services to the rural areas of Sri Lanka in time to come
At present, a small facility in Kelaniya is functioning to bring hope to these children. Following are some testimonies of those who have benefited from the facility (Ayati.lk).
"I brought my child to this clinic since my child couldn't speak and she has difficulties in walking. I would like to give my sincere thanks to this clinic since my child can talk now and now she walks without support".

"My child had a poor academic performance. I received proper guidance to assist my child. After attending this clinic I observed a significant improvement in my child. At the school test, my child scored more than 70% for most of the subjects".
Aarambhaya for Ayati
In 2016 on World Disability Day, the University of Kelaniya along with Hemas Holdings laid the foundation stone for the first National Centre of excellence at Ragama. The approximate cost for the Centre is 450 Million Sri Lankan Rupees. The establishment will be 42,000 sq.ft. of floor area spreading across 2 acres in the University of Kelaniya Medical Faculty grounds at Ragama.
Ayati 2018 Summer Internship
The Summer Internship programme for Ayati began in 2015 with the aim of raising funds for the Trust and creating awareness among the society. This year's goal is to raise £5, 000 for the Trust. As a result, the MAS-Dialog-Hemas Summer Internship programme for this year focuses on fulfilling this objective.
The main fundraiser event for Ayati will be held on 03rd August 2018 at Waters Edge, Sri Lanka at 8.30 p.m.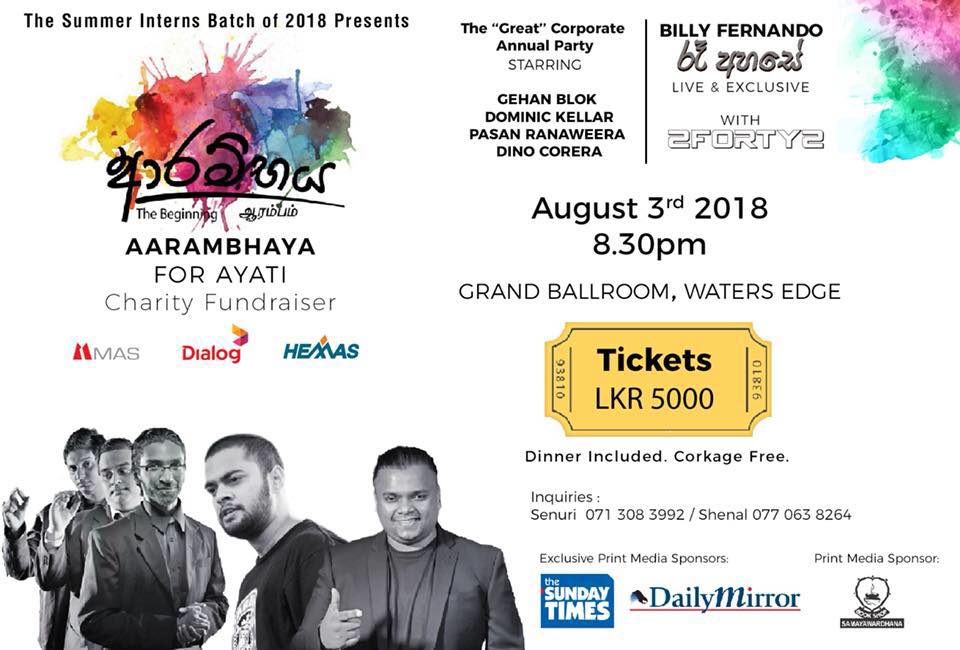 Join and bring hope…
You can make your donations through the official website of Ayati. The Trust will utilize the donations to facilitate the construction and running of the Centre. Also, you can extend your support by spreading the word across by liking the official Ayati Facebook page.